From Andrew Wongs dry-braised beef in oyster sauce to Lucky Peachs kung pao prawns Observer Food Monthly picks the finest Chinese recipes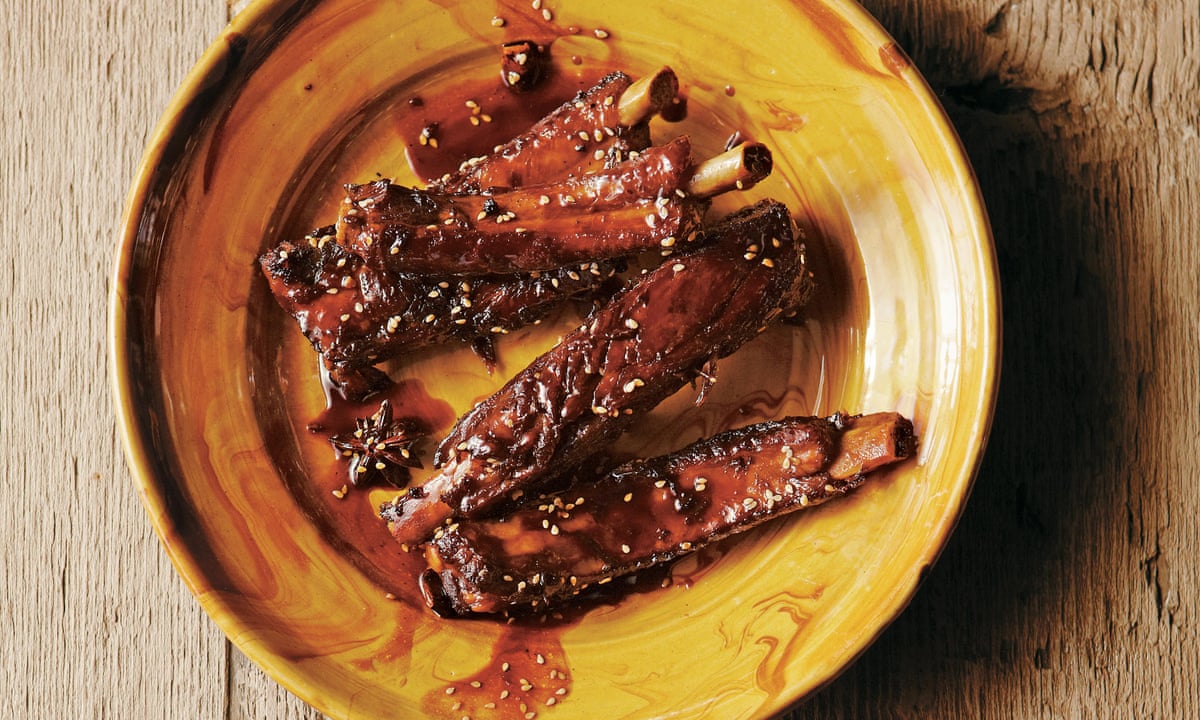 Andrew Wongs Michies sweet and sour ribs
I learned the recipe for these ribs while I was in Sichuan and since then it has even found its way to the island of the Seychelles where my sister-in-law Michie makes a special request for them whenever my family and I fly over. I am hoping that, armed with this recipe, she can now make them herself!
Serves 4
vegetable oil for deep-frying
toasted sesame seeds 2 tbsp
sesame oil 2 tbsp
For the ribs
pork ribs 500g, separated into individual ribs
spring onion 10g, roughly chopped
fresh root ginger 5g, peeled and sliced
fermented black beans 5g
Shaoxing rice wine 1 tbsp
light soy sauce 1 tbsp
dark soy sauce 2 tsp
salt 3g
For the sticky sauce
sugar 500g
water 800ml
Chinese red vinegar 150ml
malt vinegar 150ml
star anise 5g
For the ribs, mix all the ingredients together and steam over a low heat for 2 hours or until the ribs are tender but just holding on to the bone. Remove the ribs from the steamer and leave to cool and dry.
Heat the oil for deep-frying in a deep-fat fryer to 180C. Deep-fry the ribs, in batches, until they darken slightly in colour. Remove from the oil and drain on kitchen paper.
If you dont have a deep-fat fryer, fill a deep pan with oil the oil should come far enough up the sides of the pan to cover the ribs. However, you can also shallow fry them with a few tablespoons of oil just to crisp up the surface of the ribs.
For the sticky sauce, bring all the ingredients to the boil in a large pan, stirring, and cook until the mixture reduces to a honey-like consistency.
Add the deep-fried ribs and cook until the sauce sticks to the ribs. Add the sesame seeds and sesame oil to finish.
From A Wong The Cookbook by Andrew Wong (Mitchell Beazley, 25). Click here to buy a copy for 20
Jeremy Pangs steamed wontons in chilli broth
Read more: www.theguardian.com