An apricot pie from Nigel Slater and Honey & Cos lemon and saffron posset our favourite desserts from our favourite cookery writers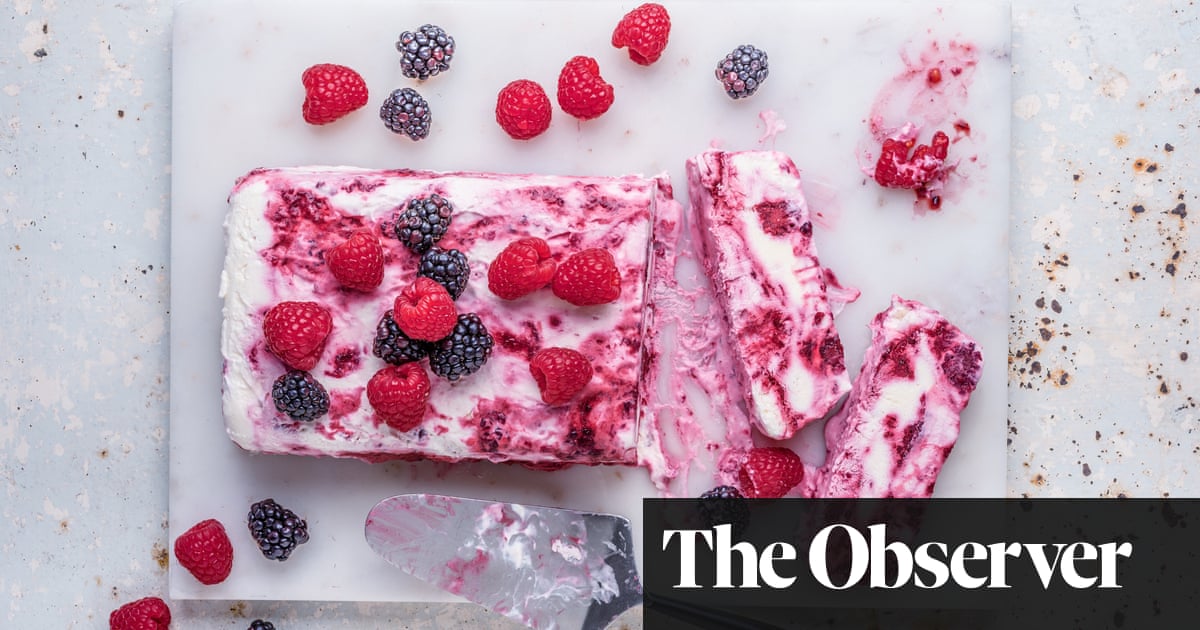 Alison Roman's frozen berries and labneh with honey
In my opinion, homemade ice-cream, like homemade ketchup, is rarely worth the effort and never as good as you think it's going to be. I'm of the belief that Baskin-Robbins perfected the game as soon as they made mint chocolate chip, and everyone else can just go home. But you know what is good? This frozen dessert.
Semifreddo-like in nature, this tangy frozen yogurt of sorts has the creaminess of ice-cream and, like picking up a pint of Baskin-Robbins, requires no equipment. You can use any fruit here, but I love the vibrancy and acidity of fruits like blackberries, raspberries, strawberries and plums.
This can be made one week ahead and frozen; just make sure to wrap it tightly in clingfilm. Let it soften in the fridge before serving.
Serves 8
non-stick cooking oil spray
fresh blackberries, raspberries or strawberries (hulled and quartered 350g,
mild-flavoured honey 265g, such as alfalfa or wildflower
double cream 250ml
labne or Greek-style yogurt 375g
flaky sea salt asmall pinch
Spray a 23cm x 10cm loaf tin with non-stick spray and line it with clingfilm (the non-stick spray helps the plastic adhere better, making an otherwise impossible task totally doable).
Cook the fruit and 90g of the honey in a small saucepan over medium-high heat until the berries have started to break down and the liquid has thickened, 8-10 minutes; simmering the berries quickly will reduce and thicken the liquid while keeping many of the berries somewhat intact, which is what you want. Remove from the heat and let cool completely, placing the pan in the fridge if you'd like to speed up the process. Once cooled, the berries should have the texture of a loose, spreadable – not pourable – jam.
In a large bowl, whip the double cream to medium-stiff peaks, using an electric mixer or your forearms and a whisk – your choice. Fold in the labneh, the remaining 175g honey and the salt just to blend.
Add the cooled berry mixture and, using a spatula, barely fold it in (maybe three or four times), leaving large streaks of berry throughout. Pour the mixture into the prepared loaf tin, smoothing the top with a spoon or spatula.
Place the loaf tin in the freezer until the mixture has firmed up, about 2 hours. This is best served around the 2-3 hour mark, when it's just the perfect texture (not too soft, not too hard). If serving beyond that, let it sit in the fridge for 5-10 minutes or so just to soften up.
From Dining In by Alison Roman (Hardie Grant, £22)
Nigel Slater's apricot pie
Read more: www.theguardian.com