From Romy Gills chana dal to Jane Grigsons ratatouille, great vegetarian dishes chosen by Observer Food Monthly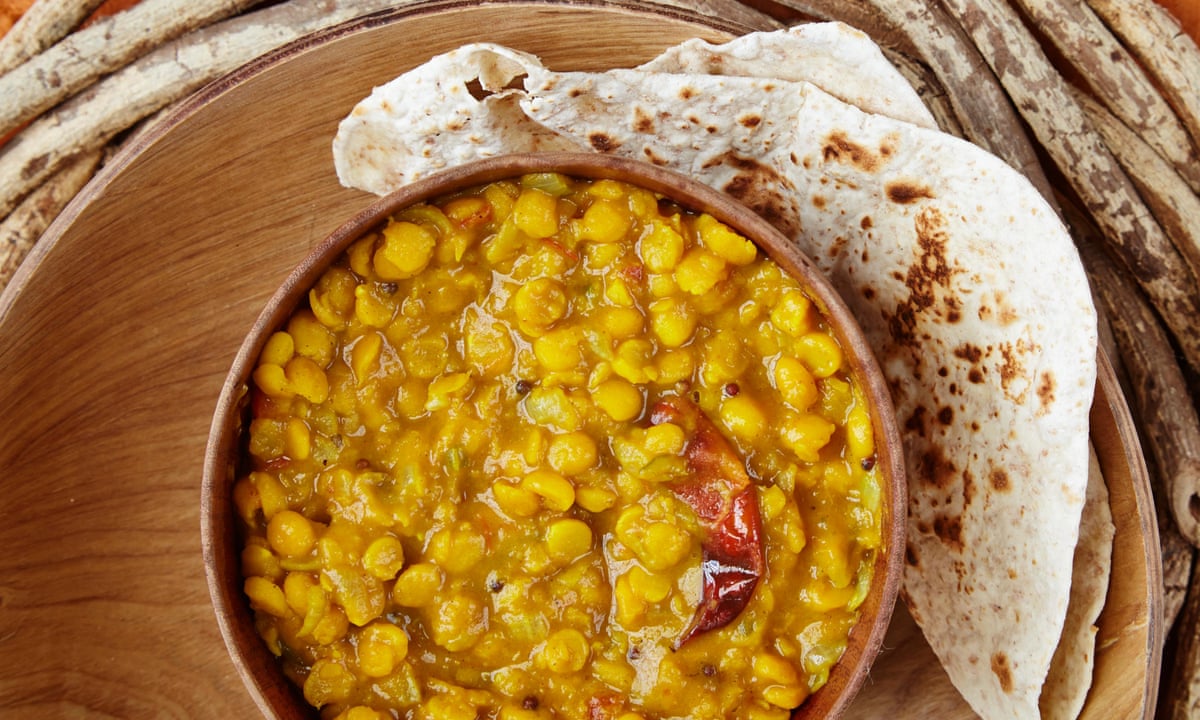 Romy Gills chana dal with chapati
There are so many different ways of cooking chana dal. My dad worked in the steel plant in Burnpur in West Bengal people came from different states to work there, so my growing-up years in India were spent eating the most delicious food ever.
Serves 4-6
chana dal 250g
red onions 2 medium
hot water 1 litre
ground turmeric tsp
salt to taste
rapeseed oil 4 tsp
black mustard seeds 1 tsp
garlic 2 tsp, grated
ginger 1 tsp, grated
tomato 1 large, finely chopped
fresh green chillies 2 tsp, chopped with seeds
ground coriander 1 tsp
ground cumin 1 tsp
garam masala tsp
red kashmiri chillies 2 whole
For the chapati
wholemeal or plain flour 200g
lukewarm water 75ml
oil 1 tsp
butter for spreading
Soak the chana dal in cold water for 10 minutes, then wash it in cold water so that all the starch comes out.
Finely chop the red onions and keep aside. In a deep pan, on medium heat, cook the chana dal in the hot water, adding the turmeric and salt, for 30 minutes.
In another pan, heat the oil and add the mustard seeds. When they start to pop, add the chopped onions and soften slowly, taking care to make sure all of the onions get cooked. Make sure you dont caramelise them.
Add the grated garlic and ginger and cook for 6-7 minutes on medium heat.
Add the chopped tomato and green chillies and cook for a further 2-3 minutes. Keep stirring so that the paste doesnt get burnt.
Add all the spices along with whole red chillies and mix well. If the paste sticks to the base of the pan then add few drops of hot water.
Add the paste to the cooked chana dal. Cover the pan and cook on a very low heat for 3-4 minutes.
To make the chapatis, make a well in the middle of the flour in a bowl and pour in the water and oil. If the dough feels a little hard, add a few drops more water.
Mix into a dough and knead for 5-8 minutes until smooth and elastic. Cover with a tea towel and rest for an hour.
Make 8-10 balls of the dough. Sprinkle flour onto a board and roll out a ball to make a thin pancake about 3mm thickness.
Place the dough on a hot pancake pan over medium heat and turn over after 30 seconds. Cook the second side for 1 minute, until small bubbles form.
Turn again and cook the first side, pressed lightly with a kitchen towel. It should start to rise. Make sure it is cooked evenly.
Smear it with butter and wrap it in a kitchen towel to keep warm before serving with the chana dal.
Romy Gill is the chef-owner of Romys Kitchen, in Thornbury, Gloucestershire
Peter Gordons mozzarella, artichokes, walnut sauce and sumac lavosh
Read more: www.theguardian.com