Reading Time:
2
minutes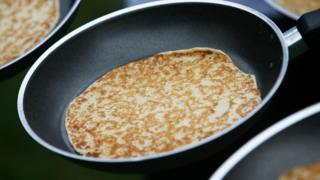 The BBC Food website, which was earmarked for closure this week, will take with it some clues about modern culinary tastes. Perhaps surprisingly, the two most clicked-on recipes are both for pancakes. Does that mean they are now everyone's favourite food?
These are the recipes that were most clicked throughout 2014 and 2015:
2. Basic pancakes with sugar and lemon
5. Shortbread
7. Mary Berry's perfect Victoria sandwich
9. Banana bread
11. Scones
12. Gingerbread men
15. Cheese sauce
What does this tell us?
It certainly suggests that the UK loves pancakes (most searches are reported to be from within the UK). Readers clicked on both Fluffy American pancakes and Basic pancakes with sugar and lemon more than three million times over the two-year period.
"We would get both daily and seasonal spikes on the site," says Rachel Manley, who worked on the food website five years ago. "There would be one at 4pm or 5pm when people decided what to cook for dinner. But Pancake Day was always by far our biggest day. Traffic would just go nuts."
But interestingly these recipes received strong traffic all year round. If there was a time when pancakes were a treat reserved for Shrove Tuesday that time has clearly gone.
Food historian Annie Gray thinks this may be partly connected to the rise of street food over the last few years.
"It's common now to see a crepe van in town centres over the weekend," she says. "I'm pleased that, like the French, we're not limiting when we eat them. They are dirt-cheap and so easy to make. You can whip up a batter in five minutes and fill them with a savoury or a sweet filling."
But the most clicked-on recipe is not necessarily the most popular one. People search for recipes when they are not sure how to cook something – and they may already know how to cook their favourite meals.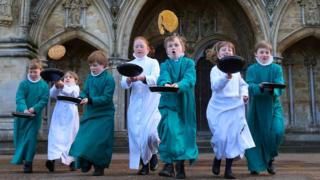 This may help to explain why 12 out of the top 15 recipes are for sweet or baked goods, such as cakes or biscuits.
"We've been told repeatedly that you must be precise in baking, so even confident cooks will feel more confident with a recipe," Gray says.
Rachel Manley says readers commonly typed in the words "quick" and "easy" when looking for something to make. Her own recipe for Easy chocolate cake comes in at number eight in the most-clicked list, and is also the recipe recommended by users more than any other on the website.
Here are the top five in the most-recommended list:
2. Shortbread
3. Irish cream and chocolate cheesecake
"It was a recipe a friend and I discovered at university and adapted over the years," she says about her cake recipe. "It's great as all the ingredient go in one bowl so there's no fuss. People still find me on Twitter and tell me they love the cake."
And what of the American versus British pancake debate? The search results put the US version, which has added sugar and butter, slightly ahead. However, Gray says this doesn't mean British pancakes are in trouble.
"You don't find American breakfast pancakes in many British cookbooks," she says, "so more people will search for them online."
Subscribe to the BBC News Magazine's email newsletter to get articles sent to your inbox.
Read more: www.bbc.co.uk