Toomas Henrik Ilves spent 10 years building nations vision of open government and says it wants to make it impossible to do bad things on the internet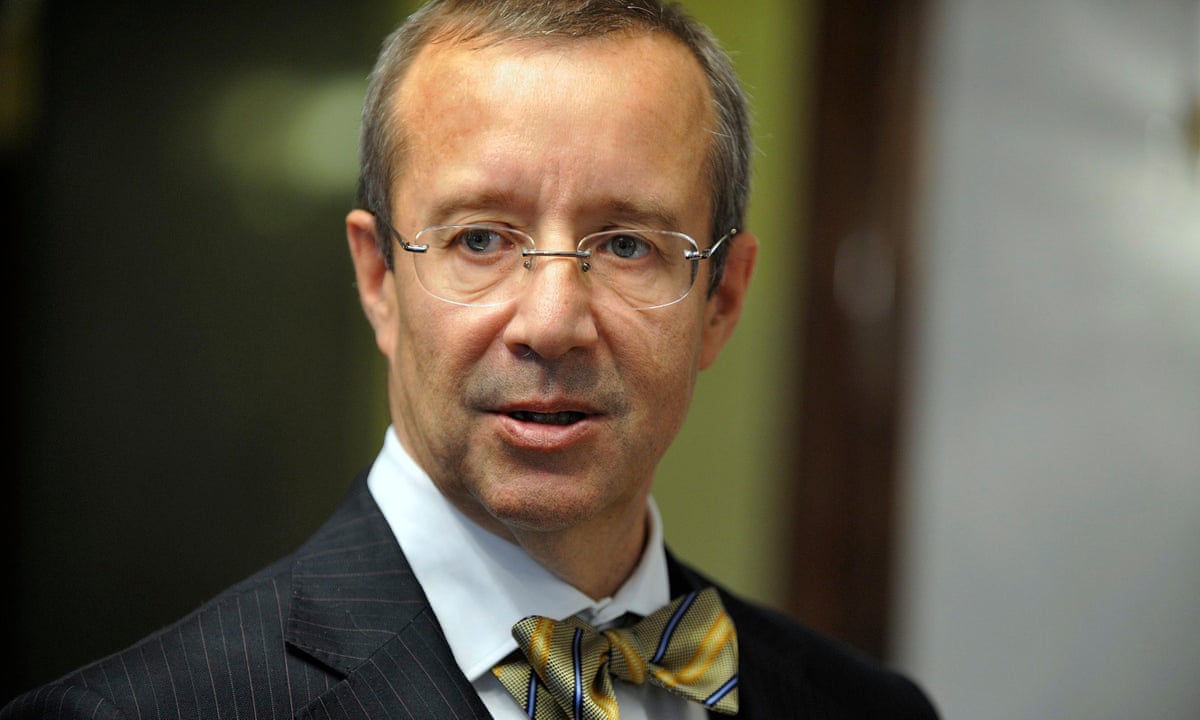 Its not often that a European head of state uses the radical postmodernist philosophy of Jacques Derrida and Jean Baudrillard to bash a hostile superpower. But then Toomas Hendrik Ilves, Estonias defiantly erudite president of nearly 10 years, is no ordinary head of state.
Ilves is trying to reinvent Estonia as the brightly lit antithesis of Russia, and in todays confessional age of Edward Snowden, WikiLeaks and the Panama Papers, claims he is baking transparency and accountability into a new kind of digital civic operating system.
Ilves is known for his controversial opinions on everything from Snowden and internet privacy to cyberwarfare and Vladimir Putins postmodernist state, which have apparently, transformed the 63-year-old into a regional sex symbol.
Aivar, my Uber driver, chatters enthusiastically about Ilves as his grey Volvo sedan drops me outside Kadriorg Palace in Tallinn. Enjoy our president. Hes quite a character.
An imposing 18th-century baroque jewel, Kadriorg was built in the Estonian capital by Peter the Great for his wife, Catherine. The tsar, however, would not have been amused by Ilves and his outspoken criticism of Russia. Ilves greets me in his trademark checkered bow tie.
The problem with Putins Russia, Ilves insists, is that the truth has been entirely devalued. Quoting from Peter Pomerantsovs 2015 Nothing Is True and Everything Is Possible, the Estonian president says that all truths have become equivalent in contemporary Russia.
According to Ilves, the country is being run by postmodernists such as Putins chief of staff, Vladislav Surkov, a big fan apparently of Baudrillard, who stage-manages Russia as if it was a murky reality television show. The result, Ilves says, is the death not only of truth but also of trust and accountability the core currencies of a modern democratic state. Thus the proliferation of Russian troll factories that churn out anonymous comments that are poisoning the internet.
There is nothing small, charmingly or otherwise, about Ilves. If, as Marshall McLuhan suggested, we now live in an electronic global village, then the Swedish-born and American-educated Estonian president, with his nearly 70,000 Twitter followers is a kind of global village elder, dispensing his own cosmopolitan brand of personalized wisdom to anyone that will listen.
But its not all bluster. Much of his presidential tenure, as well as previous roles as foreign minister, ambassador to the US and a member of the European parliament in the post-Soviet era, has been focused on making Estonia less village-like, on coming up with a grand idea that would enable this little Baltic republic to punch above its analog weight on the world stage.
Ilves came up with this grand idea a quarter of a century ago. When Gorbachev pulled the Soviets out of Estonia in 1991, Ilves asked himself a simple question about the future of a country that had been brutally occupied by its eastern neighbor for a half-century.
Read more: www.theguardian.com