Bunny versus Santa: Hot-cross buns or Christmas cake, bland turkey or luscious lamb? Theres no doubt about it, the food fight between the years biggest Christian festivals has one clear winner Easter beats Christmas hands down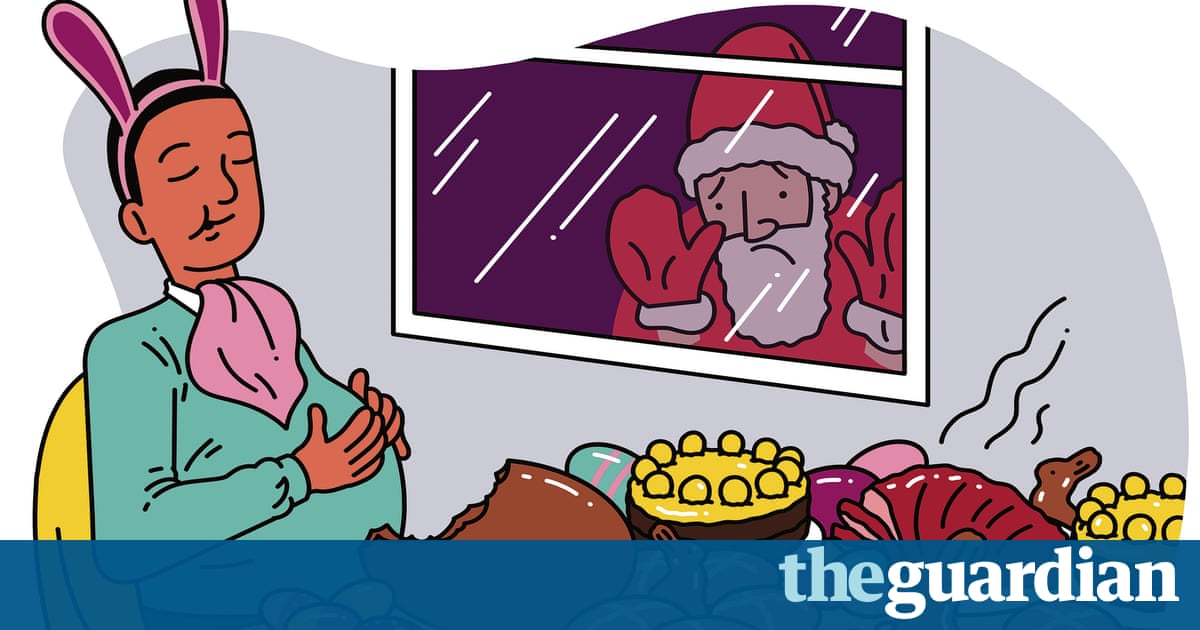 Easter is better than Christmas, for many reasons. If, like me, you grew up in a religious household, you will know this is because the Easter festival is the main event, AKA the Resurrection, while Christmas is just the warm-up band, in which some bloke and his missus forget to book a hotel and accidentally invent Airbnb to solve the problem. Or, at least, I think thats it.
But even if you ignore the theological side, Easter has Christmas well beaten. Christmas is, of course, primarily a holiday about discomfort: an uncomfortable train journey to a bad nights sleep in a bed thats not your own. You cant find anything in the kitchen; the toothpaste is different; and the radio is tuned to the wrong station. And thats assuming you like your relatives and they like you. If you dont, Christmas is a holiday about disappointment: disappointing train journeys (because they take you towards your relatives), disappointing relatives (because they havent changed) and disappointing gifts (because your relatives either dont understand or simply dislike you). And its cold.
By contrast, at Easter you get to stay at home, in the company of people you like, and mostly in good weather. But the most important reason why Easter is better than Christmas is not about religion, or the weather, or even getting to avoid your family. The biggest reason why Easter beats Christmas hands down is the food.
This is partly because, as far as both festivals are concerned, the meals themselves are primarily about stealing a march on the competition. People are more likely to convert if they can keep celebrating the old holiday, or at least a suspiciously similar substitute. In the case of Christmas, the early Church was tapping into the customs of the northern pagans they were trying to win over: hunt meat, kill meat, roast meat. Were not talking about a rich culinary tradition here. Whereas in the case of Easter, the festival is rooted in the Jewish festival of Passover, where the first Christians had centuries worth of good eating to appropriate. You can even see this force at work with the two festivals chosen joints: the Easter lamb and the Christmas turkey. The first Christians had been cooking lamb for centuries, and already knew how to get the best out of it. But when it comes to turkey, Christians had to first spread from Jerusalem to Europe, wait for around a thousand years, then cross the Atlantic to colonise the Americas before finally acquiring the Yuletide centrepiece that we know today. And then it was only turkey, surely the most disappointing of all of the roasts we are still a long way from getting the best out of it.
As far as cake goes, Easter, again, beats Christmas hands down: simnel cake and the unimaginatively named Christmas cake are cousins of a sort, but simnel cake is tastier and easier to bake to boot. This fruit-based dessert has been around since medieval times, which is also, by a handy coincidence, roughly when you should have started planning to make your Christmas cake according to most recipes. Why youd bother, Im not sure.
And then there are hot cross buns, a somewhat idiosyncratic way of commemorating one mans incredibly painful death, but a delicious way to start the day nonetheless.
Plus of course, chocolate, whether egg-shaped or not, but, for reasons I have never been entirely clear on, is an integral part of the Easter celebration. This was even true when I was growing up. Chocolate might never have made its way into church on Christmas day, but Cadburys Creme Eggs were definitely present on Easter Sunday.
And because Easter is a short holiday, none of these foods have time to wear out their welcome, unlike the vast swathes of turkey and other leftovers from the Christmas feast.
But the very best thing about Easter eating is how good it is if you do Lent in some way, shape or form. Whether that means going for the hardcore option of cutting dairy and eggs out of your diet entirely or simply giving up jam or chocolate, the first taste after your fast is always the best. Abstaining from something delicious for any month can be good for your health and your figure if you can keep it up, but its even better for the tastebuds if you quit when Lent is over. Theres nothing like the first chocolate bar of Easter.
Go one better and actually stop eating all of the ingredients of a pancake after Shrove Tuesday: I cant vouch for any spiritual enlightenment to be had, but there is certainly a greater understanding of the value of butter to be unlocked.
And thats an experience that cannot be recreated at Christmas, thats for certain. Well, unless you count going without turkey for 12 months. Which, to be frank, is more of a pleasure than a chore. But even that, in my experience, doesnt come close to the culinary magic of Easter.
Stephen Bush is a writer and columnist for the New Statesman @stephenkb
Beyond Britain: The Easter treats wed like to try
Puddings
The Finnish mmmi (called memma in Sweden) is a rye malt casserole, traditionally baked and available in birch bark baskets. Its scented with bitter orange and served with cream and sugar or vanilla ice-cream. Magnus Nilssons incomparable Nordic Cookbook lists a recipe for it, as well as for a Finnish version of the Russian Orthodox Easter Sunday dessert: pasha or pashka, an ancient extravaganza of dried fruit, honey, nuts and curd cheese, moulded into a mound and inscribed with the first two Cyrillic letters, and , of the Easter greeting, : Christ is risen.
Breads
Across Eastern Europe, from Georgia to Bulgaria, pashka is served with slices of kulich, or paska, as its known in southern Ukraine in her first book Mamushka, Olia Hercules makes these puffy buns popping out of cleaned tomato tins, smothered in white icing and hundreds and thousands; see page 5 for the recipe. The Greek tsourecki is a braided loaf, garnished with flaked almonds: find an excellent recipe in Rebecca Seals The Islands of Greece. And then youve got the sweetened brioche-like bite of the Italian pane di Pascua (replete with a coloured egg nestled in its middle), the Portuguese folar de pascoa (flavoured with caramel, aniseed and cinnamon) the Croatian pinca (closer to our hot cross buns with a cross sliced into the dough before baking) and the German Osterbrot. Luisa Weiss, in Classic German Baking, makes bunny rolls with currant eyes for Easter morning. She also does an intriguing Poschweck loaf from Aachen, into which whole sugar cubes are baked. Can someone please send us one?
Cakes
Given the beauty that is the semlor lent bun a wisp of a bun filled with sweetened cardamom cream we are eager to try the Scandi cakes that follow over Easter: many Swedes opt for the Pskens chokladtrta while Trine Hahnemann tends towards apricot and citrus fruit in her Danish classic, pskekage, decorated with dainty marzipan leaves. Lastly, and as sonorously an ode to the springtime that Easter could ever usher in, the Alsatian lammele or agneau pascal: a beautifully airy gnoise baked in the two halves of a lamb-shaped mould, and dusted with icing sugar. We would happily host this dinky critter in the middle of our Easter spread.
Read more: www.theguardian.com