Curried sea bass with ginger and chilli; jacket potatoes with egg and tonnato sauce; salmon and fennel en papillote; prawns and smoked oysters in tomato sauce with rice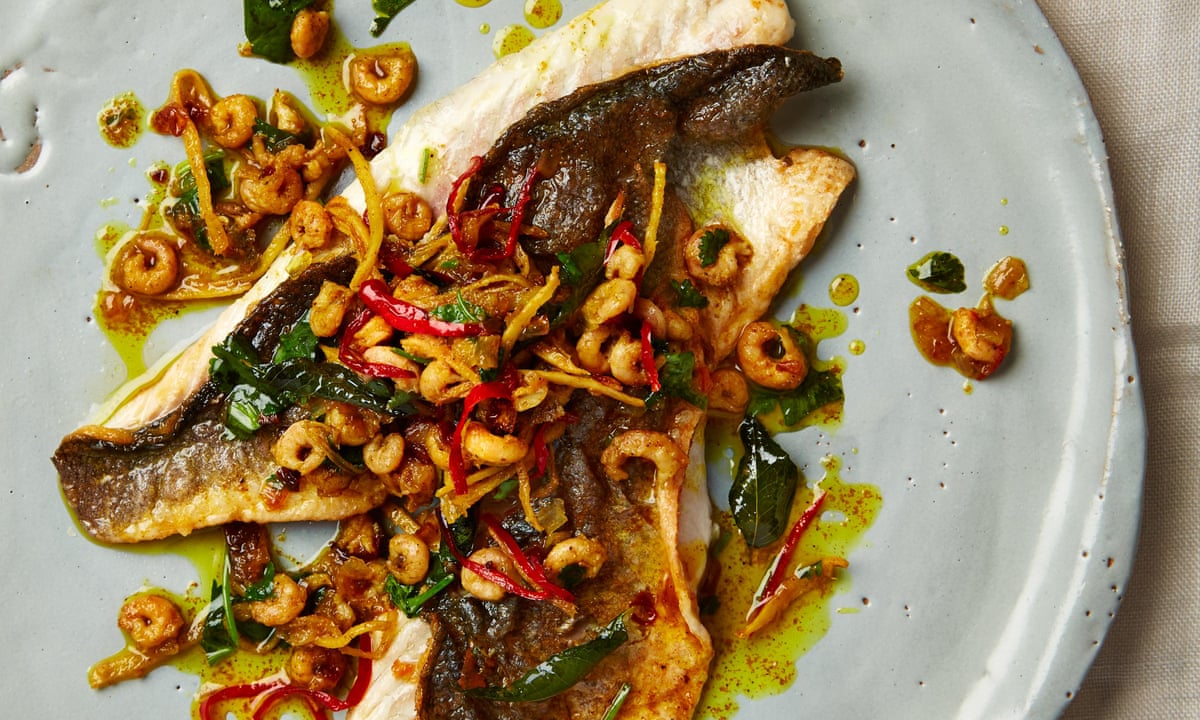 Curried sea bass with ginger and chilli
This would be perfect with steamed rice. The curry leaves are optional  theyre sold fresh or frozen in south-east Asian food stores but they really take this simple dish to another level of deliciousness. Serves two.
4 sea bass fillets, pinboned, skin on
Salt and black pepper
50g ghee (or unsalted butter)
1 banana shallot, peeled and roughly chopped
4cm piece ginger, peeled and cut into thin julienne strips
1 red chilli, deseeded and cut into thin julienne strips
12 curry leaves (optional)
2 tsp mild curry powder
90g cooked, peeled brown shrimps
1 tbsp lime juice, plus 2 tsp extra, to serve
5g coriander leaves, roughly chopped
Sprinkle the fillets with a quarter-teaspoon of salt and plenty of pepper. Heat the ghee in a large frying pan on a medium-high flame. Once melted and hot, lay in the fish skin-side down and fry for two minutes, basting all the time with the hot fat. Carefully turn over the fillets and fry for a few seconds more, until just cooked through, then lift out of the pan and place skin side up on a plate and keep warm.
Fry the chopped shallot in the same pan for a minute or two, until light golden-brown and soft, then add the ginger, chilli and curry leaves, if using, and fry for two minutes more. Stir in the curry powder, shrimps and an eighth of a teaspoon of salt, fry for a minute, then take the pan off the heat and stir in the lime juice and coriander.
Lay one bass fillet skin side up on each of four plates, spoon over the shrimp sauce, drizzle half a teaspoon of lime juice on top and serve.
Jacket potatoes with egg and tonnato sauce
Read more: www.theguardian.com