Cannabis is becoming a cooking ingredient in its own right, as chefs create elaborate cannabis tasting menus at private dinners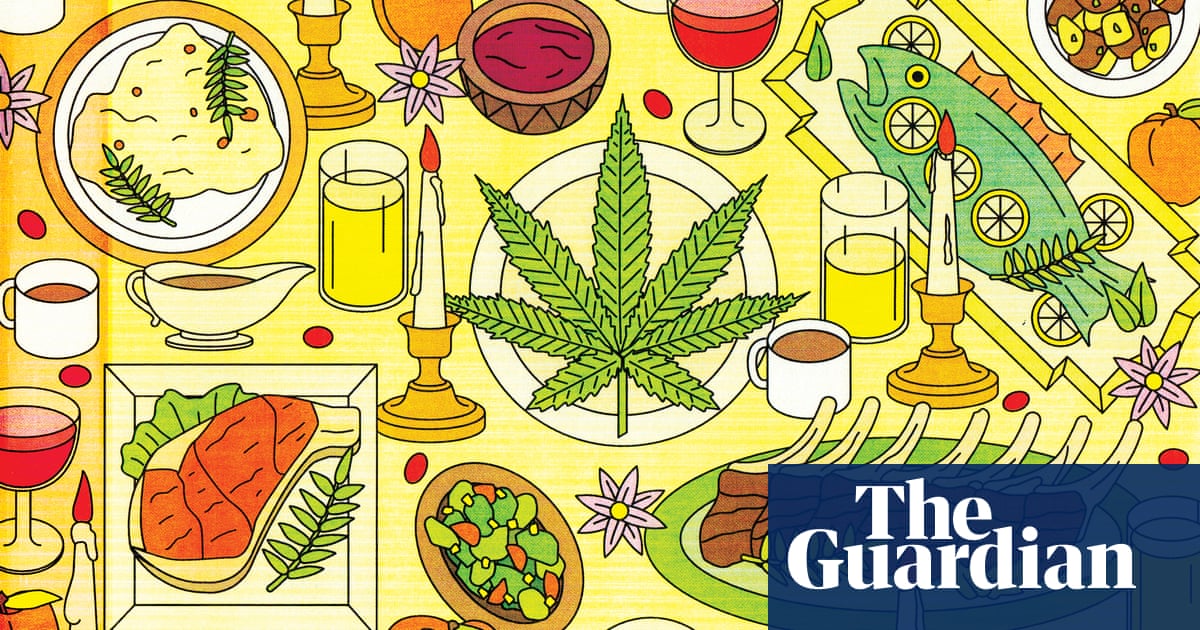 For most Americans, eating marijuana has long been about function over flavor. Think of the dish that inevitably comes to mind: pot brownies. Less a delicious dessert than a discreet delivery mechanism for THC (the drug's primary psychoactive ingredient), brownies can be smuggled to places where cannabis isn't welcome. Chocolate, meanwhile, does an adequate job of disguising the plant's taste – which is reminiscent of dandelion leaves growing from cracks in the sidewalk.
But with legalization and the attendant push to gentrify the drug, a small but vocal contingent have become champions of cannabis as a cooking ingredient in its own right. In cities where it's legal, cannabis catering services now offer "elevated" dining experiences. On the new Netflix show Cooking on High, teams compete to make the most tempting ganja-infused dishes.
Manny Mendoza, a young chef who has worked at some of Chicago's best restaurants, said he learned at culinary school that he and his friends weren't the only ones who liked to cook food and smoke weed. All over the world, "this is a part of us as cooks, as chefs", he said.
Mendoza began to think of cannabis as an "experiential seasoning" after being inspired by a music theory class. He compared the desired effect to synesthesia "a disorder, kind of" where people "start to taste colors or see sounds … A melding of the senses."
Even in legal states, restaurants can't incorporate cannabis into their dishes since they're not eligible for licenses. But the rules for private dinners are more open to interpretation. So Mendoza puts together elaborate cannabis tasting menus through his Herbal Notes project, based in Chicago and San Diego, California. The group throws dinners where cannabis, curated music and striking locations augment the food.
Mendoza stresses that his dishes aren't designed to incapacitate the guests or blast them into orbit. "It's always low and slow [dosages] and optional," he said. A menu for one of his recent productions involved seven courses that included a total of 5mg of THC, roughly equivalent to accompanying a tasting menu with one glass of wine. The dishes included champagne peaches and prosciutto toast, a tres leches sundae, and za'atar chicken with lentils featuring cannabis infused into the citrusy marinade.
Cannabis, like many other plants, gets its distinct aroma from chemicals known as terpenes, which can be flowery, spicy, earthy and a host of other flavors. To connoisseurs, the best weed is distinguished by the richness and complexity of its bouquet. And experienced cannabis chefs can often speak at great length about how they selected the cannabis sample for a particular dish.
Doing it yourself
Easier access to weed is no doubt inspiring amateur chefs to whip up their own psychoactive specialties.
Before getting started, it's a good idea to do some research. Dosages can be hard to calculate, and eating too much pot can induce fear and paranoia which can last for hours.
One place to begin is The Cannabis Kitchen Cookbook by Robyn Griggs Lawrence, the former editor of Natural Home magazine. Promising "feel-good food for home cooks", the book collects recipes for mains, sides, desserts, juices salads and alcoholic cocktails from several noted chefs, and some background on the plants history as a food.
Read more: www.theguardian.com