Five professional cooks discuss how having kids changed their lives, in the kitchen and at home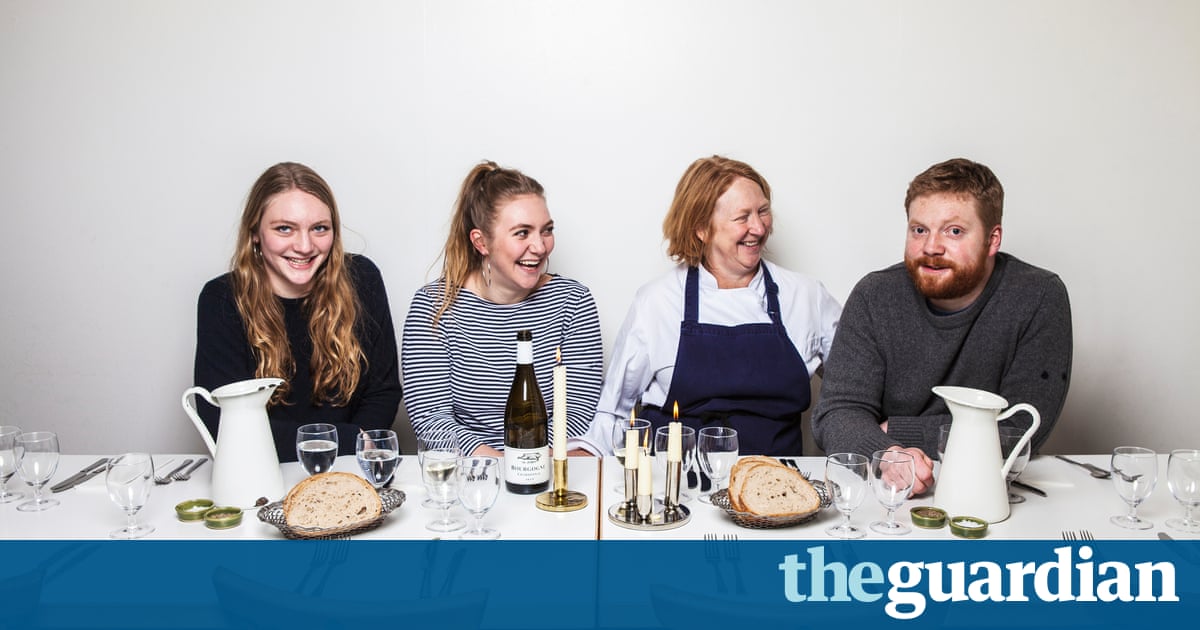 Margot Henderson
Margot, 52, co-owns Rochelle Canteen and catering company Arnold & Henderson in Shoreditch, east London. She and husband Fergus Henderson have three children together: Hector, 22, Owen, 21 and Francis, 17
Id known Fergus for five months when we got married and three months later Hector was conceived. We were having a great time together cooking at the French House and I continued working hard, but that got increasingly exhausting. My legs were giving out at the stove and I wanted to be in bed at midnight rather than cleaning down a kitchen. I remember crying a lot.
None of my kids were born exactly; they were all caesareans. I was hopeless at the birth part. Yet the breastfeeding was wonderful and I fed all my bubs for a year. But very soon after each arrived, if the staff was short at the restaurant, Id be in the kitchen with a kid strapped onto me, and it went from there. Its hard to keep your career going in a kitchen when youre having babies, if you believe that to be a good cook you should be cooking all the time. The other chefs had to understand that part of their job was having nippers around their feet. I think they brought life and joy to the kitchen. There were sharp knives around and everything else but I didnt really mind. I thought, If they burn themselves, they burn themselves. Theyll cry but theyll learn.
When Fergus went off to set up St John, he was doing doubles as head chef and then after work hed go have a few drinks and whenever we didnt have a babysitter I was stuck at home with the babes. I smashed a lot of clocks, throwing them at Fergus when he got home. Id make, for instance, roast pumpkin, sausage and brown rice for me and the kids, and then get them up to bath and bed, and if Fergus was home in the evening Id have another meal with him. Maybe his lovely roast chicken and boiled parsley sauce. When I started Rochelle Canteen [with Melanie Arnold], it wasnt open in the evenings, which made things easier, although there was a lot of rushing across town to school and back at 2.30pm. We ran the business in a flexible way and our children were never a problem there. But there were two screaming children in the Canteen yesterday and I said, Thats enough! You have to pick them up and the mum said, We cant do that at the moment and the dad said, Its not their pick up time at the moment. Unbelievable.
Im trying to think what the best thing about being a mother is. Not all the washing after getting back from work, thats for sure. I suppose the glorious thing is that you feed these little things who become your new bunch of buddies and you love hanging out with them. Well, sometimes you bloody dont, obviously, but theres an unconditional love which is amazing.
All the kids have said, If everything goes wrong in my chosen career, I can still be a chef, Mum. But I never want them to be chefs because its the wrong hours and wrong schedule. Daytime is for living and the nighttime should be for putting your feet up or going out to lovely restaurants and having other people cook for you. JH
Margots ginger crunch
When I was two, my mother turned into a health nut. All white flour and sugar went out the door and was replaced by brown flour, molasses, carob, cider vinegar and honey. My sister Nicky and I craved sugar and would knock on the doors of our neighbours hoping their Tupperware containers were full of baking. I think my cooking started through desperation really: I needed sweet things.
So as soon as Mum left me, at the tender age of 10, babysitting for a few hours, I reached for Edmonds Cookery Book every house in New Zealand has one and searched for something that we had the ingredients for. We had them all, though once I started to make the biscuits they then asked for cream, butter and sugar. Not understanding this key baking process, I took the cream off the tops of our bottles of milk. Sadly, when Mum returned there was a sloppy, messy mixture coming to meet us out of the oven.
I then learnt to make them and they became one of my top biscuits. A great treat at the end of dinner with your coffee.
This recipe is based on one from the Edmonds Cookery Book; I just add a little more ginger.
Makes about 24
butter 125g
sugar 110g
plain flour 225g
baking powder 1 tsp
ground ginger 2 tsp
For the icing
butter 100g
icing sugar 125g
golden syrup 4 tbsp
ground ginger 3 tsp
Preheat the oven to 180C/gas mark 4. Grease a 20cm x 30cm sponge roll tin.
In a mixer, beat the butter and sugar together until creamy. Add the dry ingredients and blend until a fine crumb. Pour into the tray and press down evenly. Bake for 20 minutes, until light brown.
Meanwhile, make the icing by melting all the ingredients together over a medium heat, bring up to a simmer.
When the base comes out of the oven pour the icing over. Leave for a moment and then slice into fingers while still warm.
Keep in an airtight container.
Olia Hercules
Olia, 32, grew up in Ukraine and Cyprus before working as a chef de partie at Ottolenghi. She is the author of Mamushka, and the forthcoming Kaukasis the Cookbook: the Culinary Journey Through Georgia, Azerbaijan & Beyond. She has a son, Sasha, four
Read more: www.theguardian.com