The Huffington Post is chronicling the experiences of the Darbis, a Syrian refugee family that settled in New Jersey almost six months ago. The "Meet the Darbis" series — which began in October — examines what life in America is like for a family that is starting over after fleeing war and persecution.
***
JERSEY CITY, New Jersey — It was 4 p.m. one December day, but the sun was already beginning to set over the industrial Jersey City neighborhood that was now home to the Darbis, a family of Syrian refugees who moved to the United States in July.
Mohamed Darbi, the father, savored his last few moments of free time before he needed to nap and get ready for work. He works an overnight shift at an Egyptian bakery in North Bergen.
He traveled from Homs, Syria, by way of Jordan, with his wife, Amira, and their three children, Nabiha, Hajar and Shaker.
His refugee status meant that he and his family would be safe in the U.S. and receive financial assistance from a refugee resettlement agency. But as the months wore on and the federal funds waned, his biggest problem became his need for employment.
Having a job provides some relief, but he and his family are desperate to assimilate. They're busy redefining their identities and making their lives more stable, as so many others have done in this country.
They've come a long way since The Huffington Post first sat down with them in early September. At that time, none of the family members could speak a word of English. They paced around their apartment, anxious in the new space.
"The choice to flee is a very sinister calculus," explained Alastair Ager, professor of clinical population and family health at Columbia University's Mailman School of Public Health. "There's a sense of foreboding, uncertainty and anguish. It's like a horrible mathematical equation where you really don't know what the variables are."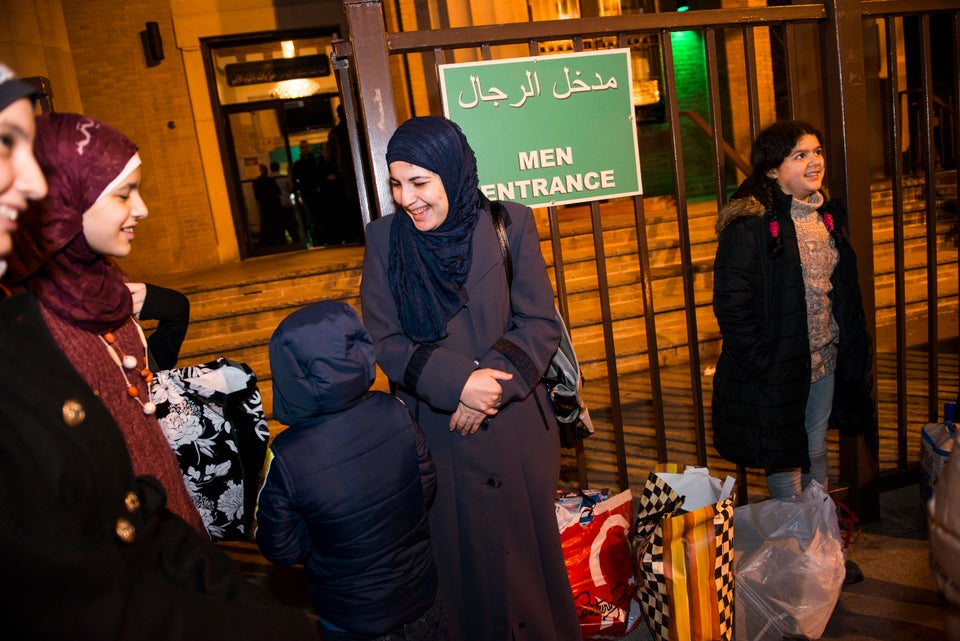 Amira
Amira walked through the front door right before Mohamed went to take his nap. She had been at the hospital, she said, visiting a Syrian friend suffering from a heart condition. As soon as she put her things down, she began heating up water for tea and chopping tomatoes for dinner.
Slightly dejected, she responded "so-so" when asked how her English as a second language class was going. But for the first time since HuffPost began visiting the Darbis, she felt at ease practicing her English, trying out phrases like "how are you?" She even began answering several questions that had been asked in English before they were translated into Arabic.
Amira had been so wrapped up in getting her family settled into their new lives that she did not learn of the Nov. 13 terror attacks in Paris until the following week, when her ESL teacher mentioned them in class.
She has been further isolated from the news because people in Syria won't discuss current events openly. The Syrians who have remained at home fear for their lives, she said, and prefer to remain as inconspicuous as possible.
"No one talks about politics," she said. "Especially over WhatsApp."
Amira said she wasn't aware of the Islamophobia that hangs over the U.S., but that she had heard presidential candidate Donald Trump wants to "deport the Syrian refugees. And now he wants to ban Muslims."
But she said his comments don't concern her because she doesn't think he'll win the election.
Amira said she's more concerned about the aftershocks of terrorist attacks like the ones in Paris.
"It may not affect my life directly, but I think as a whole for the world it will," she said.
"American society may now have a bad perception of Syrian refugees," she continued, adding that she thought Americans might later develop a negative view of all Muslims.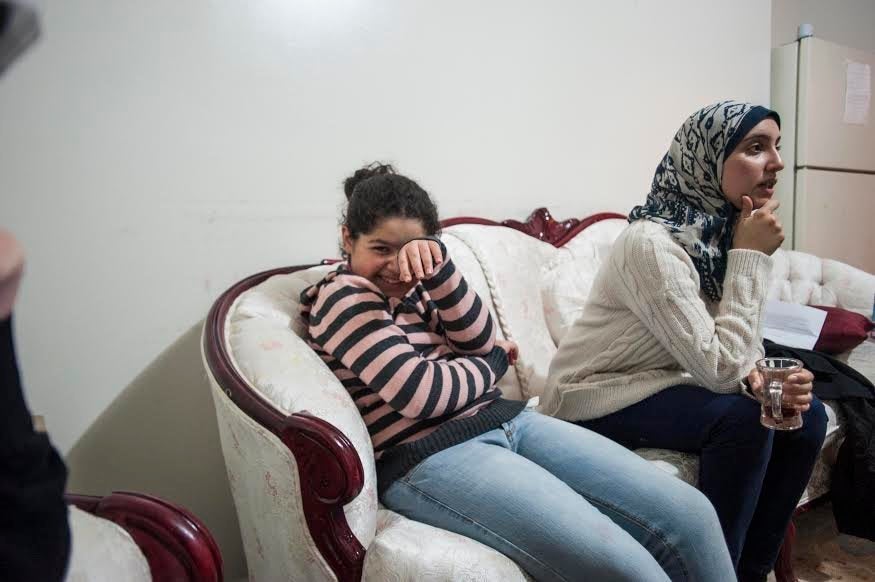 Nabiha, Hajar and Shaker
The Darbi girls are taking their new reality in stride and finding ways to put down roots in their community.
School is still a struggle, they both agree. Nabiha, who's in seventh grade, consistently scores 100 percent on her math assignments, but she's having a hard time in every other class. She's also trying to make friends. She eats lunch with different groups of kids every day, she said.
But Nabiha generally acts like most preteens. She spends her free time on her cell phone, taking selfies and talking to friends across the globe. She showed off new pictures of her cousin that family members in Jordan had sent her. She recently reconnected via WhatsApp with a Syrian refugee friend, whom she met Jordan and whose family made it to Germany. They talk nonstop once Nabiha comes home from school, Amira said.
Hajar prefers to stick with her sixth-grade classmates from Egypt and Syria. Every night, her teacher gives her extra homework in the form of one picture book, written in English with an Arabic translation. Hajar read the book aloud to show off her progress, only pausing once in a while on unfamiliar words.
The girls recently started attending weekly Quranic class at a local mosque. They were moved into a higher age group because they were more advanced than their classmates.
Shaker, a shy 5-year-old, dodged between his family members, jumping on and off the couch. Like any American child, he capitalized on his parents being occupied, and tried to reach a box of gummy candies that had been placed out of his reach deliberately.
Shaker is having a harder time than his sisters settling into his new way of life. He falls asleep at school, his mother said. He still refuses to take the bus with the other kids, which means Amira has to walk him to and from school — 30 minutes each way. Amira is worried about what the walk will be like once temperatures drop.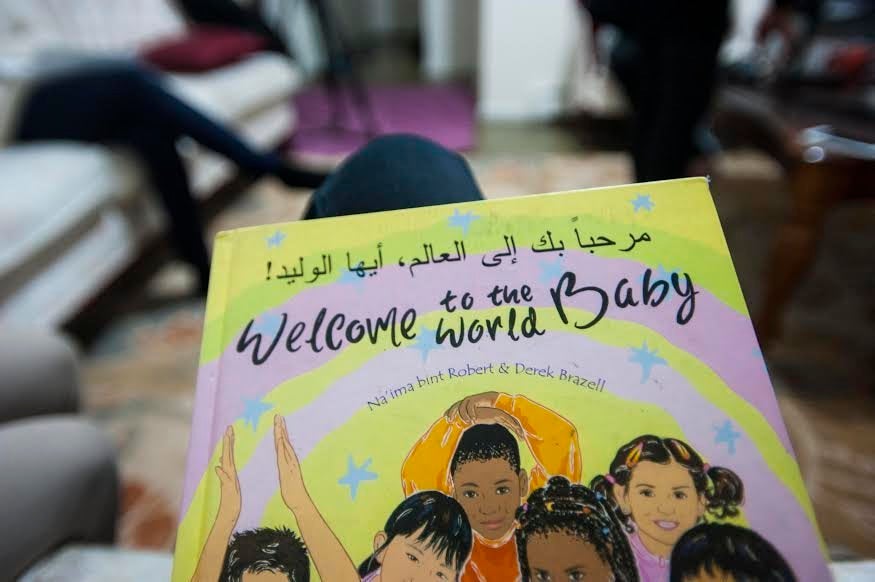 The Darbi children are just as shielded from the tragedies unfolding around the world as their mother. They're laser-focused on their own assimilation — completing homework assignments, making friends, keeping up with Syrian TV via YouTube, trying American foods at school ("pizza Friday" has become Hajar's favorite).
Their teachers did not mention recent attacks in Paris and San Bernardino, California, at school, they said, perhaps because they're learning ancient history at the moment, not current events.
"What happened in Paris?" Hajar asked.
"It blew up," Nabiha said, revealing how simplified a message she'd received about the attacks.
Amira then tried to explain to her daughters that some people in the U.S. are saying unkind things about Syrian refugees. She asked how that made them feel.
"Well, first, I want to thank the Americans for welcoming us," Nabiha said. "Everyone is different. If one person blows himself up, not all of us will blow ourselves up."
"There are people who do harm to the world and there are people that don't do harm to the world," Hajar added. "But not everyone's alike. And they shouldn't take on a bad perception of us. The whole world is not like that."
People who carry out acts of terrorism "aren't Muslims," she continued.
"Islam is a religion of love, a religion of patience, a religion of forgiveness," Nabiha said.
"Syrians are good people," she added, even if Syrians are not being given a very good name right now.
Their mother beamed with pride as they spoke, poised and eloquent and unafraid.
Islam is a religion of love, a religion of patience, a religion of forgiveness." Nabiha Darbi
Mohamed
Ager, who studies refugee resettlement, has noticed a pattern whereby the father of a refugee family continues to struggle once other members have started a new life and the kids continue to thrive. The father's "sense of directing the family gets increasingly challenged and causes him to feel lost," he said.
Mohamed leaves the apartment around 8 p.m. for his graveyard shift at the bakery and doesn't get home until about 10 the next morning. He bakes all different kinds of breads, he said, and works with Egyptians and Latinos. He's even picking up some Spanish, he joked.
Because of this new source of income, the Darbis no longer receive aid from the Church World Service, the refugee resettlement agency that paid their rent and gave them food stamps for the first few months. Mohamed is overcome with relief that he can now support his family, he said, but he finds that the hours are difficult to get used to. He also had to abandon his ESL class, since he sleeps during the day.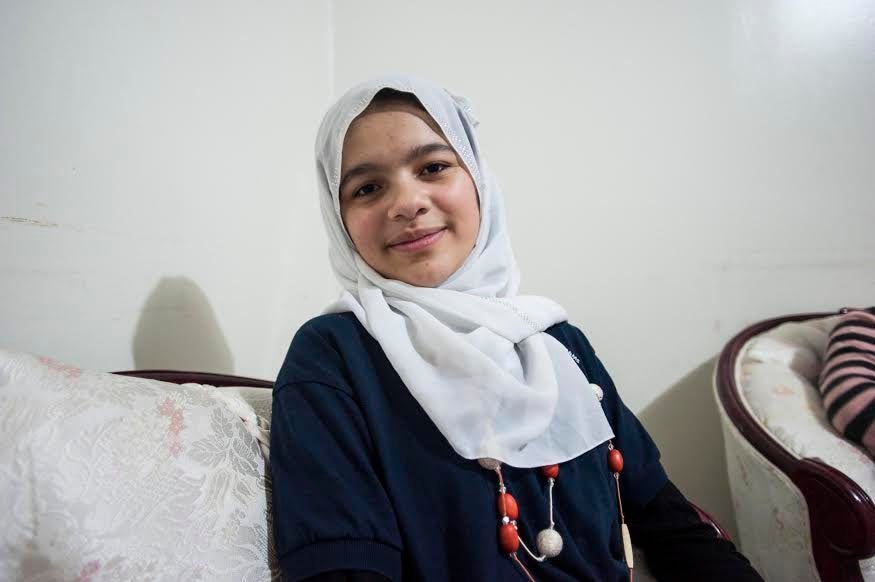 Mohamed was a carpenter in Syria, and he dreams of reprising his former vocation in America. He took the baking job because it is close to home and didn't require any mastery of English.
He was first offered a carpentry job in the fall, but it fell through due to the language barrier. He turned down another carpentry job in Bayonne because he would have had to commute several hours each way. The family still does not own a car.
Mohamed is already thinking about leaving New Jersey. In an ideal world, he said, he would move his family to Dearborn, Michigan, to be closer to his brother and his brother's family, who also came to the U.S. as refugees over the summer.
His concept of assimilation is being able to provide for his family. The cost of living is drastically lower in Michigan, Mohamed said. He and his brother make the same amount of money, but monthly rent in Dearborn is around $600. The Darbis pay over $1,000.
But the Darbis may be calling New Jersey home for a while. Mohamed immediately gave the idea a second thought when he learned how cold it gets in Michigan.
***
The next installment will follow the Darbis as they join other New Jersey Syrian refugee families for the first statewide meet-and-greet event.
Want to help support the New Jersey Syrian refugee community? Click here.

Other stories in this series:

Meet The Darbis, A Syrian Refugee Family In America: Part One

Meet The Darbis, Part Two: The Road To Assimilation

Related:

How To Help Refugees And Migrants In Dire Need Of Aid

6 Organizations Helping Syrian Refugees That You Might Not Have Heard Of

This App Is Helping Connect Refugees With Missing Family Members
Read more: www.huffingtonpost.com