Onion tart hardly describes this sumptuous mess of sweet onions studded with bacon and slumped into a shortcrust case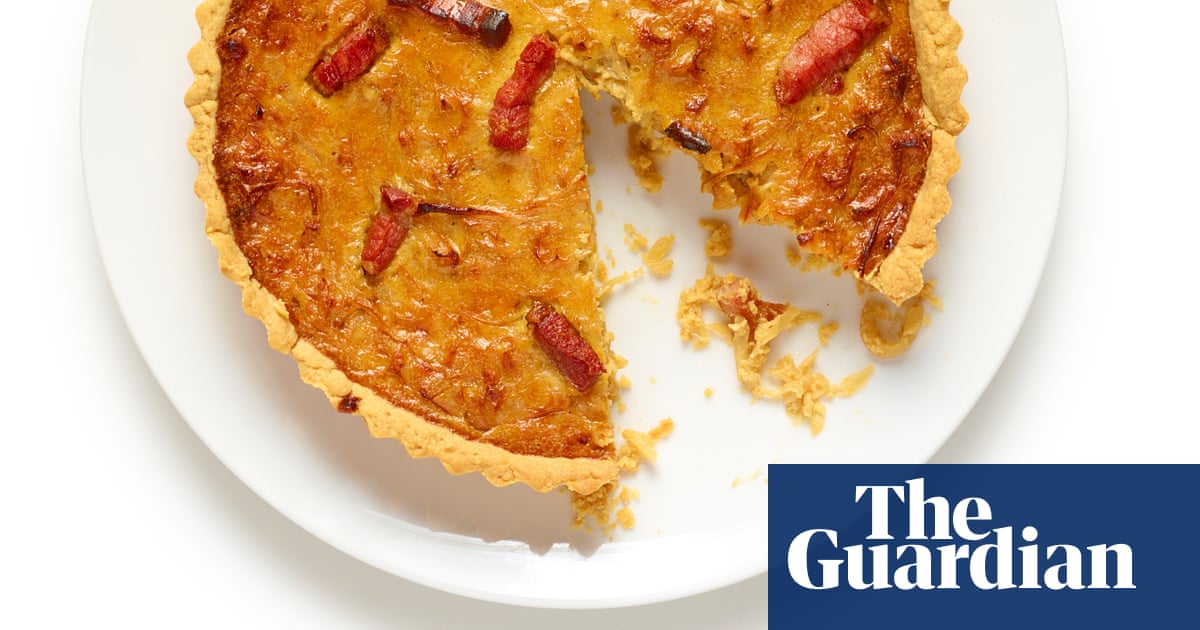 Described by chef Simon Hopkinson as "a classic amongst tarts", this deliciously sweet recipe from Alsace-Lorraine is somewhere between a quiche and a flammkuchen, a tangle of buttery, slow-cooked onions barely held together by a rich egg custard. When I first came across it, in an Alsatian restaurant perched rather incongruously on the side of an Alp, I thought an onion tart sounded rather dull. I'm not too proud to admit I was wrong: thanks to the alchemy that occurs when this most common, yet least lauded of vegetables is given time to fulfil its potential in the flavour department, this is a dish that's far more than the sum of its parts.
Though it's by no means the only onion pastry in the French repertoire – Provençal pissaladière and Flemish flamiche spring to mind, but there are no doubt others – it's my new favourite. More summery than Lancashire butter pie and less antisocial than pickled onion Space Raiders, this is a great, vegetarian-friendly centrepiece for a spring lunch, though, frankly, I'd snap it up at just about any time of day, or indeed year.
The onions
Such tarts always seem to be made with ordinary brown onions, rather than the milder white or sweeter red sort, but success depends to a large extent on how these are prepared, as I find to my cost when two fall apart in a watery mess under the knife. Though the methods are different, the fault, I decide, is the same for both: the onions are too wet. To be fair to Jane Grigson, her original recipe, included in her Vegetable Book, suggests frying the onions in lard – but, she cautions, because it's "rich and filling, it's best eaten at midday if there is a tender stomach in the family". One "way out is to blanch the onions in water for seven to 10 minutes until they soften". I can't resist giving it a try, and, perhaps predictably, it's a disaster: though I drain them well, they leak moisture into the filling, and prove sadly bland, which Grigson charitably describes as "a paler taste".
Read more: www.theguardian.com