Husband also ends strike outside Iranian embassy in London after wife takes food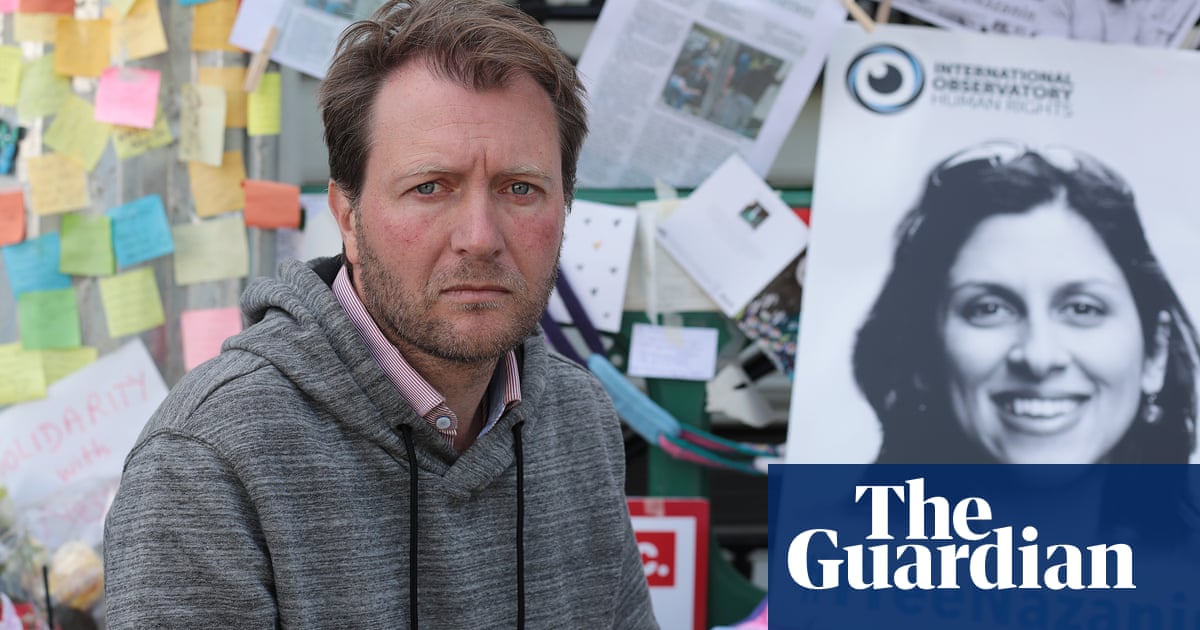 The imprisoned British-Iranian woman Nazanin Zaghari-Ratcliffe has ended her hunger strike after 15 days.
Her husband, Richard Ratcliffe, who had been holding his own hunger strike outside the Iranian embassy in London in solidarity, said on Saturday his wife had eaten some porridge and fruit.
"I'm relieved because I wouldn't have wanted her to push it much longer," he told the BBC Radio 4 Today programme. "I had a phone call this morning and it's good news. She's decided to stop her hunger strike, which means that I'll be stopping it.
"It was getting hard for me but I'm sure it was much harder for her. She said that she'd had some breakfast this morning."
Zaghari-Ratcliffe, a British-Iranian dual citizen, has been detained in Tehran since April 2016 accused of espionage.
More than 100 MPs visited Ratcliffe over the last two weeks to show their support for his cause, including the Labour leader, Jeremy Corbyn, and the Conservative House of Commons Speaker, John Bercow.
During prime minister's questions on Wednesday, Corbyn and dozens of other Labour MPs wore "Free Nazanin" badges.
Ratcliffe said his wife had been feeling nauseous over the last few days.
"She'd obviously been under quite a lot of pressure from the Revolutionary Guards, so [it was] quite stressful to break it. I think she'll go to the clinic as soon as possible – there's a clinic inside prison which isn't open today – to do a blood test," he said.
Zaghari-Ratcliffe was arrested at an airport in 2016 as she headed back to the UK with her daughter, Gabriella, after visiting relatives. She was sentenced to five years in prison.
It is thought the couple's daughter, who is five and living with her grandparents in Iran, has been deprived of weekly visits to her mother because the authorities have been angered by the high-profile protest.
Of his own experience, Ratcliffe said he had been more fragile but had got through it.
"My experience has been sitting on a doorstep with lots of people coming up with flowers and cards and messages of support, so it's been emotionally great but physically challenging."
He said Gabriella knew her parents were on hunger strike, and knew they could drink but not eat. "She took it at face value really. She liked the tents, she liked the fact that people had brought presents. She knows now that mummy and daddy are stopping."
On Friday, Ratcliffe's mother, Barbara, said she had been told to "get him into a taxi and go straight to A&E" as soon as the strike ended.
Tulip Siddiq, who is the Labour MP for Zaghari-Ratcliffe's consituency, expressed relief at the news and said it "shames those in power that they had to go through that torture in the first place".
The former cabinet minister Andrea Leadsom tweeted: "It is heart breaking that this couple are still apart, and their daughter is still unable to be with her mother. UK is doing everything possible to see them reunited."
During Ratcliffe's hunger strike, the pavement outside the embassy turned into a hub of protest, with hundreds of cards and messages decorating a large corrugate iron barrier erected in an attempt to block him off. Ratcliffe received post from around the world addressed to him at "the tent outside the Islamic Republic of Iran embassy".
Read more: www.theguardian.com