For a light lunch, you cant go wrong with Italys favourite antipasto, says Nigel Slater. Just add tomatoes, feta or smoked cods roe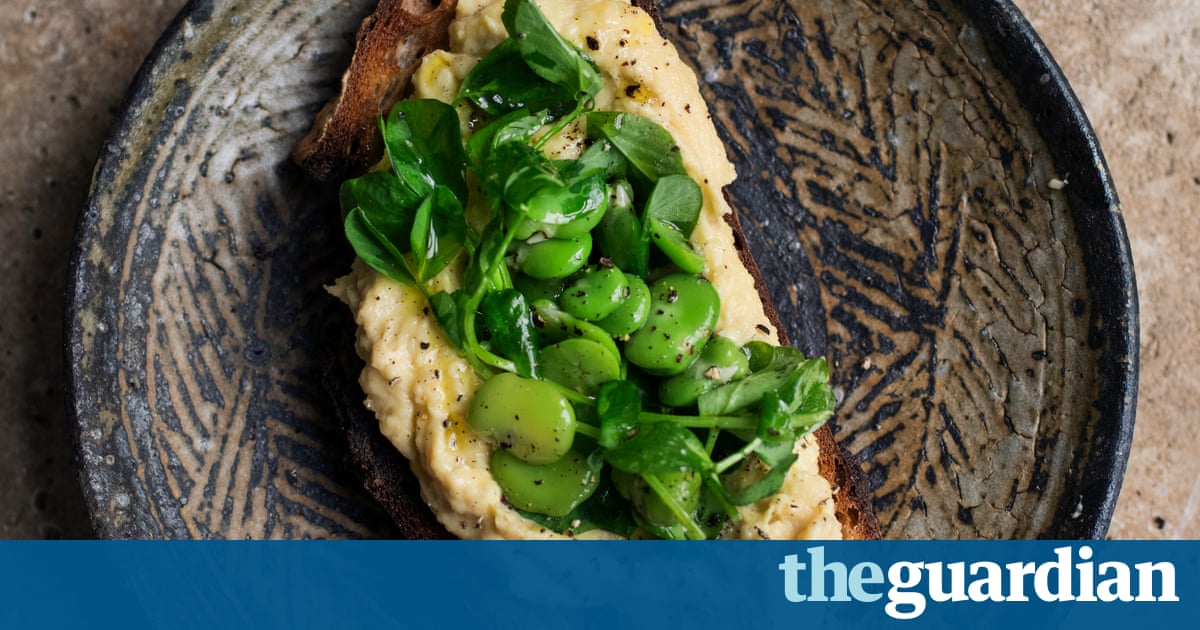 A fresh, soft loaf is the one I like for bruschetta, slightly awkward to slice but better for getting a rough surface to each piece. The ridges and furrows of a badly cut slice of bread are far more interesting when toasted than a perfectly flat slice with its uniform brown. They are more interesting to eat, but also better for rubbing the cut side of a garlic clove on.
Most of the time I eat such thickly cut, rough-textured toast soaked with olive oil, a hint of garlic and some roughly chopped tomatoes. Other times it will get a lattice of anchovy fillets or a lump of burrata, broken open to reveal its milky, barely solid interior, and rivulets of deep green oil. But there are times when my toast slips over into the territory of light lunch, when several slices are brought to the table on a wooden board or an old china platter for all to share. (In which case they vanish in seconds.)
It is then the spreads come out, the cooked, creamed haricot beans with olive oil, lemon juice and basil; a mash-up of canned sardines, lemon zest and oregano; smashed, lightly cooked peas and tarragon and a beaten pure of sweet beetroot with salty feta.
I found smoked cods roe at the fishmongers this week: two rose-coloured lobes which I processed into a cream with olive oil, garlic, lemon and a slice of soaked bread. Taramasalata, of course, but homemade is so different from the pink paste of commerce. I could have let things rest there, but added tiny broad beans too, probably the last of the season, and wispy tendrils of pea shoots. The moment a slice of toast becomes a proper lunch.
Creamed cods roe, broad beans
Some recipes for taramasalata contain bread. This is not just a question of easing the expense (smoked cods roe isnt the cheapest thing in the fishmongers) but of lightening the texture, which the crumbs do very well. This recipe makes plenty, and will keep in the fridge for several days. Makes enough for 6 or more.
For the smoked cods roe:
white bread 75g
smoked cods roe 300g
garlic 1 clove
olive oil 400ml
a lemon
broad beans 400g in their pods
pea shoots a handful
bread for toasting 6 slices
olive oil
Soak the bread in a basin of cold water for 10 minutes. Wring the water gently from the bread then place it in the bowl of a food mixer. Slice the lobe of cods roe in half, then, using a teaspoon, scrape out the roe and discard the skin.
Peel and crush the garlic to a pure and add it to the roe and bread, then beat slowly to combine. With the beater at a fairly slow speed, beat the roe and bread while slowly introducing the olive oil in a steady stream, as if making mayonnaise.
When the texture is soft and creamy but still spreadable, season with the juice of half a lemon or more. Transfer to a container, cover and chill in the fridge till needed.
Put a deep pan of water on to boil and salt it lightly. Pod the broad beans, then drop the beans into the boiling water and leave to cook for 5-9 minutes depending on their size. When the beans are ready, plunge them into cold water then skin each bean by squeezing it between thumb and forefinger. Wash the pea shoots and shake them dry.
For the toast: place the slices of bread snugly on a baking sheet and brown under an overhead (oven) grill. Alternatively, brown them on a hot griddle pan or in a toaster. As the bread browns, sprinkle lightly with a little olive oil then spoon on some of the smoked cods roe cream.
To finish, divide the beans between the toasts, scattering them over the cods roe then add the pea shoots and a trickle of olive oil to each one.
Beetroot and feta bruschetta
Read more: www.theguardian.com