Jelly for adults is all about get the define just right, says Nigel Slater. Serve it with crme frache for a wonderfully freshening summer dessert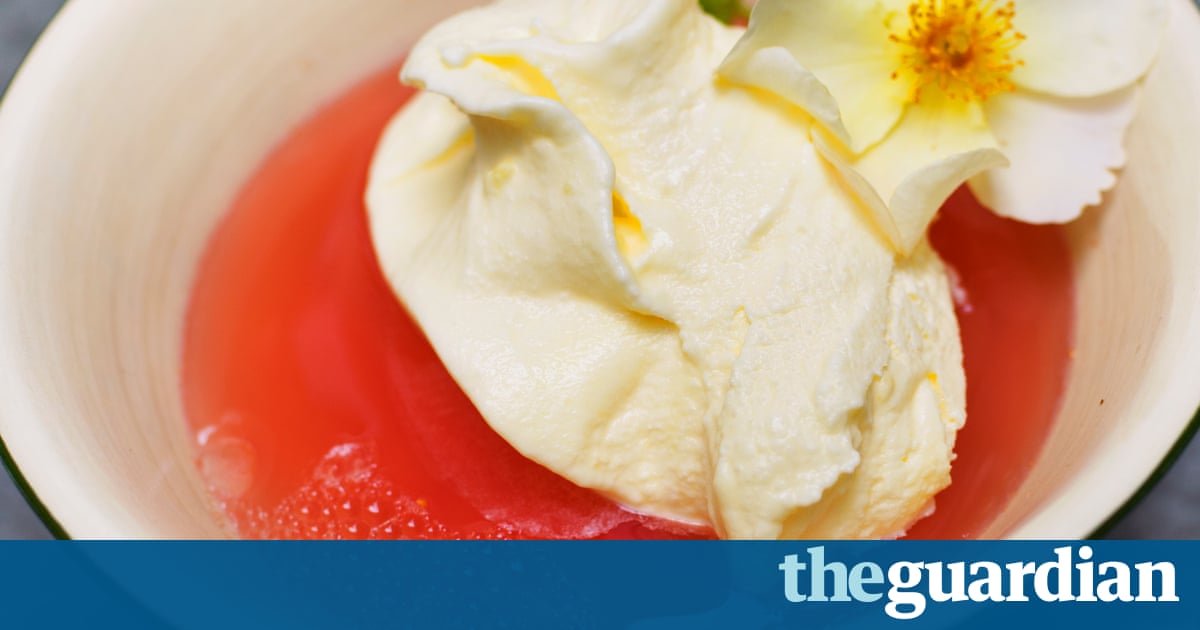 I see no reason why jelly cant be for grown-ups, too. The essence of the fruit, its heart and soul, set into a gleaming, jewel-like dessert. Light , not too sweet and perfect for a summertimes day. When I say set, I entail scarcely so. Im after a jelly that can hardly keep its shape as you lift it to your mouth, one that shivers on the spoonful and meltings on the tongue.
The tricky point is achieving a suitable set. Too little gelatine and you could drink research results. Too much and you have a jelly that will stand up and wobble, which is fine when set in a rabbit mould and turned out for a toddlers birthday party, but Im talking about something wholly softer and more elegant.
Generally speaking, the more acidic the fruit, the more foliages of gelatine you will need.( Dont even think of building pineapple jelly, it never runs .) The grapefruit jelly below took four attempts to get a delicate defined, adding another leaf to each batch until I arrived at the consistency I was after.
The lurid( and much-loved) orange and lime gelatins of my childhood have built style for blackcurrant, grapefruit and rhubarb. I still serve them as Mum did with some sort of dairy make. The trickle of evaporated milk has become crme frache and the striped Neapolitan ice cream that was so much part of my childhood is now replaced with an ice cream made from thick, yellow clotted cream. Time, I guess, for jelly to grow up.
Pink grapefruit jelly
The high acidity level in grapefruit means you need a little more gelatine than usual. You will need about 3 grapefruits, depending on size.
Serves 4
gelatine 6 small sheets
pink grapefruit juice 500 ml
lemon juice of 1
sugar 2 tbsp
Soak the gelatine in cold water. Halve and squeeze the grapefruits. Pour the juice into a saucepan, squeeze in the lemon juice then warm until hot but not boiling. Add the sugar and stir until dissolved.
Remove the gelatine from the water, let it drip briefly then stir it into the warm juice. Divide the liquid jelly into 4 dishes and refrigerate for 5 hours until softly defined. Serve with the clotted cream ice cream, below.
Clotted cream ice cream
My first attempts at an ice made of clotted cream were too rich and buttery. My misstep was over-churning it. By employing milk as well as cream and clotted cream, I have ended up with a delightful ice. Its rich but not overly sweet, and profoundly reminiscent of those I ate as a child.
Serves 6-8
eggs 2
caster sugar 175 g
doubled cream 225 ml
milk 250 ml
clotted cream 200 g
Break the eggs into a mixing bowl, add the caster sugar and beat until light and fluffy. Mix the cream and milk in a small pan and warm over a moderate heat without bringing to the boil.
With the mixer on a low speed, pour the cream and milk into the eggs and sugar, followed by the clotted cream. Mix thoroughly, then pours the mixture through a sieve into a jug and allow to cool. Chill in the fridge, or by placing the jug in a bowl of ice and stir until chilled. Place a plastic container and its lid in the freezer to chill.
Pour the custard into the bowl of an ice-cream machine and churn until almost frozen, then transfer to the chilled freezer box, covering and keep in the deep freeze until needed.
Blackcurrant jelly with pistachio shortbread
Read more: www.theguardian.com