Jeremy Corbyn and Bernie Sanders both started out as rank outsiders and have similar ideology. Dan Roberts, who has followed both campaigns, compares their appeal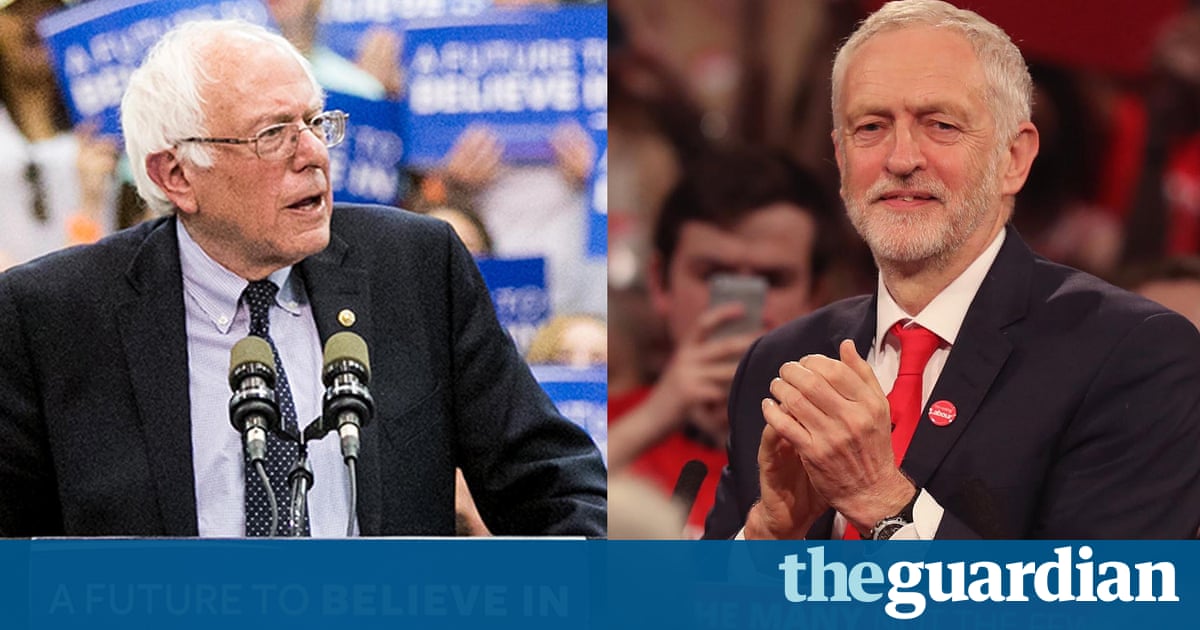 Just as I was wondering if I had come to the right place, out of the drizzle stepped a familiar figure. Sorry about the rain, Jeremy Corbyn told the crowd waiting in a park in Southall, west London, before launching into an eerily familiar speech. For more than a year, I had followed an almost identical politician around the United States, where the climate was more extreme than the London suburbs. From baking-hot Iowa prairies, to the blizzards of New Hampshire, the rise of Bernard Sanders played out on a continental scale. In the made-for-America production, the ageing leftwinger known simply as Bernie rose from nowhere to electrify the 2016 race for the White House. Yet, despite the lower-budget feel of the British version, this movie is getting a remake. Here, too, a leader who was at first ignored, then ridiculed, and now reviled by the establishment, has seen a last-minute surge in the opinion polls that threatens to upset a complacent opponent.
Without wanting to give the plot away, it is important to note that Sanders lost. A mounting wave of support peaked too late for him to overhaul Hillary Clinton for the Democratic nomination and never allowed him to test the polling data that suggested he could have beaten Donald Trump. But the last time an angry white-haired socialist called for political revolution, something nonetheless remarkable happened. Against all the odds, Sanders found millions more Americans were enthusiastic about radical social change than even he imagined was possible. Ideas that once seemed absurd by the old standards of Washington politics set the country alight.
In one way, Labours leader has already gone further than the failed candidate for the Democratic nomination by winning his partys support twice. Despite narrowing opinion polls, political pundits are not alone in thinking that a national victory is still all but inconceivable. But a lesson of the tumultuous US election is that nothing is predictable in our febrile modern politics, and nothing may be the same again.
The widespread support revealed by Sanders for policies such as wealth redistribution, trade protection, free universities and universal healthcare continues to confound expectations. The implosion of Trumps presidency, and the centrist wing of the Democratic party, has left Sanders by some measures the most popular politician in America. Though rightwing critics in Britain also try to paint Corbyn as outside the political mainstream, the whole political spectrum is arguably shifting to the left, with even the Tories copying Labour economic policies.
Read more: www.theguardian.com