Reading Time:
7
minutes
Six of the best Cut down on the washing-up with these all-in-one dishes, including pork ribs with dumplings, chard gratin and Korean beef stew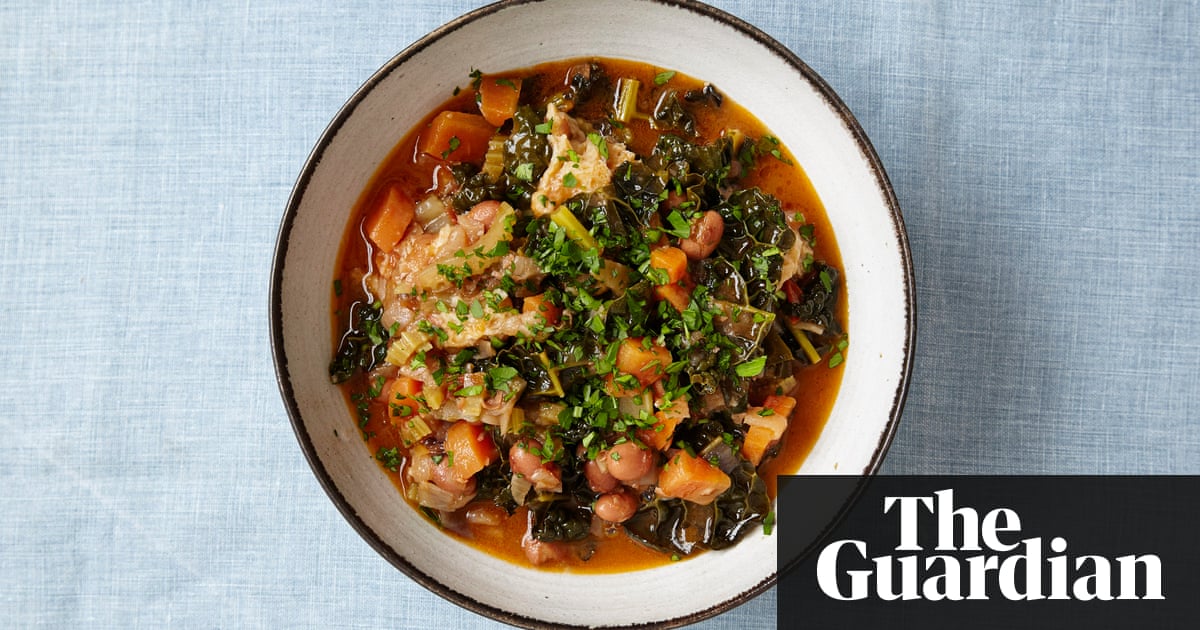 Borlotti, parsley and bread soup (pictured above)
Prep 20 min
Cook 1 hr 30 min
Serves 6-8
6 tbsp olive oil
3 red onions, peeled and finely chopped
5 garlic cloves, peeled and finely chopped
3 carrots, roughly chopped
2 heads celery,outer branches removed, hearts roughly chopped
1 bunch parsley leaves, roughly chopped
5 tbsp tinned chopped tomatoes
1 bunch cavolo nero, chopped
500g cooked borlotti beans,cooking liquor reserved
¾ loaf stale white bread or ciabatta, crust removed, cut into 2.5cm thick wedges
Plenty of good olive oil
600ml boiling water
Salt and black pepper
In a large heavy-based pot, fry the onions, garlic, carrots, celery and parsley uncovered in the olive oil for about one hour over a low heat.
When these are entirely soft, add the tomatoes and continue to cook for a further 15 minutes. Stir in the cavolo nero and set aside.
Pour half the beans with half their cooking liquid into a food processor. Pulse until smooth, then add to the vegetables. Strain the other half of the beans and add them to the soup. Lay the bread gently on top of the soup to form a sort of lid, then cover with plenty of olive oil. Pour the boiling water over the bread and leave the soup to cook very gently for 10 minutes, then leave to sit off the heat for a further 10 minutes. The bread should be completely soft.
Gently break up the bread lid and fold it into the rest of the soup. Season if need be, and serve with some more olive oil on top – the soup should be thick enough that you can stand up a spoon in it.
From The Kitchen Orchard by Natalia Conroy (Ebury)
Chard gratin with gruyère
Read more: www.theguardian.com