The sweet spot If you can resist munching on them, turn a pile of pistachios into a sweet tart filling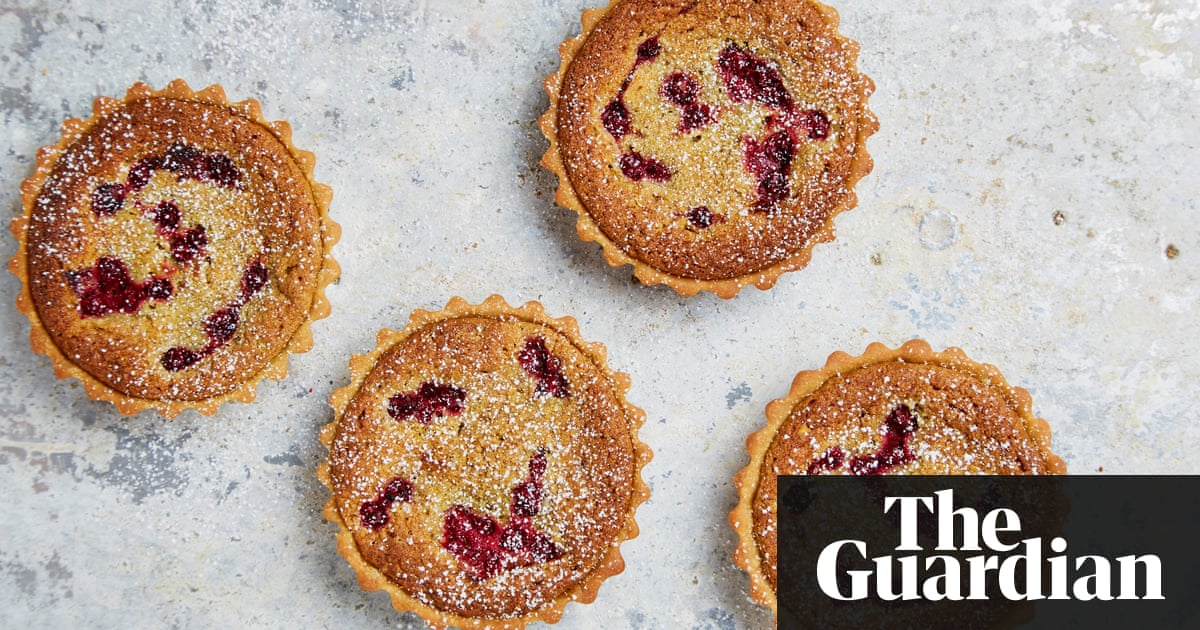 I could happily spend an entire day munching on pistachios – the salted kind, roasted in their pale shells as a quick snack. I like to use the unsalted variety for sweet bakes, ground into a powder for cakes, biscuits or – my favourite – pistachio frangipane, of which today's recipe is a celebration.
Pistachio and redcurrant frangipane tarts
If you struggle to find fresh redcurrants, frozen ones work, too. They're available in most supermarkets, tucked away in frozen bags of "summer berries". You will need four 10cm round mini tart tins for these.
Prep 20 min
Chill 20 min
Cook 25 min
Makes 4
For the pastry
160g plain flour
80g salted butter, fridge cold, cubed
40g icing sugar
1 medium egg, beaten
For the filling
110g pistachios
110g salted butter, softened, plus more for greasing
80g caster sugar
40g light brown sugar
1 medium egg
30g plain flour
50 frozen or fresh redcurrants
Start with the pastry: tip the flour, butter and icing sugar into a food processor and blitz until you have a mix resembling fine breadcrumbs. If you're doing it by hand, rub the cold butter into the flour between your thumbs and fingertips until you reach the same consistency.
Gradually stir in the egg (in tiny amounts) until the dough comes together. You won't need to use the whole egg, so you can set aside the remainder for another use.
Flatten the dough into a disc, cover with clingfilm and leave to chill in the freezer for 10 minutes.
For the frangipane, blitz the pistachios to a fine powder using a processor, then beat together the butter and sugars until pale and creamy. Add the egg, flour and pistachios, and stir to a firm paste.
Melt some butter and use it to grease the insides of the tart tins. Remove the pastry from the freezer, dust a worktop and rolling pin with a little flour, then roll out the pastry to 2-3mm thick. Cut it into four pieces and use these to line the tart tins, taking care to push the pastry right into the edges. Put the pasty-lined tins in the freezer for 10 minutes. Meanwhile, heat the oven to 200C/390F/gas 6.
Once the pastry cases have chilled, divide the frangipane mix equally between them. Scatter over the redcurrants, then put the tins on a baking sheet and bake for 25 minutes. They should be richly browned on top but still wobble in the middle when shaken. Set aside to cool.
Food styling: Emily Kydd. Prop styling: Jennifer Kay. Food assistant: Katy Gilhooly
Read more: www.theguardian.com