Greek souvlaki, Somali bean stew, Indonesian omelette dishes that take our cooks back to their roots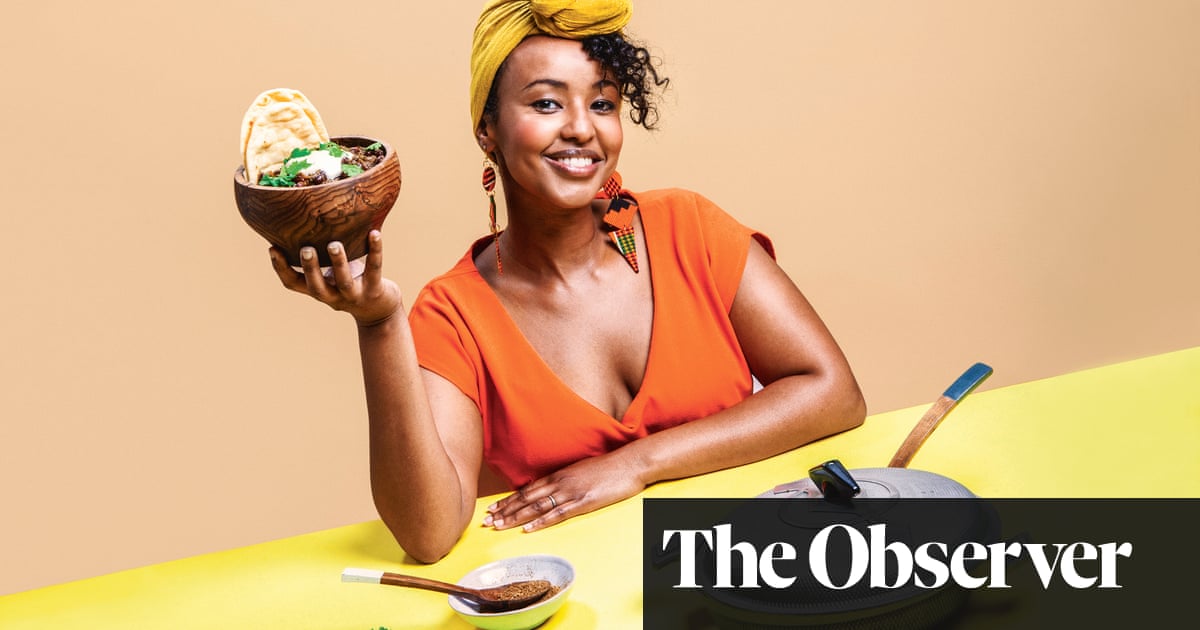 The key to Somali cooking is xawaash spice mix – translated it means "the essentials". It's often described as in between ras el hanout and garam masala, which is how I think of Somali food: in between Arabic and Indian, with African thrown in. When you make it, it will come as no surprise to know Somalia was called "Regio Aromatica", or the aromatic isles, by the ancient Romans.
Xawaash is made family to family, so my mum's is the one I make, although she sometimes adds turmeric to hers. You adapt it depending on what you have, but I've got a consistent recipe that reminds me of her cooking.
My idea of home is tied in with my mum's cooking. I was born in Kuwait. My mum was probably born in Ethiopia; she was a nomadic herder. My dad is from the city, from Hargeisa in Somaliland. They moved to Kuwait, had children and then they separated and we came to London in 1985. Civil unrest had been rumbling in Somaliland, so we didn't go back. Mum wanted her daughters to be educated, and Somali culture can be sexist, although it also celebrates strong women. I named my supper club after Arawelo, a fearsome Somali queen who led a women's army.
We lived in Harlesden, in north-west London, which had Caribbean and African shops. But Mum would also take two buses to get spices and things like fresh tamarind from the Indian shops on Ealing Road. I used to help her out in the kitchen when I was young but was rubbish at it. I felt that girls were expected to help with cooking but boys weren't, so that pissed me off. When I left London I missed her food, so had to learn it for myself.
Ful – we call it maraq digir – is a great way to feed a big family. Beans are cheap, and the xawaash is a good way of adding lots of flavour. People know about ful medames from Egypt, but the dish goes all the way down east Africa to Sudan. We would have that for brunch on Saturday, made with tinned adzuki beans, fried onions and lots of green chillies, fresh coriander, fresh tomatoes – and the xaawash spice mix.
When my mum had less money she would get bones with tiny bits of meat left on. She was feeding so many – she'd make enough for 20 people a day. Us and our friends who'd be round, or people from the Somali community.
We didn't eat much English food, and of course I wanted fish and chips and pizza. Now I appreciate it all. My mum taught us to have a palate. If I go into a fancy restaurant, I don't have to like it. Not because I grew up poor, Somali or as a refugee, or because I don't understand western flavours. I just might not like it. But if you're outside that world you can feel uncomfortable trusting your own judgment. It sometimes feels like the food world is for a particular class, a particular place, a particular kind of person who is a "foodie". Everyone eats food, so I don't know what defines a foodie. My mum is an amazing chef. She's illiterate, she grew up as a nomadic herder, but has an instinctive way of making food that is good and tasty. HO'N
Maraq digir Somali bean stew