The Long Read: Giving free booze to homeless alcoholics sounds crazy. But it may be the key to helping them live a stable life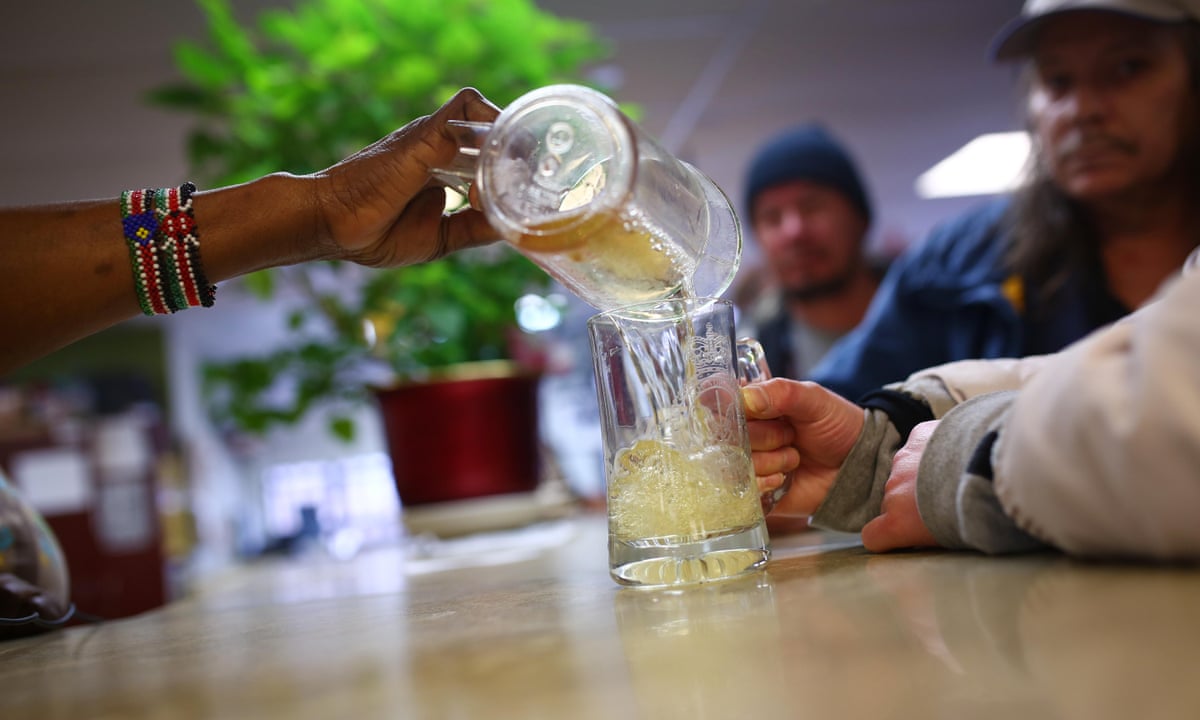 On a grey January morning at 9.15, residents of the Oaks shelter for the homeless started lining up, coffee mugs in hand, at a yellow linoleum counter. At half past the hour, the pour began. The Oaks residents are hard-core alcoholics. They line up to get what most people would consider the very last thing they need: an hourly mug of alcohol.
Dorothy Young, the Oaks activities coordinator a stocky, always-smiling middle-aged woman who is part cheerleader, part event planner, part warden, part bartender stood behind the counter at a tap that dispenses cold white wine. She poured a measured amount of wine into each cup: maximum seven ounces at 7.30am for the first pour of the day, and five ounces each hour after that. Last call is 9.30pm.
The pour is calculated for each resident to be just enough to stave off the shakes and sweats of detox, which for alcohol is particularly unpleasant seizures from alcohol deprivation can be fatal. The pour is strictly regulated: Young cuts off anyone who comes in intoxicated. They wont be given another drink until they sober up.
The Oaks is a converted hotel next to a pawnshop, in Carlington, a working-class neighbourhood on the west side of Ottawa, Canada. When residents first arrive, they tend to drink the maximum, every hour, every day. Many also drink whatever they can buy or shoplift outside the building. For most, this gradually changes. They stop drinking outside, begin to ask for fewer ounces, skip pours or have a special pour of watered-down wine. Two residents get several hours worth at a time to take up to their rooms and ration out themselves. One man gave up alcohol but gets an hourly pour of grape juice, to stay part of the group.
Ten of the Oaks residents are mental health patients and dont get the pour just fewer than 50 others do. A few are women or younger men, but the majority are men in their 50s; it often takes several decades of drinking before people seek a different life and land here. Standard clothing in January was flannel pyjama bottoms and slippers with a down jacket. Many have long beards, dishevelled hair, and no front teeth alcohol will do that. Most are sick. Years or decades of drinking have left them with liver, heart and brain damage that will never be reversed. A nurse is on site 40 hours a week. At least once a week and whenever necessary, a doctor and specialist nurses come to see patients. Young leads physical stretching groups, a book club, shopping trips and outings; Little Rays Reptile Zoo was a recent hit.
The pour is what makes the Oaks different from every other well-run facility of its kind. It solves the residents most urgent problem: where can I get a drink? Virtually all the clients have tried to quit, over and over, and failed. They have spent decades drinking themselves into a stupor each day. One man was taken to A&E 109 times in six months. Another was picked up by the police or paramedics 314 times in one year. They have caused enough chaos and disorder that they have been kicked out of, or barred from Ottawas other shelters. Before being accepted at the Oaks, if they could not beg or collect enough empty bottles to recycle to buy booze, many shoplifted rubbing alcohol or Listerine. Some shelters started filling their hand-sanitiser dispensers with soap, because residents drank the rub for the alcohol it contains.
We have guys with wounds with worms in them, said Kim van Herk, a psychiatric nurse with Ottawa Inner City Health, an organisation formed 15 years ago to address the needs of the citys hardest-to-reach homeless people, many of whom are alcoholics.
And thats our priority, but its not their priority, added Amanda MacNaughtan, a nurse coordinator.
They are so dependent on alcohol that its their most basic need, said Van Herk. If that need is not being met, nothing else matters for them. Its hard for other people to get their minds around how severe their addiction is they feel like theyre going to die. But once that need is met for them, they can start looking at other parts of their life.
The pour creates trust: here is a system that understands residents needs. This system loosens them from their drinking friends. It keeps them away from Listerine. Without the pour, they would stay outdoors, begging or stealing, in danger of losing their feet to frostbite. Indoors, they take their medicine, see their doctors and mental health workers, eat actual food, re-establish contact with their families. Giving free booze to homeless alcoholics sounds crazy. But it may be the key to helping them live a stable life.
---
Irwin Windsor, 39, has a broad, smiling face and short brown bristle-cut hair. Ten years ago he still had a normal life: a family and steady work with a moving company. Although there had been drinking in his own family, he remembers his childhood in British Columbia fondly. He lived for a few years with his beloved maternal grandmother, who was an occasional drinker. He has happy memories of just sitting with her and watching soap operas or The Price is Right, her favourite gameshow. She taught him to knit, crochet and cook.
His stepfather, whom he adored, would get drunk two or three times a week when Irwin was little. But he was not abusive. When Windsor was in his 20s and had a job, he would take $100 Canadian (55) from his paycheque and the two would drink. We would send my mother off to bingo and wed play cards and listen to music. We had a great time.
Windsor kept his drinking under control until 10 years ago. Then his stepfather died and his grandmother committed suicide. His weekly binges became daily binges, and then allday binges. He lost his job, lost his apartment, and lost contact with his sons, who live in Vancouver. I havent seen them for almost 11 years, he told me. I dont want my sons to see me as an alcoholic.
Read more: www.theguardian.com