Burgers have a bad rep, but they dont have to be unhealthy heres how to cook dirty food the smart way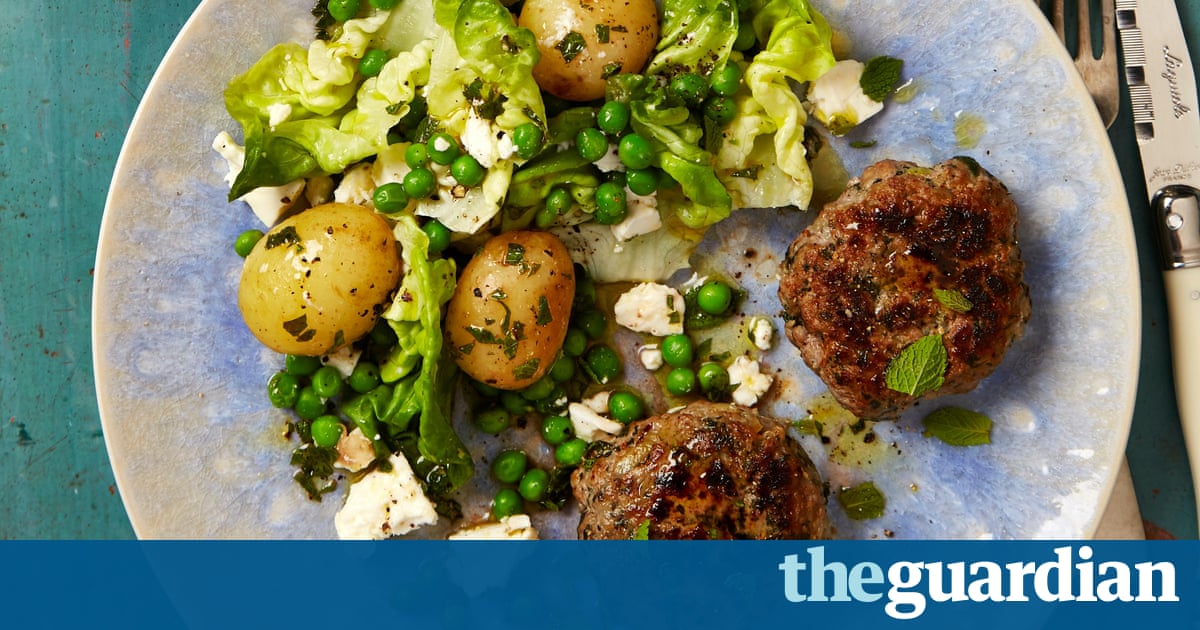 The hamburger is the poster boy for todays fast-food culture but, with its high fat content and often dubious ingredient list, no wonder its usually painted as unhealthy. That said, hamburgers are very fast to prep: if youre in a hurry and want a treat, you can reach for a packet of mince and make burgers from conception to plate in less than 20 minutes. And if you buy your mince from a good source, you can be sure the meat is top quality and, hopefully, antibiotic-free, too. If you go light on the size of the burgers and the buns, as with todayss deliciously minty lamb burgers, bulk up instead with a lovely summer salad.
For pudding, a honeyed sponge cake that makes the most of apricots, which are bang in season right now. This year has been a particularly good one for apricots (they are juicy, fragrant and plump) so we may as well make the most of them while we can.
Lamb burgers with minty new potato, feta and pea salad
This sharp, bright salad is the ideal foil for the juicy, minty burgers. Serves six.
large onion, peeled
1 handful mint leaves, washed
500g lamb mince
tsp sea salt
Olive oil, for frying
For the salad
500g baby new potatoes
225g fresh peas or frozen
1 round lettuce, washed
200g feta
For the dressing
1 handful mint, leaves picked and finely chopped
2 tbsp red-wine vinegar
1 tsp caster sugar
80ml extra-virgin olive oil
A squeeze of lemon juice
Blitz the onion and mint in a food processor until very finely chopped, then mix into the mince, season with salt, and shape into six patties.
Cook the potatoes for 15 minutes in salted boiling water; steam the peas on top of the spuds for the last two to four minutes, depending on whether theyre fresh or frozen. Drain both and leave to cool.
Heat a splash of olive oil in a wide frying pan. Lay in the burgers, in batches if need be, and flatten them a little in the pan with the back of a fish slice. Fry the burgers for five minutes on each side until golden.
Meanwhile, whisk the mint leaves with the vinegar and sugar until the sugar dissolves, then whisk in the oil and lemon juice, and season. Tear the lettuce straight into a large bowl, add the potatoes, peas and feta, then pour on the dressing and toss. Serve alongside the burgers.
Read more: www.theguardian.com