Depending on who you ask, moving homeless people into wooden cabins either rescues them from the streets or paves the way for shantytowns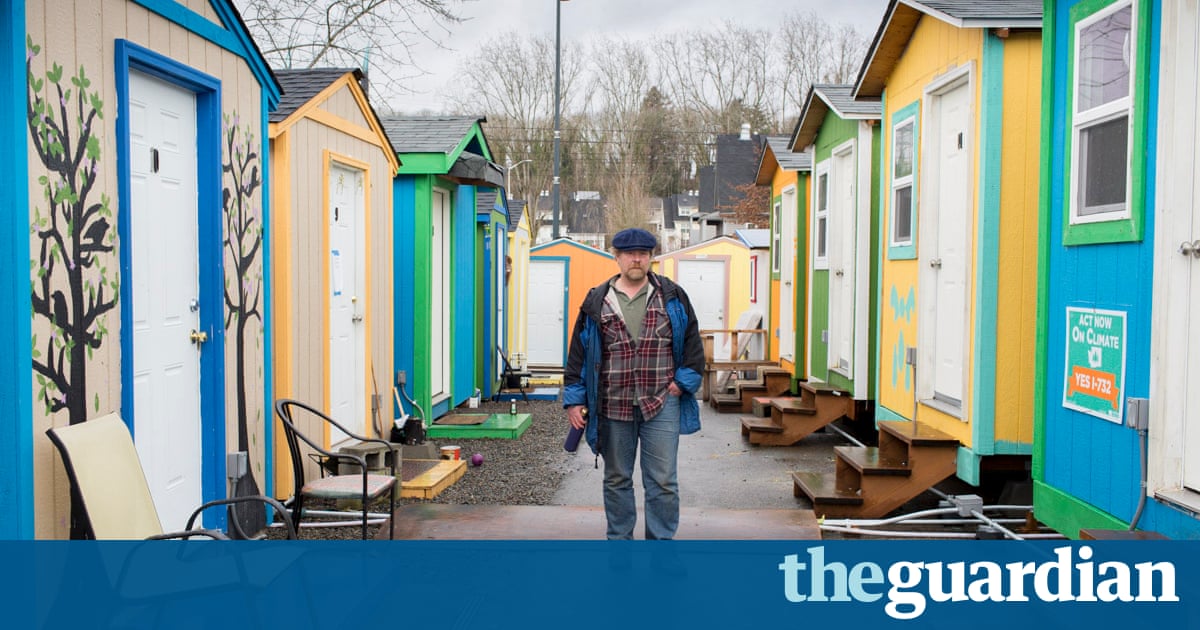 Supported by
About this content
Othello Village is on a plot of land behind a gas station, surrounded by a chain-link fence. It consists of 28 wooden huts and 12 tents that flap in a bitter Pacific wind. Residents share a shower, toilet and kitchen tent, with food stored in plastic boxes to keep out the rats.
Until recently the cabins lacked heating or electricity, and the children who live there currently 11 of its 67 inhabitants had to use flashlights to read their schoolbooks. This is how Seattle, one of the richest cities in the world, flush with cash from Amazon and Microsoft, houses some of its poorest residents.
Seattle is not alone. Wooden cabins euphemistically referred to as tiny houses are increasingly viewed as a quick and cheap solution to homelessness and, with minimal public debate, they are mushrooming across the country.
The shed-like structures have appeared in vacant lots and scrubland in at least 10 states, from Florida to New York to Utah. But the trend is most apparent in northern California and the Pacific north-west. Some of Americas most liberal cities have in recent years shifted from banning and clearing unauthorized homeless settlements, based in part on the argumentthey were unfit for habitation, to sanctioning and even funding camps that skirt building regulations thanks to loopholes or special dispensation.
Depending on who you ask, moving homeless people into tiny houses is either a pragmatic means of rescuing them from the street or an alarming shift in urban planning that could pave the way for the creation of shantytowns.
Barbara Poppe, who coordinated federal homelessness policy for most of Barack Obamas presidency, said she believes the development of slums is a real risk and that some of the ramshackle camps used for homeless people are completely deplorable.
Why would we accept that people should be living in huts that dont have access to water, electricity and sanitation? she said, adding that such basic accommodation stigmatizes homeless people.
Poppe now works as a leading homelessness consultant. She was recently hired by Seattles mayor, Ed Murray, to review the citys homelessness strategy. She advised against funding tiny house encampments, arguing the money would be better spent constructing permanent affordable housing. The city is going ahead with them regardless.
I always challenge the folks on the west coast about this, Poppe said. I say, I dont understand why you find it acceptable for children and infants to live like this. The response, Poppe added, is often a blank stare and a stock reply: We have to do something. This is better than doing nothing.
Read more: www.theguardian.com