Stephen Colbert and Noah addressed Trumps out-loud inner monologues, Facebooks data breach and the opioid crisis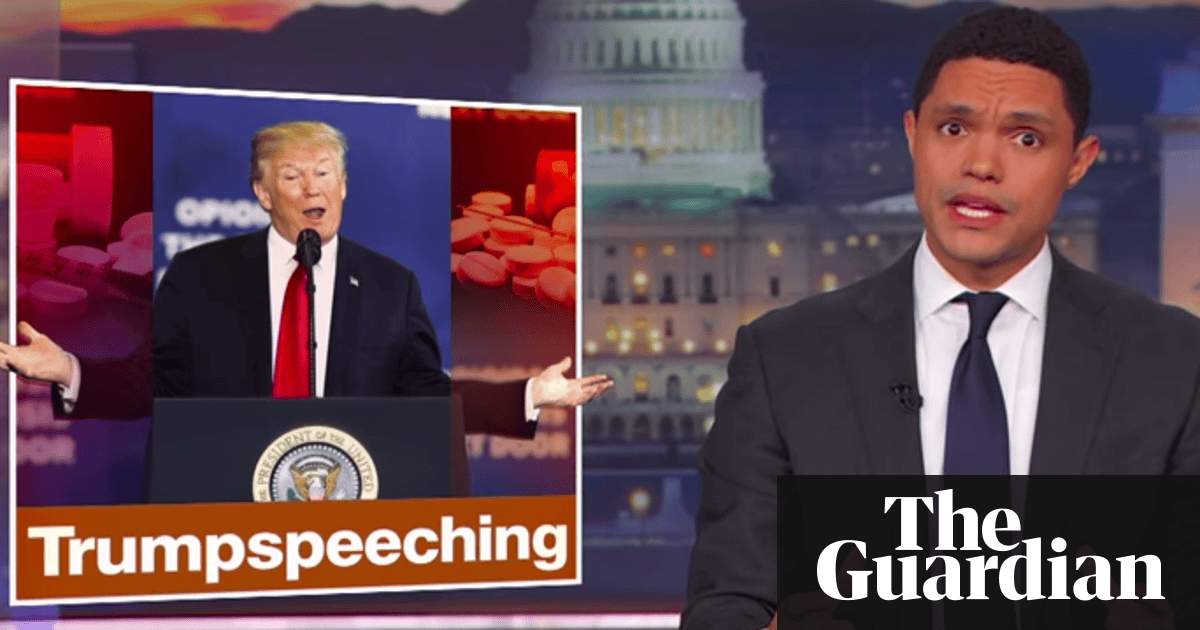 Late-night hosts on Tuesday discussed Facebook's data breach, continued personnel shakeups at the White House, and the Trump administration's approach to the opioid epidemic.
Trevor Noah: 'Teenagers think Donald Trump is totes lame'
Trevor Noah discussed Trump's plans to combat drug trafficking and the opioid crisis. He began with footage of the president doubling down on his proposal to execute drug dealers; in the clip, Trump says he can understand if "our country is not ready for that," but then says he "personally can't understand it".
"One of my favorite things about Trump is that he inner-monologues out loud," Noah joked. "It's like America elected Gollum."
Noah continued: "Today's epidemic is complicated in many ways. Let's say you kill all the drug dealers. In this opioid crisis, that's hardly the only kind of person involved. Do you also kill doctors who overprescribe painkillers? Do you kill family members who buy opioids for their addicted loved ones? Do you kill the people who sell drugs to pay for their own addiction?"
"I'm not saying all of Trump's plans are bad, but some of these drug-fighting ideas seem to come straight out of the 80s," Noah added, referencing Trump's idea of airing commercials that will "scare" kids away from using drugs.
"Again, I see why Trump thinks that this idea makes sense," Noah said. "If the president of the United States believes everything he sees on TV, then why wouldn't teenagers?"
The host explained, though, that America has spent money on ad campaigns of this sort before. "They weren't just corny," he noted. "Studies have shown that those commercials didn't actually work." Noah referenced one from the National Institutes of Health that showed kids were no less likely to use drugs after seeing the commercials.
"I believe that the president sincerely wants to keep young people away from drugs. You see, typical anti-drug PSAs don't work on the kids. What Trump needs is a way to make drugs seem really uncool to young people," Noah suggested.
"And for once, I think he's the right man for the job. Because according to polls, two-thirds of American teenagers think Donald Trump is totes lame. So to keep them off drugs all the president needs to do is pretend that he takes drugs, which shouldn't be that hard."
Stephen Colbert: 'Wear hat, yell at wall'
"Does anybody here use Facebook?" began Stephen Colbert. "Because the company is reeling from revelations that they allowed the private information of 50 million Americans to be harvested by the Trump campaign's consulting firm Cambridge Analytica."
Colbert then explained that Cambridge Analytica, partly owned by Trump donor Robert Mercer, acquired its data from personality quizzes that claimed to be for research purposes and harvested psychological data from Facebook users and those users' friends.
"People are blaming Facebook for this because they handed over all your data willingly; after this revelation, Facebook's stock value dropped by $36bn," Colbert explained. "It seems like now would be a very good time for some damage control from Facebook CEO and guy-who-wants-you-to-play-a-complicated-board-game-he-invented Mark Zuckerberg."
Colbert then showed investigative footage acquired by the UK's Channel 4. In it, Cambridge Analytica CEO Alexander Nix can be seen detailing his firm's involvement in the Trump campaign, which he says included handling all research, data, analytics, targeting, and digital and television advertisements. In the footage, Nix says the candidate is "always" the puppet.
"Wow, so it was their meticulous data and analytics that informed Trump's strategy of Wear Hat, Yell about Wall," the host joked. He then showed more of the undercover video, including a section in which a Cambridge Analytica staffer explains the origins of the nickname "Crooked Hillary".
"Wait, they made up Crooked Hillary?" Colbert responded. "Coming up with demeaning nicknames was the one skill we knew Trump had!"
Jimmy Kimmel on the 'secretary of interior decorating'
Jimmy Kimmel addressed the revolving door of employees in the Trump administration.
"As all this sex stuff is going on," he began, "here's what's up with our secretary of interior decorating, Dr Ben Carson." Kimmel showed Carson addressing the reports, including several from the Guardian, that he has spent lavish amounts of taxpayer money to furnish his office at the Department of Housing and Urban Development.
"I love that with all this madness going on, Ben Carson is being grilled about a dinette set," Kimmel joked, referencing the Carson's $31,000 payment. "Ben Carson, by the way, is one of the few remaining members of Trump's original cabinet."
"Last week, he fired his body-man, his personal assistant, and his secretary of state Rex Tillerson," the host explained. "Rex Tillerson had a two-hour meeting with his replacement yesterday, Mike Pompeo, who currently runs the CIA."
"If you're Mike Pompeo, do you even do anything to your new office?" Kimmel quipped. "You put up pictures or just live out of a banker's box and gather your stuff when it's time to go?"
Read more: www.theguardian.com