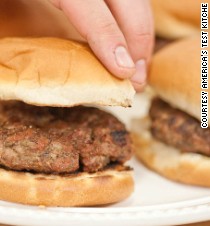 (America's Test Kitchen)Creating a turkey burger that tastes every bit as meaty, tender and juicy as the beef kind is a tall order, since turkey must be cooked to a higher temperature than beef, and it lacks beef's high percentage of lubricating fat. This accounts for its appeal as a healthier burger alternative, but it also explains why these lean patties often cook up dry, chalky and bland.
One of the best guards against dryness is grinding your own meat in a food processor. This allows you to control both the cut and the size of the grind. We opted for thigh meat, as this cut boasts a decent amount of fat and flavor. To solve the moisture issue, we decided to use some of our turkey to make a sausage: Finely processing some of the meat causes the proteins to stretch out and link up into a stronger network that traps fat and moisture. When mixed into the remaining ground turkey, the sausage trapped copious amounts of moisture and fat, resulting in a juicy, tender burger.
We found an unusual remedy to loosen our burgers' texture: raw white mushrooms. Chopped in the food processor and then mixed into our turkey sausage, the mushrooms provided three unique benefits: They increased tenderness; provided extra moisture; and, thanks to their high level of glutamates, helped boost meatiness.
Just five minutes per side over a hot fire was enough to char and cook our mouthwatering turkey burgers, which were now every bit as enticing as the beef version, especially when topped with some
malt vinegar-molasses sauce
. These can be cooked up to an hour after they're formed, or straight from the freezer if made ahead.
Turkey Burgers
Ingredients
1 (2-pound) bone-in turkey thigh (If you are able to purchase boneless, skinless turkey thighs, substitute 1 1/2 pounds for the bone-in thigh.)
1 tablespoon unflavored gelatin
3 tablespoons low-sodium chicken broth
6 ounces white mushrooms
1 tablespoon soy sauce
Pinch baking soda
2 tablespoons vegetable oil , plus extra for brushing
Kosher salt
Pepper
6 large hamburger buns
Instructions
1. Remove skin and bone from turkey thigh. Trim meat and cut into 1/2-inch pieces.
2. Place turkey pieces on large plate in single layer.
3. Freeze meat until very firm and hardened around edges, 35 to 40 minutes.
4. Meanwhile, sprinkle 1 tablespoon unflavored gelatin over 3 tablespoons low-sodium chicken broth in small bowl and let sit until gelatin softens, about 5 minutes.
5. Pulse 6 ounces trimmed, white mushrooms in food processor until coarsely chopped, about 7 pulses, scraping down bowl as needed. Set mushrooms aside; do not wash food processor.
6. Pulse one-third of turkey until chopped into 1/8-inch pieces, 18 to 22 pulses, scraping down bowl as needed. Transfer to large bowl and repeat two more times with remaining turkey.
7. In food processor, combine 1/2 cup ground turkey, softened gelatin, 1 tablespoon soy sauce and pinch baking soda. Process until smooth, about 2 minutes. Scrape down bowl as needed.
8. With processor running, drizzle in 2 tablespoons vegetable oil. Return mushrooms to food processor with paste and pulse to combine, 3 to 5 pulses, scraping down bowl as necessary.
9. Transfer mixture to bowl with ground turkey; use hands to evenly combine. Grease hands and divide mixture into 6 balls. Form into 3/4-inch-thick patties about 4 inches in diameter.
10. Press shallow indentation into center of each burger. Brush 1 side with vegetable oil and season with kosher salt and pepper. Using tongs, flip patties and repeat on second side.
11. Open bottom vent of charcoal grill completely. Light large chimney starter filled with charcoal briquettes (6 quarts).
12. When top coals are partially covered with ash, pour evenly over half of grill.
13. Set cooking grate in place, cover and open lid vent completely. Heat grill until hot, about 5 minutes. (Proceed to step 15.)
14. Turn all burners to high, cover and heat grill until hot, about 15 minutes. Leave primary burner on high and turn off other burner(s).
15. Clean and oil cooking grate. Place burgers over hot part of grill. Cook until first side is well browned, about 4 to 7 minutes.
16. Flip patty and cook until burger registers 160 degrees, 4 to 7 minutes. (If cooking frozen burgers: Brown both sides, move to cool side of grill, cover and cook to 160 degrees.)
17. Transfer burgers to plate and let rest for 5 minutes. While burgers rest, grill 6 large hamburger buns over hot side of grill.
18. Transfer burgers to buns, add desired toppings and serve.
Read more: www.cnn.com