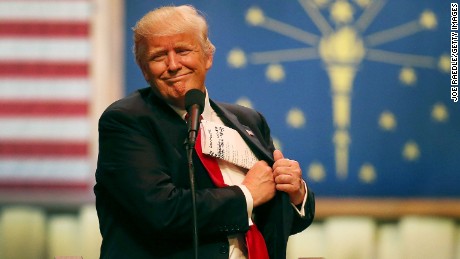 New York (CNN)Donald Trump has hired hundreds of people throughout his career and soared to national fame as the star of a reality TV show dubbed the "ultimate job interview."
Now, as the Republican Party's presumptive presidential nominee, Trump is beginning the most consequential interview process of his lifetime:
Choosing a vice president
.
While Trump has never before had to pick a political partner, he has had plenty of practice sifting through resumes and hand-picking executives to help run his real estate empire. Four current and past senior managers at the Trump Organization who agreed to speak with CNN — including the general managers of the Trump golf course in Los Angeles and the Trump International Hotel in New York — shed light on how Trump deliberates over his corporate hires — and what kind of qualities Trump likes in a No. 2.
"Many of the same qualities that he would look for for someone to work closely with him within his organization are going to apply to his search for a VP," said Jill Martin, vice president and assistant general counsel for the Trump Organization.
Deeply loyal
Martin and others describe a boss who demands deep loyalty, both to him and his franchise. He is drawn to conventional markers of prestige, such as Ivy League degreesor past employment at well-known firms. He can be somewhat of a micromanager, at times involved in even the minutiae of decorating decisions throughout his numerous properties. Despite exerting this level of control, he also takes to employees who push back and speak their minds — as long as they remember he is ultimately the one in charge.
"He wants someone who can really stand up for what they believe in if you have a position or an idea. He wants you to fight for it," said Martin, who has worked for Trump for more than five years.
"He made sure that he made the right choice on who he fired," Todd said. "Despite what people think from his television persona, he takes the advice very, very seriously of the people who work for him … He's very thoughtful in his decision-making process."
After winning the show, Todd was put in charge of overseeing the renovation and marketing of a mansion in Palm Beach. Todd, who now works as a real estate broker in Seattle, said she was surprised to learn how intimately involved Trump was in even the smallest details of his company's projects down to the specific faucet fixtures in bathrooms and kitchens or stones that would be laid down on a patio.
Every detail
Even as he delegates large projects to his senior executives, Todd said: "He gets the final stamp of approval even on details."
Suzie Mills has spent the bulk of her career in the hospitality industry at the Trump International Hotel. She joined the Trump Organization in 1996 and saw the opening of the Manhattan hotel that overlooks Central Park in early 1997. Promoted to general manager of the property nine years ago, Mills said Trump "doesn't take kindly to people that slack" and will choose a running mate not afraid to "give their honest opinions."
Giving her honest opinion is a regular part of Mills' job. When her hotel upgraded all of its televisions four years ago, Trump suggested to Mills that they install 55-inch TVs.
"I said well, Mr. Trump, 55-inch TV? That seems like a rather big TV," Mills recalled. "He goes: 'Suze. Trust me. Nobody is every going to complain about a large TV.' And of course, what do we get the most compliments of? Our fabulous big TVs. So he won that one."
'Strong personality'
Mills mused about Trump's VP pick: "He'll definitely want somebody with a strong personality."
If Trump is known for having exacting preferences, his top employees also say there's nothing that annoys Trump more than "yes men."
Lili Amini, general manager of Trump National Golf Club in Los Angeles who has worked for Trump for 11 years, said she has received some of the highest praise from Trump when she pushed back on her boss.
"That's one thing that people don't really know about him. He likes the fact that I'm not a yes man, per se," Amini said. "If somebody does disagree with him, he wants to know why and he may end up changing his mind."
Trump's employees and friends say loyalty will be an overwhelming factor in Trump's VP pick — in the same way that it is at the Trump Organization.
His top three executives at the company are his children — Ivanka, Donald Jr., and Eric — but even they had to first earn Trump's trust.
"He wasn't just going to say, 'OK, congratulations, here's a billion dollar company,' and leave it with us, and hope that those people who have been so loyal to him for so many years are going to be OK," Donald Trump Jr. said at a CNN family town hall last month.
Inner circle
For most of the Republican primary, Trump has kept a small and insular political team around him. Until recently, the day-to-day operations of his campaign were largely run by his campaign manager, Corey Lewandowski, who is known for his fierce loyalty to his boss.
Trump's circle of political advisers and surrogates has gradually expanded and now includes strong personalities like New Jersey Gov. Chris Christie and former vice presidential nominee and Alaska Gov. Sarah Palin, both of whom are rumored to be on Trump's shortlist.
Calling Christie a "good guy," Trump said in November that there could "
certainly be a place
" for the governor in his administration.
Chris Ruddy, Trump's longtime friend and editor in chief of Newsmax, said Trump knows better than anyone else just how much is riding on this decision.
"He knows the world will be looking and this as his big presidential decision," Ruddy said. "And he can't pick somebody that doesn't have gravitas and weight."
Read more: www.cnn.com