There are few things as, er, peachy as a ripe peach (and even unripe ones have their uses)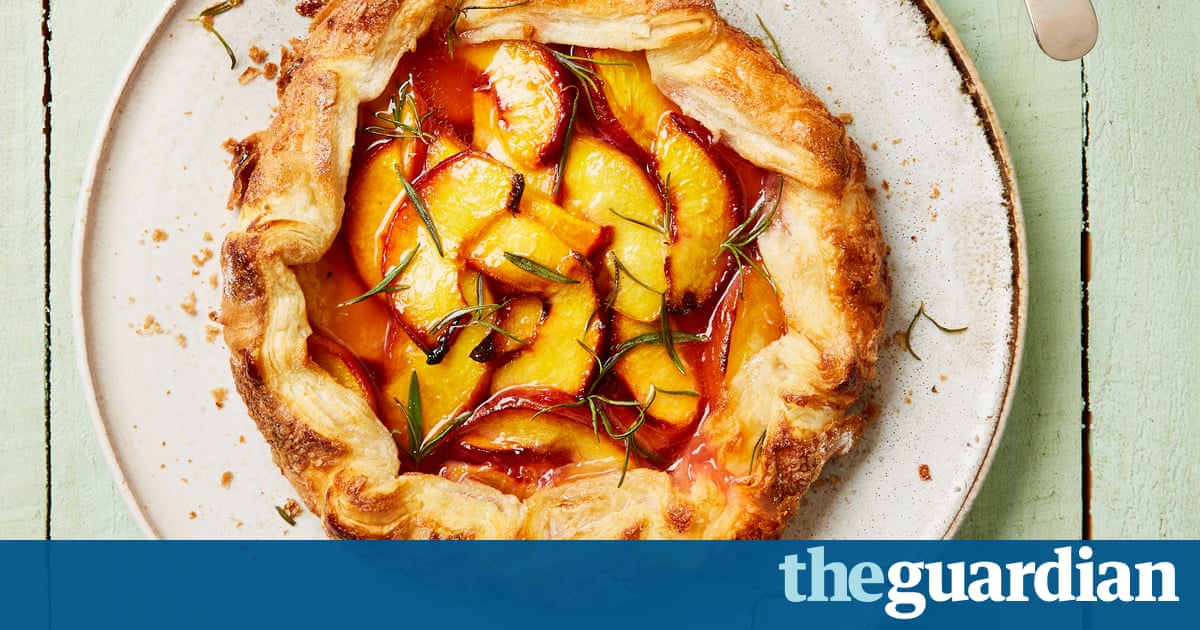 I went to a party earlier this summer and took a tray of ripe peaches instead of a bottle of wine. I would never have dreamed of taking a tray of, say, avocados or a bunch of bananas. Its not that those fruit are any less special; its just that they dont have quite the same wow factor, that tempting, eat me now look of a perfectly ripe peach.
The difference between peaches and avocados is all to do with the way the fruits ripen. Bananas and avocados (along with pears and tomatoes) are climacteric and often store their sugar in the form of starch. Once picked, a simple hydrocarbon gas called ethylene triggers the process that converts that starch back to sweetness. This makes such fruit a logistical dream for those who grow and sell them: they can be picked unripe and shipped hard (so theyre not prone to bruising), and ripened once the travel is done. (On a smaller scale, you can achieve a similar effect at home by putting an unripe fruit in a paper bag with a ripe one. The ripe fruit will emit ethylene, which helps ripen the unripe fruit.)
Peaches, on the other hand, are not such a peachy logistical dream. Along with other non-climacteric fruit such as pineapple, citrus, most berries and melons, they dont store starch, so they dont go through the same process of converting it into sugar. Theyll continue to soften once picked, sure, and also develop an aroma, but their sweetness wont develop any more post-picking. (The cold temperature at which they are stored when shipped and stocked, to prolong shelf life, also means the flesh often turns very mealy.)
Thats why I regard a tray of ripe peaches as something of a gift: eating them right there and then, and hitting that sweet spot, really is worthy of a celebration. Its also why I reserve firmer fruit for cakes and tarts; overripe ones go into jams, compotes or todays shrub. Hard peaches may lack some natural sweetness, true, but you can draw that out depending on how you cook them. They also have the advantage of being robust enough to hold their shape: chargrill wedges and pair with slices of salty speck or pork belly, spoons of creamy cheese or a hard herb such as rosemary.
Peach, rosemary and lime galette
This makes good use of firm, not-so-ripe peaches. By macerating them in sugar and lime juice, you not only soften the fruit, but you also make a beautiful syrup to pour over the dish at the end. Rosemary, which Ive used both in this dish and in the shrub, is a fantastic match for peach. Its a combination I discovered only recently, and now I cant get enough of it. Serves four generously.
2 limes 1 peeled in 7 long strips, the other grated, to get 1 tsp, then both juiced, to get 1 tbsp
80g caster sugar
2 large firm peaches, stoned and cut into 0.5cm-thick slices (300g net weight)
2 large sprigs rosemary, plus tbsp picked leaves
150g creme fraiche
Plain flour, for dusting
200g all-butter puff pastry
10g unsalted butter, cut into 1cm pieces
1 egg, beaten
tsp cornflour
Heat the oven to 180C/350F/gas mark 4.
Mix the lime juice with 60g sugar in a large bowl, add the peaches, strips of lime skin and rosemary sprigs. Stir and set aside to macerate for at least 40 minutes, and up to a couple of hours. Strain the peaches through a sieve set over a small saucepan, and discard the rosemary and lime peel: you should end up with about 60ml peach syrup.
Mix the grated zest and a teaspoon of sugar into the creme fraiche and refrigerate until ready to serve.
On a lightly floured work surface, roll out the pastry into a 26cm-wide circle just under 0.5cm thick, then transfer to a baking tray lined with greaseproof paper.
Arrange the strained peaches haphazardly in the middle of the pastry, leaving a clear 6cm border all around the edge, then fold this outer 6cm rim up and over the peaches. Dot the butter over the exposed peaches, then brush the pastry all over with beaten egg. Sprinkle the remaining tablespoon of sugar evenly over the pastry and bake for 20 minutes, until its golden and the filling is beginning to bubble.
While the galette is baking, whisk the cornflour into the reserved peach syrup. Simmer over a medium-high heat until it thickens to the consistency of honey (about two minutes), then pour over the peaches. Sprinkle the rosemary leaves on top and return the galette to the oven for 15 minutes, until the pastry is golden-brown and the filling bubbling.
Leave to cool slightly, then serve with a bowl of the lime creme fraiche on the side.
Peach and rosemary shrub
Shrubs (basically, sharp, sweet syrups) are traditionally used to flavour soft drinks and cocktails. Theyre also great drizzled over desserts. In making this shrub, youre left with the bonus of 400g cooked peach pulp, which is delicious over yoghurt and granola (see next recipe) or ice-cream. Makes 600ml.
1kg very ripe yellow peaches, stoned and roughly chopped
3 sprigs rosemary
120ml apple cider vinegar
150g caster sugar
Put everything into a large saucepan on a medium-high heat, and cook at a gentle simmer for about 20 minutes, stirring occasionally, until the fruit has broken down and is the consistency of a thick compote.
Line a large sieve with muslin, then set it over a large bowl or container (make sure the sieve does not touch the bottom of the container, so the liquid can drain through). Tip the peach mix into the lined sieve and leave to drain for one to two hours, until all the liquid has strained through. Discard the rosemary.
Store the shrub and the strained fruit in separate airtight containers in the fridge: the shrub will keep for up to a month, the fruit for a week.
Strained peaches with granola and yoghurt
This is a great breakfast, but by all means convert it into a pudding by swapping the yoghurt for whipped cream or ice-cream. Serves four.
600g Greek-style yoghurt
350g-400g strained peaches from making the shrub (see previous recipe)
100g granola
60ml peach and rosemary shrub (see previous recipe)
4 tsp honey
tsp Chinese five-spice
1 tsp roughly chopped rosemary leaves
Divide the yoghurt, strained peaches and granola between four serving bowls, dishing it up so that you can see each element. Pour the shrub over the strained peaches, then drizzle honey evenly over everything. Finish with a sprinkling each of five-spice and rosemary.
Peach and rosemary bellini
My ideal summer drink. Makes four.
120ml peach and rosemary shrub (see previous recipe)
Finely shaved skin of 1 lemon (8 strips)
4 small rosemary sprigs
About 400ml prosecco
Pour the shrub into the bottom of four champagne glasses. Add two strips of lemon peel and a rosemary sprig to each glass, top with prosecco and enjoy.
Grilled peaches and runner beans with goats cheese
Read more: www.theguardian.com