Women in certain countries are less likely than men to own a key tool for fighting gender inequality: smartphones.
A recent study by the Pew Research Center identified gender disparities in device ownership and noted that more men than women have smartphones in about half the countries examined. This gender divide for smartphones tends to be deepest in developing countries, though a gap between the sexes also exists in wealthy nations like Canada and the U.K.
Overall, researchers found a gender gap in 19 of 40 countries surveyed. The most significant disparities appear in Mexico, Nigeria, Kenya and Ghana.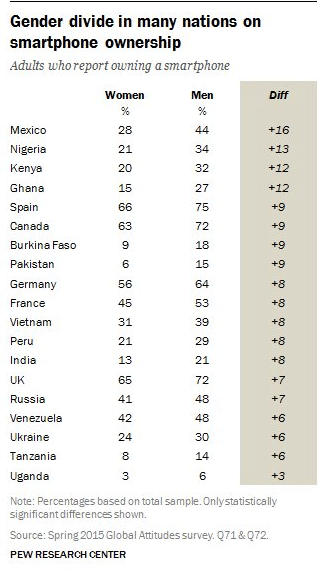 While the gap in the United States is fairly narrow (66 percent of men and 63 percent of women have smartphones), the country continues to grapple with other tech-related gender inequalities. Women are still underrepresented in tech and engineering jobs; they also tend to make less money than male co-workers at even the hippest tech startups.
Other research backs up Pew's findings. In developing countries, women are 14 percent less likely than men to own mobile phones, according to a 2015 report from the Groupe Speciale Mobile Association, an international trade association for mobile phone operators. Sexist social norms, poor service delivery and high costs keep these women from buying and using mobile devices, the report found.
"Cost remains the greatest barrier overall to owning and using a mobile phone, particularly for women, who often have less financial independence than men," the report states.
Improving women's access to smartphones and the Internet could help mend gender inequalities, according to a 2013 study from Intel. Just being able to use the Internet can increase income and feelings of empowerment for women, the report found.
"Internet use also provides more subtle, longer-term benefits around empowerment, such as increased confidence, external validation and expression," the Intel report states.
The Intel report notes that Internet use can expose women to online harassment and sexual trafficking, however. The report's authors write that "education on safe use of the Internet, together with policies to address these dangers at a macro level, are necessary to mitigate the very real risks."
Disparities in smartphone ownership also break along class lines, according to the Pew study. Smartphone ownership jumped from 21 to 37 percent in developing countries from 2013 to 2015. But smartphone ownership in those countries is still 31 percent lower than in the 11 developed countries Pew surveyed, according to their report.
Read more: www.huffingtonpost.com