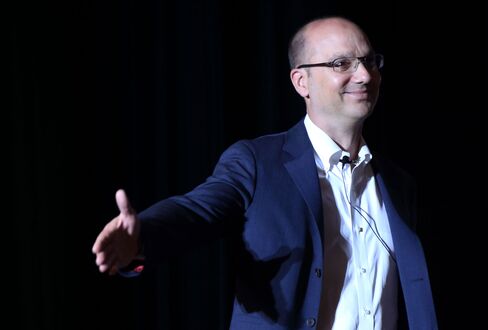 Andy Rubin, the Google veteran who built Android into the worlds largest mobile operating system, is convinced that artificial intelligence is the next big thing.
Rubin is the founder of Playground Global, a hardware and software incubator and venture capital firm overseeing at least $300 million. A veteran of past technology transitions, Rubin is now thinking about what could be the next big change to ripple through the industry.
"New computing platforms happen every 10 to 12 years," he said at the Bloomberg Technology Conference, citing MS-DOS, Windows PCs and mobile as examples. "Whats the next platform?… Its about data and people training AI systems to learn."
The executive backed that bet up by revealing he and Redpoint Ventures have invested in a startup working on quantum computing, which promises to perform many more calculations than typical machines by tapping into the properties of subatomic particles.
Rubin thinks its the right time to create quantum computers based on the same processes used to make traditional chips, and then get those machines to run AI algorithms. The resulting computer could be so powerful that thered only be need for one in the world, he said.
Besides the quantum company, which Rubin declined to identify, Playground has backed 14 other startups, he said. One of them makes a transponder for drones, another a backpack-sized wearable speaker that vibrates the body in time with music.
Rubin worked at Google for almost a decade ran its Android smartphone initiative, then led the acquisitions of numerous robotics companies to form an internal group code-named Replicant. He left Google, now part of Alphabet Inc., in 2014.
Android has been a phenomenal success for the company, giving Google a way to get its search engine and ads in front of billions of smartphone users. Rubin said hes not done in mobile. Playground backs existing startups but also builds new companies in-house, he explained. I do have one actively being hatched in the mobile space, he added, while declining to name that firm too.
The robot endeavor has been less fruitful. Google has shown little commercial progress to date and the company is selling Boston Dynamics, the most prominent robot company acquired by Rubin while he was at Google.
"I dont think anything went wrong," Rubin said. "Google is trying to do something really big and meaningful in everyday life. Thats a 10-year plan. Im relatively impatient."
Read more: www.bloomberg.com