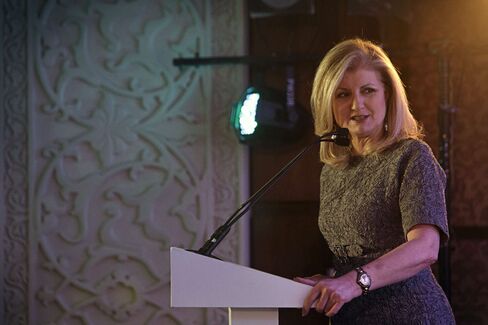 A decade after co-founding the news site that bears her name, Arianna Huffington is poised to expand her media empire with a startup focused on health and wellness.
Huffington, 65, has held talks with investors about a new media company called Thrive, said people familiar with the matter. It plans to provide lifestyle content contributed by celebrities and bloggers, and provide wellness consulting services to companies, said the people, who asked not to be named because the discussions are private.
Thrive is considering various business models, including advertising-supported content, conferences, and subscription-based wellness programs aimed at companies, the people said. Thrive plans to arrange classes for corporate clients to improve their employees' well-being and productivity, while helping them retain talent, one of the people said.
Jack Ma, co-founder and chairman of Chinese online shopping giant Alibaba Group Holding Ltd., has agreed to back Thrive, the people said. Lerer Hippeau Ventures, which was started by a Huffington Post co-founder and a former chief executive officer of the publication, has also pledged to invest in Thrive, the people said.
Huffington didn't immediately have a comment. Alibaba and Lerer Hippeau declined to comment.
Huffington helped start the Huffington Post in 2005, relying on a similar model of celebrity contributors, staff journalists, and freelancer writers to draw millions of readers. AOL bought the Huffington Post for $315 million in 2011, and the brand became a key part of Verizon Communications Inc.'s media strategy when it acquired AOL last year.
Verizon has given Huffington permission to pursue the new venture while staying with the company, where she serves as president and editor-in-chief of the Huffington Post, people familiar with the matter said. Caroline Campbell, a spokeswoman for AOL, declined to comment. Verizon shares dropped 0.5 percent at the close in New York.
In 2014, Huffington authored a book called Thrive: The Third Metric to Redefining Success and Creating a Life of Well-Being, Wisdom, and Wonder, which promotes the need for rest and work-life balance. In April, she published a follow-up, The Sleep Revolution. In addition to writing and appearing regularly on television and at conferences, Huffington joined the board of directors at Uber Technologies Inc. this year.
With Scott Moritz and Lulu Yilun Chen
(A previous version of this story was corrected to show that Lerer Hippeau Ventures was not an early investor in the Huffington Post. The firm was started by a co-founder and a former CEO of the publication.)
Read more: www.bloomberg.com