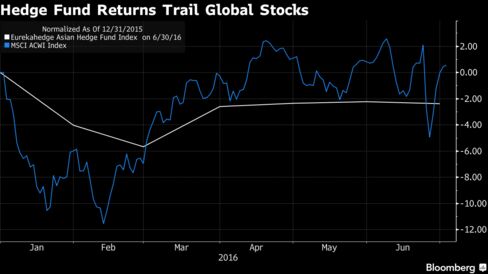 When Ruhong Huangs Hong Kong-based hedge fund crossed a key milestone after gathering $100 million in assets, he made an unusual choice. Rather than continuing to go it alone, he decided to join a platform to help his firm with everything from hiring administrative staff to handling compliance.
While Huangs move is uncommon, he isnt alone. Hedge fund platforms in Asia, which traditionally have helped fledgling firms with a few million dollars set up shop, are now seeing bigger managers turn to them to help save as much as 90 percent of their annual operating costs. Thats signaling a fundamental change in the economics of the hedge fund business, as investors are balking at the hefty "2-and-20" fees that were once a fixture in the industry and compliance costs are spiraling higher.
The market has shown to be unforgiving of funds that lack strong operations, said Huang, whose Credence Global Fund tapped the services of a firm called Swiss-Asia Financial Services Pte. The costs and efforts of building out the institutional infrastructure to support a bigger fund add up very quickly and takes a lot of time.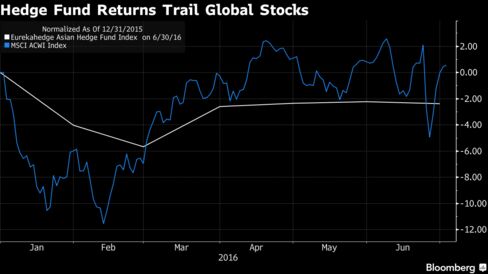 This shift is happening against an increasingly challenging environment for hedge funds, which had been struggling even before Britains vote to leave the European Union sent markets tumbling. Rising regulatory costs and volatile markets have led to more fund liquidations than launches for the first time in at least a decade, according to Eurekahedge Pte, and investors are pulling the most money from hedge funds since the global financial crisis. The $2.9 trillion industry is headed for its worst first-half performance since 2011, stymied by global shocks from China to London.
"I do think a greater proportion of startups will join a platform as the regulatory and compliance costs have risen, and look like they will keep rising in the future," said Howel Thomas, who runs a $37 million Hong Kong hedge fund, Wykeham Capital, which is supported on a platform run by Geomatrix HK Ltd.
Asias hedge funds lost 2.4 percent this year through the end of June, according to Singapore-based Eurekahedge, the worst start to a year since 2010. Investors, whove traditionally paid 2 percent in management fees and 20 percent of investment gains, are pushing back. The average hedge fund management fee stood at 1.63 percent last year and the profit share has declined to 17.9 percent, according to an annual survey published by Deutsche Bank AG in February.
Helping Startups
As recently as three years ago, Swiss Asia catered to managers with assets ranging from $2 million to $40 million, according to Chief Operating Officer Steve Knabl. Today, the firm has two hedge funds on its platform that are larger than $75 million. Other firms that provide services, including OP Investment Management and Rogers Investment Advisors, also say theyre being approached by bigger hedge funds.
Such providers offer hedge funds a range of services, from giving them office space to assisting them with operational infrastructure, and even helping them hire lawyers and prime brokers. Many also have the capability to help hedge funds start operations across different markets. Some firms base fees on a percentage of assets, while others negotiate rates based on the level of support required. Hedge funds with more complex strategies and high-volume trading typically have to pay higher rates.
Cost Savings
Hedge funds seeking to set up shop in Asia typically spend between $400,000 and $2 million a year, according to industry estimates. A potential $2 million in annual costs can be reduced to $150,000, said Ed Rogers, chief investment officer of Rogers Investment Advisors, which runs operations in Hong Kong and Tokyo.
What sane businessman doesnt want to save $1.85 million in costs as a startup? said Rogers, who was previously the head of prime services and sales in Tokyo at Deutsche Bank AG before starting his own firm in 2006.
At the end of 2013, Black Crane, a hedge fund with offices in Hong Kong and Singapore, joined Wolver Hill Asset Management Asia, another firm overseen by Rogers, with $15 million in assets. The manager now has $40 million, according to Rogers.
While such firms arent unique to Asia, there is more demand because the region has different jurisdictions and many markets are not easily accessible for a single asset manager. The industry is also comparatively smaller, with assets at $172 billion, compared with $1.5 trillion in the U.S., and average fund sizes are about half of those in the U.S.
Asia has about ten service-provider focused firms such as Rogers and Swiss-Asia, founded in 2004 by Olivier Mivelaz, a former executive at Swiss bank Banque Cantonale Vaudoise. They are different from hedge fund seeders, or strategic investors, who often provide startups with seed capital in exchange for a stake in the funds or the fund management firm. Theyre also different from prime brokers, who provide services like lending securities for shorting, executing trades or lending money. About $2.8 billion, or 2 percent of Asia-based hedge funds, are managed on a service-provider focused platform, according to Eurekahedge.
Tenants Matter
Alvin Fan, chief executive officer of the Hong Kong-based OP Investment Management, says that he is now seeing funds with assets of between $200 million and $500 million talking to him about a launch. Fan also said he is seeing an increase in funds that are growing their assets under management and are still opting to stay.
Those funds would not have joined five years ago because they could afford their own infrastructure at the time, Fan said.
There are some drawbacks. Some institutions prefer standalone hedge funds because of concerns regarding intellectual property and lax supervision from platforms, Fan said.
Its essentially like sharing a building together. Tenants matter. Neighbors matter. Compliance matters, said Fan, who was previously head of investor relations at OP Financial Investments Ltd., a listed investment company in Hong Kong. Flexible supervision, which we hear a lot, is like a mall with paper-thin walls – the whole structure burns down at the light of a match.
For Credence Global Funds Huang, joining up with Swiss-Asia allows him to spend more time time doing what he does best: Investing money. The fund, which employs relative-value strategies, has returned an annualized 18.6 percent since its inception in March 2011.
Time spent on administration and operations is time spent away from what really matters, Huang said. By outsourcing these tasks, I can focus on performing well.
Read more: www.bloomberg.com