Frowning gunslingers are patrolling hotel corridors and a ring of concrete has been erected outside. What are they expecting?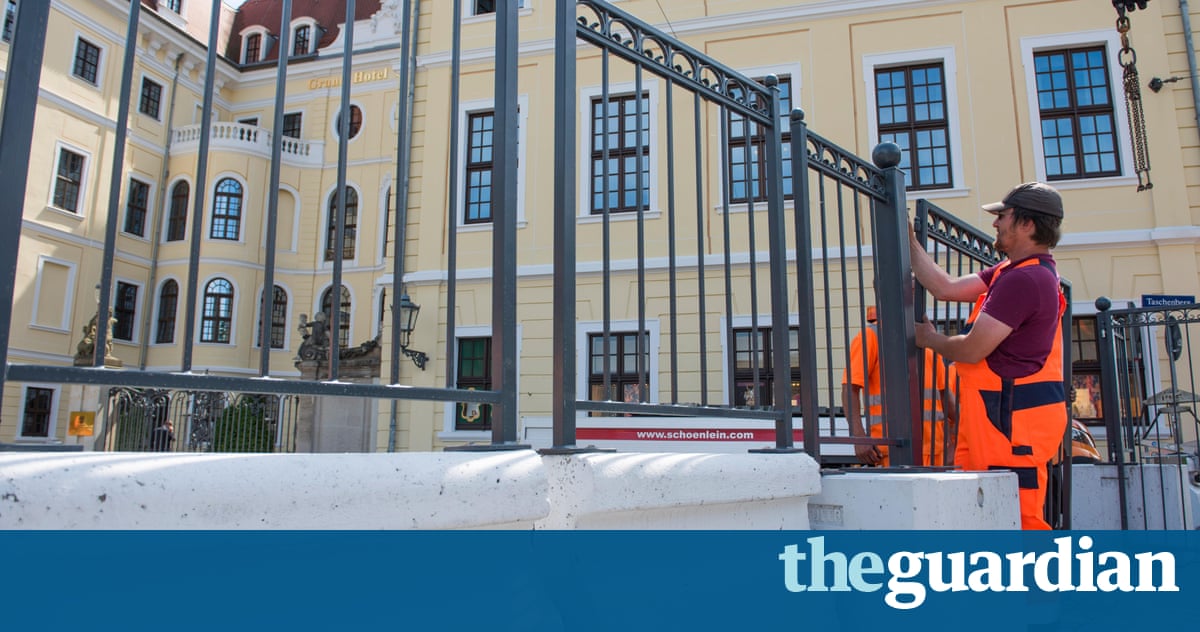 You know Bilderbergs about to begin when you start seeing the guns. The Taschenbergpalais hotel in Dresden is filling up with pistol-packing plainclothes security as the last guests are ushered out. The frowning gunslingers head up and down the corridors with their hotel maps, trying door handles and checking the lay of the land while, down in the hotel lobby, corporate goons gather in muttering huddles.
I dont know why everyones so antsy. According to the local newspaper DNN, at least 400 police officers will be surrounding the venue for the three days of the talks. Theres already a ring of concrete blocks around the entrance. Is that not enough? What are they expecting? The charge of the light brigade? The hotel is being trussed up tighter than Reid Hoffmans trousers. No one gets in or out without the right lanyard. As Ed Balls remembers only too well, from that awkward business in Copenhagen.
Inside the security cordon, the final nervy tweaks are being made by conference staff. Theyve got to make sure Henry Kissingers curtains dont let any light in. A single ray could be fatal. A hotel manager has been cornered by a conference organiser whos firing off questions from an iPad:
And the room for Mr Karp is it nice room?
It is nice, yes but it has low ceilings.
Hmmm. Does it smell of smoke?
It does not smell, but it is on the ground floor. Who is Mr Karp?
Hes an American but hes on our board. Hell have to move higher up. Maybe the driver can have that room, hes a driver so it doesnt matter. You will please show me the other room now.
And off they dart, to check that Mr Karps ceilings are the requisite height.
This Mr Karp is Alexander C Karp, a recently elected member of Bilderbergs steering committee and the CEO of Palantir, which specialises in data mining and analysis. According to the Wall Street Journal, Palantir is one of the worlds most valuable private companies. It was set up the founder of PayPal, Peter Thiel, who was one of the first Silicon Valley billionaires to worm his way into Bilderbergs inner circle. Thiel likes an early jog, so with any luck well catch him huffing round Dresden with David Petraeus one morning this week.
Thiel is a venture capitalist and tech investor. He sits on the board of Facebook and is the president of Clarium Capital, a hedge fund with $700m of assets under management, and a managing partner in the $2bn venture capital firm Founders Fund, which is known for prescient bets on some of the biggest names in Silicon Valley (WSJ).
Karp and Thiel are busy men. Karp has a $15bn CIA-funded company to run. Thiel has speculations to make and Silicon Valley startups to incubate. So the question has to be asked: what on earth are they doing in Dresden? Whats dragging them across the Atlantic to sit for three days in alphabetical rows in a windowless, subterranean conference room? Whats prompting companies like Barclays and Airbus to fund and help run this conference? Theyve got shareholders to answer to: they cant just say it bought us a nice chinwag.
Year after year, a sizeable number of extremely rich and powerful workaholics seem to think its worth strapping on their Bilderberg lanyard. But why? Whats getting the head of Google, two prime ministers, a vice-president of the European commission and the chairman of HSBC together in the same hotel basement for the same three days in June?
Dont tell me its the cuisine of Dresden. Ive been here two days already, so I know its not that. On its official website, Bilderberg attempts an answer. It describes itself as a forum for informal discussions that are designed to foster dialogue between Europe and North America. Dialogue which is designed to foster dialogue. Talk for talks sake.
Clearly thats nonsense. And yet Bilderberg insists there is no desired outcome. Thats like a Club 18-30 rep saying theres no desired outcome of his tequila groin-slurping contest. Someones getting something out of the event. Even if that something is chlamydia.
The bottom line is that the Titan Cement (total assets: 5.8bn) doesnt send its CEO on a three-day trip from Athens to Dresden on the whimsical off-chance that some dialogue gets fostered. Its about getting a competitive edge.
Likewise, Henry Kravis of KKR, the wraith-faced Wall Street legend of whom Gordon Gecko is a slightly softer-than-life portrait, isnt hopping on a private jet across the Atlantic with his henchman and former CIA boss Petraeus in tow, simply in order to chat some more chat into existence. Kravis doesnt do chat. The only three phrases he ever uses are buy, sell, and have him thrown to the crocodiles.
KKR has a healthy $126bn of assets under management. So how does Kravis go about managing these assets? KKR offers its investment partners insight into global macro and geopolitical trends, and a powerful network of global relationships. Global relationships with people like, you know, the Dutch and Belgium prime ministers. Or the head of the IMF.
What the politicians standing in line at the Bilderberg buffet between sessions on megatrends dont realise is, they are the buffet. Here in Dresden, the Norwegian foreign minister and three members of the German cabinet will be surrounded by people whose every breath is drawn for the sake of making profit. Billionaire investors by the dozen, like the Bilderberg first-timer Divesh Makan, CEO of Iconiq Capital, whose client list includes Hoffman (also in Dresden this year) and Mark Zuckerberg.
Makan has been described by Forbes as consigliere to Silicon Valleys brightest billionaires. So what makes him such a sought-after investment manager? According to Forbes: Makans currency is access and relevance. One of Iconiqs clients is quoted as saying: They just want to connect and network and give more access. And when it comes to politicians, access means lobbying. A nudge here, a suggestion there. A quiet word in the corner, a nugget of information, a bump in profits. A powerful network of global relationships thats Bilderberg in a nutshell.
Even before Dresden, Iconiq was connected to Bilderberg: Kravis sits on the investment companys board of directors. (I say sits, he generally prefers to hang upside down from the boardroom ceiling.) Whats happening in Dresden is this:Kravis, the wise and kindly old vampire, is ushering the young Makan in through the gates of Bilderberg to feed. Kravis gestures to the soft neck of the Canadian finance minister and smiles. The kind of smile that could freeze the sun.
Weirdly, after the politicians drag their drained and bloodless bodies back to their respective parliaments, they dont say a word about what happened. They act like abuse victims. Its just our little secret, murmurs Kissinger as he pops the politicians back in their limos. Chatham House rules. You remember? Yes, of course you do. Now off you go. And he nimbly licks a heart shape on to the car window with his black tongue before it speeds off.
So what do the politicians and public officials get from the deal? For the more ruthless, its a chance to line up future employment. We all remember the then head of MI6, Sir John Sawers, networking with the chairman of BP on a Copenhagen patio in 2014. A year later he was sitting on the oil firms board of directors.
Tony Blair admitted he found the 1993 conference useful. And Im sure it was. Its useful to know in what direction in the world is being led by the people that own it, so you can trot along in the right direction. And if you learn to play the game, to fit in with the in crowd, then maybe, like Blair, you can end up with a cushy job with US investment bank JP Morgan.
Wait. The word youre thinking of is loathsome. Do I win 5?
Read more: www.theguardian.com