Reading Time:
4
minutes
Its not the drama or horror of The Handmaids Tale we have to look out for, but a no change message on a broken cashpoint or a childrens self-checkout toy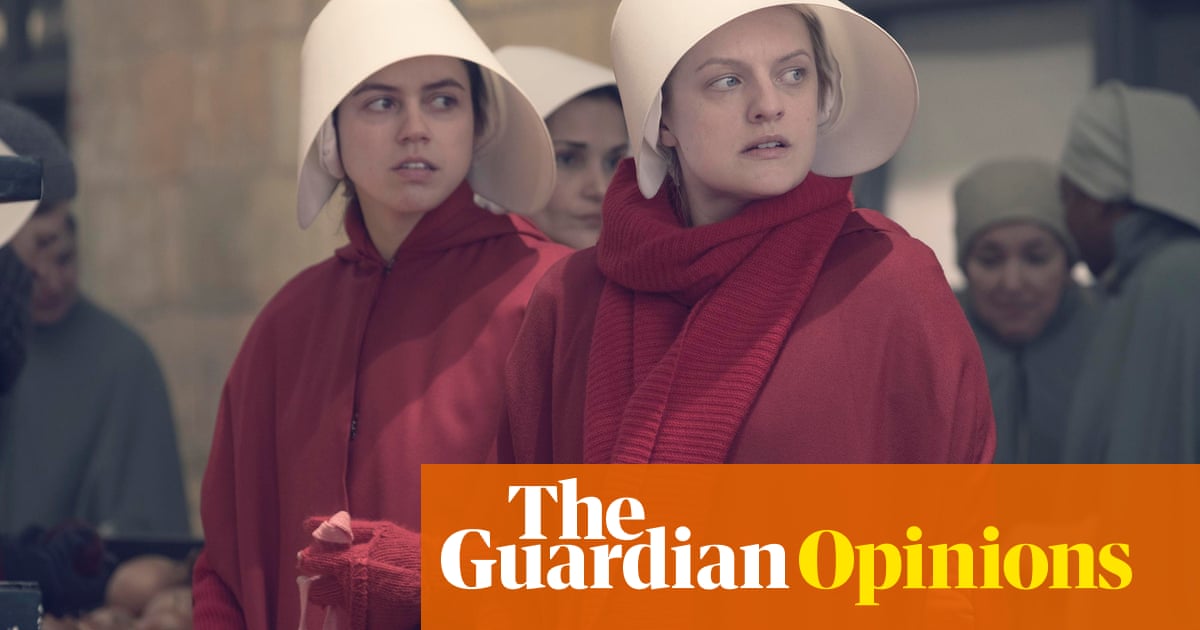 "Work gives you meaning and purpose and life is empty without it." It might have chilling echoes of the iron-wrought words on the gates of Auschwitz, but this phrase is written in cheery cursive on a wall of Scunthorpe library. "Tory-run North Lincolnshire council think this is art," grumbled blogger Danni Phillips, who shared a photo of the mural on Twitter. "Orwell is turning in his grave."
Actually, the quote is from Stephen Hawking, from a 2010 interview – but writ large without context and passed off as art, it's another unsettling reminder of the "boring dystopia" in which we find ourselves. The term was coined by the late academic and cultural theorist Mark Fisher in 2015, to refer to the bland, mildly coercive signs that abound in late-stage capitalist society, which foster a vague sense of isolation or unease.
It is more intuitive than a formal concept, but once you've got your eye in, you see it everywhere – from the "no change" message on a broken cashpoint; to a children's "My very own self-checkout" toy; to the mental health condition body dysmorphia, reportedly brought on by people who want to make their faces look they way they do filtered on Snapchat; to Tommy Hilfiger's plans to kit out clothes with tracking technology to monitor wearers' habits and create a new "micro-community of brand ambassadors".
For a time in 2015, Fisher maintained a popular Facebook group bringing together examples of "Silicon Valley ideology, PR and advertising … [distracting] us from our own aesthetic poverty, and the reality of what we have – which is just all these crap robots"; he shut it down when it started to become like any other Facebook group in "reinforcing the condition it was intended to displace". Fisher died in January last year. Yet "boring dystopia" continues to be a useful term for the mundane but quietly nightmarish ways in which our world is changing. As a meme, it is a blackly humorous way of drawing attention to the water that we're all swimming in.
Visakan Veerasamy, a content strategist, brought together some doozys on Twitter in April: a poster reads: "Need books? No worries. Donate plasma" for a blood donor incentive scheme; a Timberland ad saying: "You're never going to be able to retire. Why should your boots?"; an ad for a recruitment company showing a woman holding her CV over her face above the words: "Don't see me, see what I can do."
It goes beyond saying "technology is bad" to show how society working against you has become so normalised,you can barely summon the energy to be outraged by it.
Often when we imagine a coming dystopia, we picture end-times scenes: hand-to-hand arena combat, probably a killer soundtrack. Right now the lens for this is The Handmaid's Tale, with its unsettling parallels with contemporary crackdowns on individual freedoms and blinkering bonnets.
But the boring dystopia meme reminds us the end could arrive quietly but corrosively, with a total erosion of work-life balance, crowdfunding for necessary healthcare, infantilisation by technology and the equation of time with capital. But banality doesn't make for compelling television.
The closest we've come is Charlie Brooker's Black Mirror, yet that was more easily dismissed as scaremongering over technology. Maybe because the world of The Handmaid's Tale requires an imaginative leap, the similarities with current events prompt you to vow not to let it come to the situation it depicts. But if you want to see where society is headed, the signs are already there on the out-of-order ATM and the wall of Scunthorpe library.
Thanks, Robyn, for letting us anticipate Ur comeback
Read more: www.theguardian.com