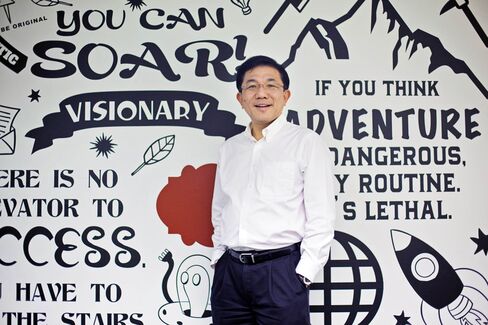 Venture capital firms are pulling back across the globe, slashing investments in startups out of concern their deals may never pay off. Chua Kee Lock thinks its the perfect time to move in the opposite direction.
Chua runs Vertex Venture Holdings Ltd., Singapores largest venture capital firm with $1 billion under active management. He is stepping up investments this year to take advantage of declining valuations for startups. He estimates he can buy stakes for as little as one quarter the prices from last year.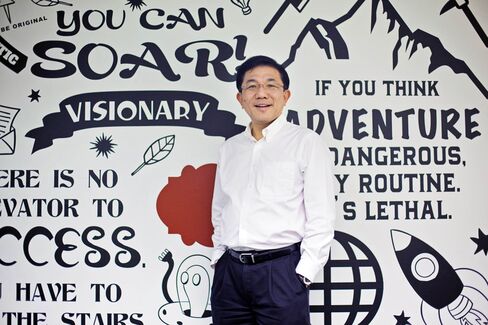 Winter has started, Chua said in an interview at Vertexs office in Singapore. This is the best time to invest because everyone is scared."
Vertex, the venture arm of Singapores state-owned investment company Temasek Holdings Pte, invested in 15 information technology companies in the first six months of the year, up from nine a year earlier. In Southeast Asia, where Vertex manages more than $350 million, it has invested in three startups in the first half, up from two a year ago.
One of them is Instarem Pte, a Singapore startup that provides money transfer and payment services across borders. In less than a year, Instarem captured 2 percent of the money remitted between Australia and India, or about $10 million a month. Vertex has very mature people with access to large pools of money who can back you when the times are bad, said Prajit Nanu, Instarems co-founder and chief executive officer. We had a lot of comfort around that.
Chua, 55, spent most of his career as an entrepreneur and venture capitalist. He co-founded MediaRing.com Ltd., a voice-over-internet service that predated Skype, then went on to serve as managing director of the venture firm Walden International Inc. and president of medical device maker Biosensors International Group. He joined Vertex Venture as CEO in 2008.
This is one of the sharper downturns of his career. Venture investments declined globally this year after hitting record levels last year. In Asia, venture firms invested $14.6 billion in the first half of 2016, compared with $15.8 billion a year earlier, according to a report by KPMG International and CB Insights.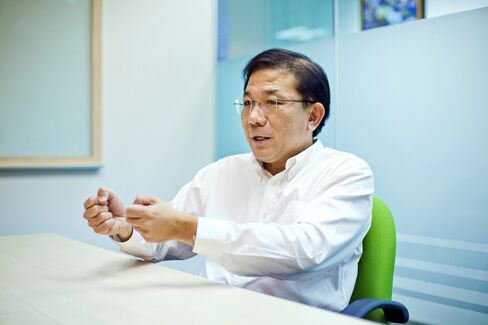 Many venture capitalists view the slowdown as a positiveat least for them. This is a great time for investors because valuations are coming down, said Will Ongkowidjaja, a co-founder and managing partner of Alpha JWC Ventures in Jakarta. For companies that are doing well operationally, achieving milestones and know where theyre going, theyre able to raise capital from good names.
Chua clearly sees better opportunities amid the pessimism. This level is good for innovation," Chua said. "If history is any guide, we will see many good companies come out of this period. LinkedIn was founded in 2002, right after the burst of the dotcom bubble.
Vertex has a network of local funds with some money from external investors. Theres a $225 million China fund, a $150 million U.S. fund and a $140 million Israel fund. Vertex had doubled the value of its 2008 fund by the end of June, putting it on track to make more than 2.5 times the money after expenses over 10 years, Chua predicted.
Chua said he focuses on picking the best entrepreneurs with good motivations. Before he invests, he asks himself: Does this person want to build a long-term business or just get rich quick? Is he or she hungry enough?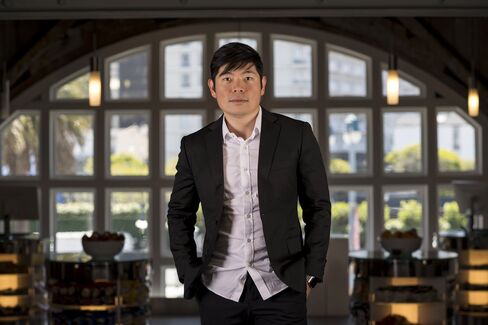 He found the desired attributes in Anthony Tan, co-founder of a scrappy taxi-booking app in Malaysia then-called MyTeksi. After using the firms service and seeing Tans passion, Chua agreed to become the sole institutional investor in the companys first venture round in 2014. The renamed Grab was valued at $1.5 billion in December 2014 and operates an array of on-demand services in 30 cities in six countries in Southeast Asia.
Vertex also backed Joseph Phua, founder of dating app Paktor, the regions biggest online dating app. "Vertex is the leading VC in the region in terms of resources, track record and management," Phua said. Earlier investments include IGG Inc., an online game developer which has gone public in Hong Kong. Vertex still has a 4.76 percent stake in IGG, according to data compiled by Bloomberg.
Chua is determined to cut deals now because he knows from experience the bargains wont be around long. This will last for 12 months as investors are more cautious, he said. After a period of three to four years of sanity, exuberance will return and we will be back to hyper-valuations again.
With assistance by Klaus Wille
Read more: www.bloomberg.com