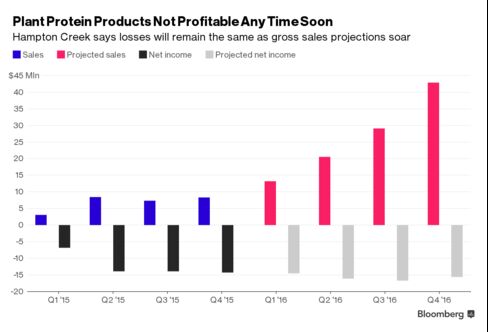 Josh Tetrick offered employees of his food startup Hampton Creek Inc. a morale boost by telling them that the company is about to reach coveted unicorn status. The co-founder and chief executive officer told staff that its finalizing a funding round valuing the Just Mayo maker at $1.1 billion, placing it among a group of venture-backed unicorn startups with valuations of at least $1 billion.
Tetrick told employees on Friday that a German media group will join a roster of investors from Asia and the U.K., as well as a higher net wealth person in Silicon Valley, according to a person who attended the meeting. Tetrick also said Hampton Creek had raised a previously unreported funding round of a little bit over $100 million, which valued the business at $750 million, said the person, who asked not to be named for fear of reprisal.
Tetrick didnt specify how much money the company is looking to raise in the upcoming round, the person said. Hampton Creek was seeking about $200 million from investors earlier this year valuing the business at $1.1 billion, people familiar with the matter told Bloomberg in May.
Im confident that its going to get done, Tetrick said at the gathering on Friday in its San Francisco headquarters, according to a transcript provided by the person in attendance. That get it done could happen, really, any time in the next 48 hours or the next 21 days.
Hampton Creek declined to comment, as did German media companies Axel Springer SE and ProSiebenSat.1 Media SE.
Tetrick, 36, started Hampton Creek in 2011, pitching it as a food-tech innovator able to analyze plant proteins to devise new consumer products. The startup convinced top Silicon Valley venture capitalists Khosla Ventures and Founders Fund to buy in, along with billionaires including Hong Kongs Li Ka-shing and Yahoo!s Jerry Yang. The last reported financing was a $90 million share sale in 2014, which Tetrick told employees last week had valued the company at $190 million.
If Hampton Creek does achieve unicorn status just five years after its founding, the event would demonstrate Tetricks ability to successfully market Hampton Creek as a technology company, rather than a more gravity-bound consumer products business. Like most venture-backed tech startups with valuations of at least $1 billion, Hampton Creek is losing money. It forecast a loss of $63 million this year, according to financial documents reviewed by Bloomberg in May.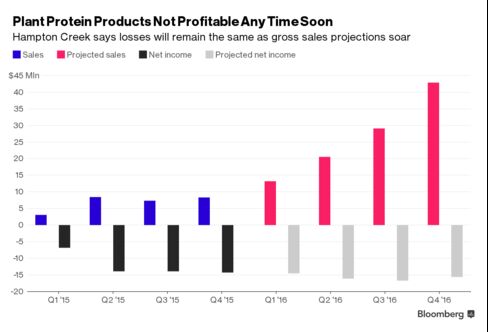 Hampton Creek took some unconventional steps as it grew. Starting as early as 2014, it paid contractors to buy up large quantities of the companys own products from supermarkets across the U.S., which made them appear more popular than they really were, Bloomberg reported this month. Some workers were also directed to call store managers pretending to be customers to stoke demand for Just Mayo, e-mails show. Hampton Creek said the purchases were primarily for quality assurance and represented less than 0.12 percent of the companys sales. Documents seen by Bloomberg show Hampton Creek bought hundreds of jars separately from the quality-control program with the purpose of helping boost sales.
At the meeting last week, employees peppered Tetrick with questions about the buyback program and asked why the fundraising process was taking so long. The CEO sought to ease their concerns. He said he expected the board of directors would pass a resolution by Tuesday that would give him more autonomy to run the business more efficiently. One example he gave was that management would no longer need the boards approval to hire an executive earning $250,000 a year, said the person who attended the meeting.
While Tetrick told staff that Hampton Creek has $90 million in the bank, he said he expects the company to burn through $75 million by the end of next year. In addition to collecting cash from investors in the next month, Tetrick said Hampton Creek will likely secure a credit facility by the end of 2017. He said the company is hoping to break even on cash flow by the fourth quarter of next year.
However, Tetrick urged workers to clamp down on spending and avoid hiring too quickly.
Its very easy to have millions of dollars in a bank account and then not, Tetrick told employees. It almost happened with Tesla. It almost happened with Facebook. It happens to lots of companies all the time.
Read more: www.bloomberg.com