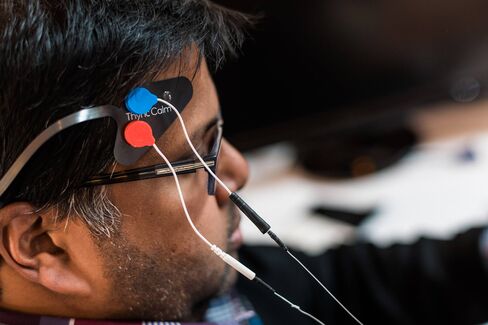 In 2014, Silicon Valley startup Thync had sold technology enthusiasts and venture capitalists on the idea of strapping a device to your forehead that sends electric shocks to the brain. The wearable gadget garnered attention for its futuristic promises of brain stimulation, purporting to deliver an instant calming or energizing boost through a zap to the head.
But the last six months have created major headaches for the startup. Thync struggled to raise money, cut almost all of its staff and auctioned off the company's assets to buy itself time.
Funding to U.S. startups has been in retreat since late last year, leaving many young companies without a lifeline. Hardware, in particular, is a cash-intensive business. Several startups, including fitness band maker Jawbone Inc. and smartwatch company Pebble Technology Corp., have recently reduced headcount. Valley investors, once enthusiastic to take a bet on a wacky idea that may be beyond average consumers, are not so easily won over anymore.
Khosla Ventures, a VC firm known for investing in out-there businesses like plant-based egg substitutes, biofuels and artificially intelligent toys, made an early investment in Thync when it led the Los Gatos, Calif., startup's $13 million funding round in 2014. Thync, which created one of the first consumer brain-stimulation devices on the market, advertised a $199 white dongle that sticks to a person's forehead with an accompanying strip on the back of their neck. The wearer presses a button on their phone and gets a 10- to 20-minute "vibe session." The electric current that followed would give them quick energy or calmness, helping them perk up without coffee or sleep without drugs.
The concept drew in tech's early adopters and quantified-self devotees, eager to try the Valley's newest frontier-busting trend. Industry socialite Susan MacTavish Best hosted an "evening of vibes" last year at her Victorian home in San Francisco, where startup founders, executives and artists could sample Thync's electrical pulses alongside a buffet of grilled romaine, pork-belly candy and blackberry-smash cocktails while jazz pianist ELEW performed live.
Despite the good vibes from tech insiders, Thync hit trouble when it tried to raise a new round of funding late last year. "We got ahead of the investment community," said Isy Goldwasser, Thync's 46-year-old co-founder and chief executive officer. "We couldn't get a new investor to back us in the last round, so that's what forced us to really restructure, to find a new way."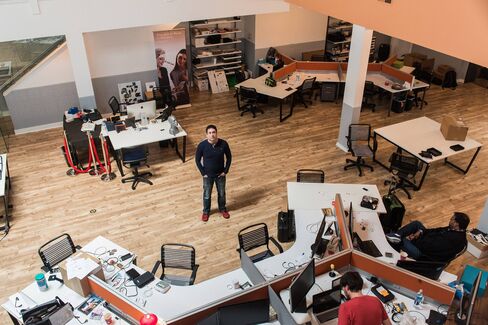 First came the job cuts. Over a period of about four months, Thync reduced its workforce by at least three-quarters from about 40 or 50 employees, Goldwasser said. Meanwhile, rival startup Halo Neuroscience unveiled a headset in February targeting athletes with a gizmo that sends electrical signals to the brain to improve their physical training.
By March, with a staff of about 10, Thync put all of its assets, including equipment, product inventory, and patents for its electrical and ultrasound brain-stimulation techniques, up for auction. Thync scheduled the event for April 12, according to an e-mail obtained by Bloomberg.
Jamie Tyler, who founded Thync with Goldwasser and served as chief scientific officer, was among those dismissed in March. He became a full-time professor at Arizona State University, where he had been conducting research during his spare time at Thync. Tyler said he wanted to continue his work on the science behind neuromodulation, which didn't fit with a consumer-product company. "Working on that fringe can be a challenge that is typically better suited in an academic lab or in another entity with a different business model and longer R&D outlook," Tyler wrote in an e-mail. He was replaced by Sumon Pal, formerly the company's chief of vibes.
In the weeks leading up to auction, Thync was still trying to scrape together enough money to stay alive. Finally, it managed to raise new funding, led by Noosphere Ventures, a four-year-old venture capital firm. Khosla Ventures and three other previous investors also put money into the round, Goldwasser said. Thync found a partner who agreed to split the cost of the assets in exchange for rights to help sell the product in other markets. Goldwasser declined to name the company or say how much capital Thync raised.
Armed with a new pool of money, the much smaller team at Thync bought back its own assets, Goldwasser said. As part of the arrangement, all stock held by investors and employees in the original company were rendered worthless. Goldwasser personally invested in the new company.
Goldwasser said the business is now moving forward, with plans to market the product to customers who want to reduce their intake of caffeine, alcohol, sleeping pills or other drugs. "Before, we were really marketing, 'Calm you in minutes or energize you in minutes,'" he said. "It was really mass-market. It requires an aggressive funding strategy to make that work."
Read more: www.bloomberg.com