Reading Time:
18
minutes
The Long Read: Jeffrey Karp is at the forefront of a new generation of scientists using natures blueprints to create breakthrough medical technologies. Can bioinspiration help to solve some of humanitys most urgent problems?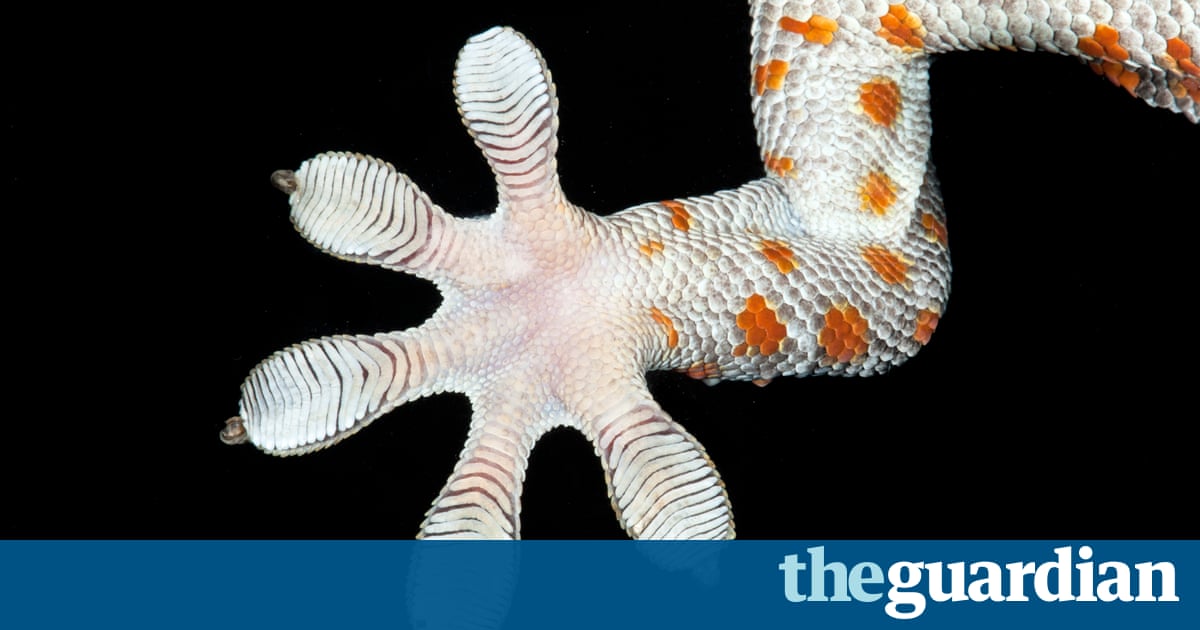 In the summer of 2005, Jeffrey Karp, a bioengineer at Brigham and Womens Hospital (BWH) in Cambridge, Massachusetts, was working late one night when he spotted a journal article on a colleagues desk. What caught his eye was not the text itself, but the full-page colour illustration of Spider-Man that accompanied it. Intrigued, Karp sat down and started reading.
The article detailed how a group of researchers had created a new synthetic material by mimicking the properties of gecko feet whose tiny, hair-like pillars allow the lizard to stick to and detach from apparently sheer surfaces with ease. Imagined uses for the material included gloves that would allow military personnel to climb up the sides of buildings, just like Spider-Man.
The wheels in my head started turning, Karp told me recently. His first thought was to use the material to create a new type of medical tape that could replace sutures and staples, which can damage sensitive tissue surrounding wounds. Karp was working alongside the world-renowned bioengineer Robert Langer at the time, studying ways to create biodegradable materials that could seal wounds inside the human body. The tape could even go a step further than sutures or surgical staples, he thought, and be used in particularly intricate surgical procedures for instance, tying together the small intestine during gastric bypass surgery.
The next morning, Karp stopped by Langers office and convinced him that he had come up with the perfect idea to win a prestigious research grant. But as he began his research, Karp found that it wasnt enough to simply rely on friction between the hair-like pillars to make the tape stick. That may be how geckos feet work, but he was going to need something much stronger if he hoped to bind human tissue inside the body.
When he tried coating the surface of the tape with a glue, Karp found that it seeped in between the pillars, like honey drizzled on to a hair brush. Next, he played around with the position of the pillars on the surface of the tape, placing them closer together. That didnt work either when the pillars were too close together, there wasnt enough friction with the surface of the tissue. So he moved them apart again, and then tried coating each individual pillar with the glue, instead of simply brushing it over the top. Now, whenever the tissue came into contact with a pillar, it stuck in place. Finally, Karp had his solution.
It was a great example of a holistic approach to problem-solving, David Kaplan, chair of the biomedical engineering department at Tufts University in Massachusetts, told me. In 2008, MITs Technology Review magazine named Karp one of the top innovators in the world under the age of 35.
Karp, who is now 40 and runs his own lab at BWH, is what is known in the business as a bioinspirationalist a person who looks to nature for solutions to scientific problems. The gecko tape was Karps first bioinspired invention; these days he is regarded as a leading figure in the field. (He often tells people that he owes his success to Spider-Man theres a large drawing of the Marvel superhero in his office, and he once wore a Spider-Man T-shirt during a TEDMed talk.) Karps current projects include surgical staples inspired by porcupine quills, which create smaller punctures in the skin and prevent bacteria from entering wounds, and a new kind of surgical glue inspired by the sticky secretions of marine worms, which is strong enough to bind moving tissue inside major organs, such as the heart.
This last invention has helped to cement Karps reputation as a rising star in the world of bioengineering. Because he doesnt just invent cool stuff he turns his creations into actual products. When we look to solve problems, its not so we can publish papers and get pats on the back from the academic community, said Nick Sherman, a research technician at Karp Lab. Its more like, Is this work going to help patients? If not, how do we make it help them?
Earlier this year, Karps surgical glue began a human clinical trial in Paris. It is the first of Karps innovations to advance this far. Unlike other surgical glues on the market, his actively repels blood, making it ideal for sealing holes in blood vessels, intestinal tissue, even bone. It is also much sturdier, meaning that surgeons could use it to fix cardiac defects without the need for open heart surgery. This could completely transform how we perform surgery, said Jean-Marc Alsac, the cardiovascular surgeon at the Hospital European Georges-Pompidou in Paris who is overseeing the trial.
---
Karp Lab, which opened in July 2007, is hidden behind a heavy white door on the third floor of an office building in Cambridge, near Massachusetts Institute of Technology. Inside, a stockpile of white lab coats hangs near the entrance, and beyond lies a jigsaw puzzle of heavy machinery, vials, tubes and jars, sanitising stations and discarded rubber gloves. Lots of labs are doing what appears to be similar work but, truly, they are not in [Karps] league, Arnold Caplan, a professor in the department of biology at Case Western Reserve University in Cleveland, Ohio, told me.
Every Wednesday at 8am, staff meet in a large conference room to discuss ideas. The lab employs around 25 staff, from undergraduates to postdoctoral fellows, although its ethos is strictly non-hierarchical. One research trainee, Thomas Kuncewicz, joined Karp Lab just over a year ago, before finishing his undergraduate degree, and is now leading two projects. Everyones experience is different and thats what matters most here, he told me. Not some dumb pyramid scheme where we have to work our way up through the ranks. Lab employees are encouraged to email Karp whenever they have a question or idea. If you ever email him, within five minutes youll have a response, Kuncewicz said. It can be 11pm or 3am, and hell reply. (I have exchanged emails with Karp long past midnight. His average response time is about 10 minutes.)
Read more: www.theguardian.com