Optional scheme allows employees clock off early, with government hoping the move will boost consumer spending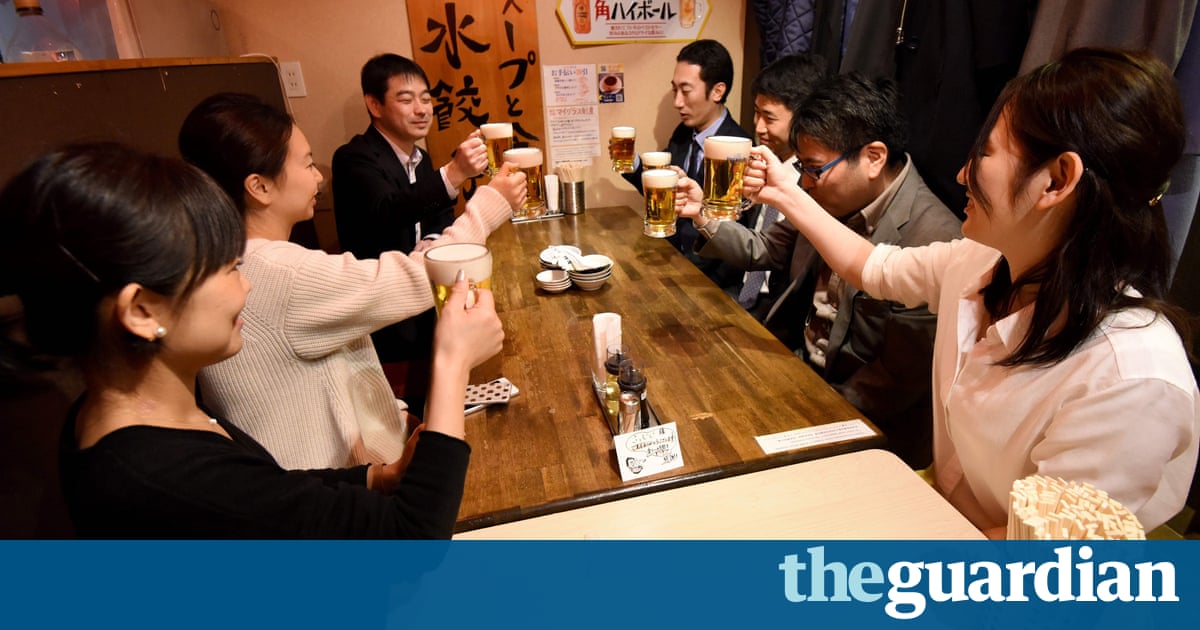 It is supposed to be a rare opportunity for Japans harried workers to clock off early and go home to their families or, if the government gets its way, help boost consumer spending in the worlds third biggest economy.
In a country where many employees are more accustomed to burning the midnight oil rather than carousing Tokyos bars during daylight hours, Japans first Premium Friday has received a mixed response.
Faced with slack consumption and soul-searching over Japans notoriously poor work-life balance, the government is asking companies to allow their workers to leave at 3pm on the last Friday of the month.
The hope is that they will use those extra hours of freedom to shop, make an early start to their Friday libations or go on a weekend break.
The initiative is also part of a wider attempt to address the punishingly long hours many Japanese are expected to work, prompted by the suicide of a 24-year-old employee at the advertising firm Dentsu who was doing more than 100 hours overtime in the months before her death.
While some major companies, such as Honda, the drinks maker Suntory and the confectioner Morinaga, have adopted the optional scheme, others are less enthusiastic about the prospect of a mid-afternoon staff exodus.
A survey of 155 big companies by the Nikkei business newspaper showed that 45% had no immediate plans to implement the scheme, with 37% saying they had either decided to enter into the spirit of Premium Friday or had plans to do so.
In another poll of 1,603 workers by Culture Convenience Club, just 3.4% said their employers would allow them to clock off early.
Excessive working hours have become a big problem, said Etsuko Tsugihara, the chief executive of public relations firm Sunny Side Up. We were thinking of ways to improve our own working environment when the government came up with Premium Friday, and we thought it was a good idea.
Maki Suzuki, a Suntory employee, and her colleagues resisted the temptation to shop or dine out early, and spent the afternoon at an art museum in Tokyo instead. This is a good opportunity to plan something that we dont usually do, said Suzuki, who often works late. Taking a long holiday is too big a hurdle for many Japanese, but taking an afternoon off isnt.
Previous attempts to encourage Japanese employees to spend less time at work have had little success.
The countrys employees used, on average, only 8.8 days of their annual leave in 2015, less than half their allowance, according to the health ministry. That compares with 100% in Hong Kong and 78% in Singapore places hardly known as havens for the work-shy.
Junior employees who routinely go home late, despite having little to do, cite the convention of not leaving work before their superiors, while putting in long hours is still widely seen as a true measure of corporate loyalty.
Were hoping to boost spending by changing our lifestyle, the way we work and the way we think, said Masanao Ueda, a senior official at the major business lobby Keidanren, which has asked its 1,300 member firms to implement the scheme. Its hard for Japanese workers to take a day off so we need to create conditions in which everyone can take a holiday.
The Tokyo metropolitan government is trying to tackle long working hours simply by switching off the lights at 8pm, while the leasing company Orix says it will offer financial incentives to employees who take five consecutive days holiday.
The Premium Friday campaign is expected to boost consumption by up to 63.5bn yen (445m) a year, SMBC Nikko Securities said in a report. But some experts have said cutting down on overtime could lower wages and suppress consumer spending.
Some companies are hoping to cash in on Premium Friday, including a railway operator that is laying on afternoon booze trips, and a clinic that is offering discounts on health checks.
The prime minister, Shinzo Abe, said he would be setting an example by spending the afternoon practising meditation at a Zen temple before attending a concert.
The governments chief spokesman, Yoshihide Suga, told journalists he would be leaving the office as soon as he had briefed them. Unfortunately I have to hold this press conference, he said. But as soon as Im done, Im going to go and do something.
Agencies contributed to this report
Read more: www.theguardian.com