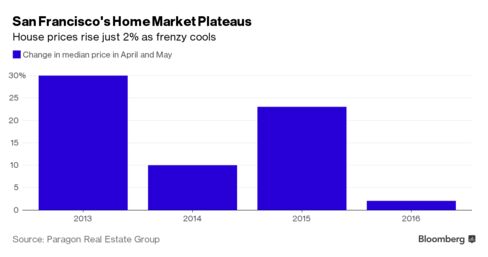 After four years of crammed open houses, heated competition and dizzying price gains that sent the median cost of a home to $1.2 million, San Franciscos real estate market is starting to lose steam.
The inventory of luxury homes is at a record high. A smaller share of deals have bidding wars. Rent growth for large and upscale apartments is softening.
While demand remains robust, real estate mania is waning in San Francisco, which has become one of the most prohibitively expensive U.S. housing markets thanks to a hiring boom for well-paid technology workers. Signs are emerging that prices may have gotten too high as job growth slows, venture-capital investment declines and the stock market stays sluggish.
Its not the absolute feeding frenzy that we had for the last three springs before this one, said Patrick Carlisle, chief market analyst at Paragon Real Estate Group in San Francisco. By any definition for the rest of the world, its still a very, very strong market. Its just not as crazy hot as it has been.
Gains in home prices are plateauing, according to a Paragon report released last week. In April and May, the median price of a house rose 2 percent from a year earlier to $1.38 million, compared with a 23 percent increase in 2015, the data show. The median condominium price was $1.13 million, unchanged, after a 21 percent jump the year before.
The cooling is most notable at the high end of the market — similar to a dynamic thats playing out in Silicon Valley as wealthy buyers and foreign investors pull back. There were a record 95 San Francisco houses on the market for at least $2.5 million at the end of April, up 42 percent from the previous year, according to Paragon. For luxury condos — those $2 million and higher — inventory climbed 44 percent to a high of 75 units. Sales of all luxury homes declined from January through May for the first time since 2010.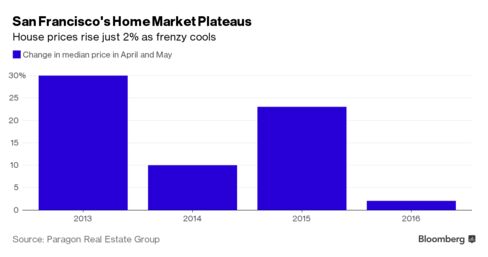 A slowdown isnt necessarily bad news for a city where the median home price has soared 66 percent in four years, according to Zillow data, fueling tension between new workers and longtime residents who have become priced out. Only 13 percent of homebuyers can afford to purchase a median-priced single-family house in San Francisco, the California Association of Realtors said in a report last month.
It has definitely cooled a bit, which is a healthy thing, said Gregg Nelson, co-founder of Trumark Cos., a Danville, California-based developer that has eight projects in the Bay Area. Its more reflective of where prices are than a lack of demand.
Ranking Falls
San Francisco no longer ranks on a list compiled by brokerage Redfin of the 20 hottest U.S. housing markets. Denver, Seattle and Portland, Oregon, are now taking the lead, according to a June 9 report that tracks listed homes expected to sell within two weeks. The California city surpasses those markets in the percent of homes sold above the list price and the average sale-to-list price ratio.
San Francisco homebuyers faced competition on 60 percent of offers written by Redfin agents last month, down from 81 percent a year earlier and in line with the national average.
Its still a place where homes are snatched off the market pretty quickly, said Nela Richardson, Redfins chief economist. At the same time, the median sales price for the whole San Francisco metro is $1.2 million, and there comes a point even in San Francisco where prices outrun demand. Were closer to that point than weve been in years past.
Carmen Ho, a marketing consultant who began her search about a year ago, in April bought a house in the Mount Davidson Manor neighborhood for $1.5 million, about 18 percent more than the asking price. Thats still less than the 60 percent above-asking offer another buyer made on a home she bid on earlier in her search.
Its not as hot as a year ago, said Ho, 42. The bids are not coming in as crazy as last year. People are a bit more cautious.
Takeover Effect
The tech industry, while still thriving, has seen job growth slow to 3.8 percent in the 12 months through April, compared with a 10 percent increase in the same period a year earlier. Venture-capital investments in Silicon Valley fell almost 20 percent in the first quarter from a year earlier to $4.9 billion, according to an April report from PricewaterhouseCoopers LLP.
The prospect of more takeovers such as Microsoft Corp.s $26.2 billion purchase of LinkedIn Corp. may also hinder housing demand. While LinkedIn hasnt announced a reduction in workers, broader tech consolidation could lead to job cuts that will hurt home prices and rents, said Kenneth Rosen, chairman of the Fisher Center for Real Estate and Urban Economics at the University of California, Berkeley.
Youll probably see more acquisitions of startups or early-stage companies, Rosen said. We have a lot of companies that do the same type of thing and they wont all survive, and thats where the job contraction will come.
Housing demand should still be propped up by a lack of new supply relative to the areas robust hiring in recent years, said Trumarks Nelson. While job gains are slowing, San Franciscos unemployment rate was 3.1 percent in April, the lowest since 2000.
Theres not an adequate supply for the level of demand, he said. The prices are hindering what would otherwise be a lot more sales.
Rental Softening
In the rental market, construction may be having more of an impact. Equity Residential, the largest publicly traded apartment landlord, on June 1 lowered its revenue forecast for the second time this year. The company, which mostly owns higher-end buildings, said new lease rates in San Francisco and New York arent meeting its projections because of added rental supply.
Rents are still rising across all segments, just not as fast as before, said Mark Uh, a housing data scientist at Trulia, a unit of Zillow Group Inc. While studios and one-bedrooms are in strong demand, the market is cooling for three-bedroom apartments because of runaway prices and fewer potential renters, Uh said. The median monthly rent for a one-bedroom is $3,550, while a three-bedroom costs $6,500, Trulia data show.
I wouldnt say that rents are cratering, Uh said. Its just a matter of rents being really, really high already.
Read more: www.bloomberg.com