As the San Francisco tech boom has sent rents skyrocketing and pushed out established businesses, Erin McElroy and others at the Anti-Eviction Mapping Project have been gathering oral histories of some of those affected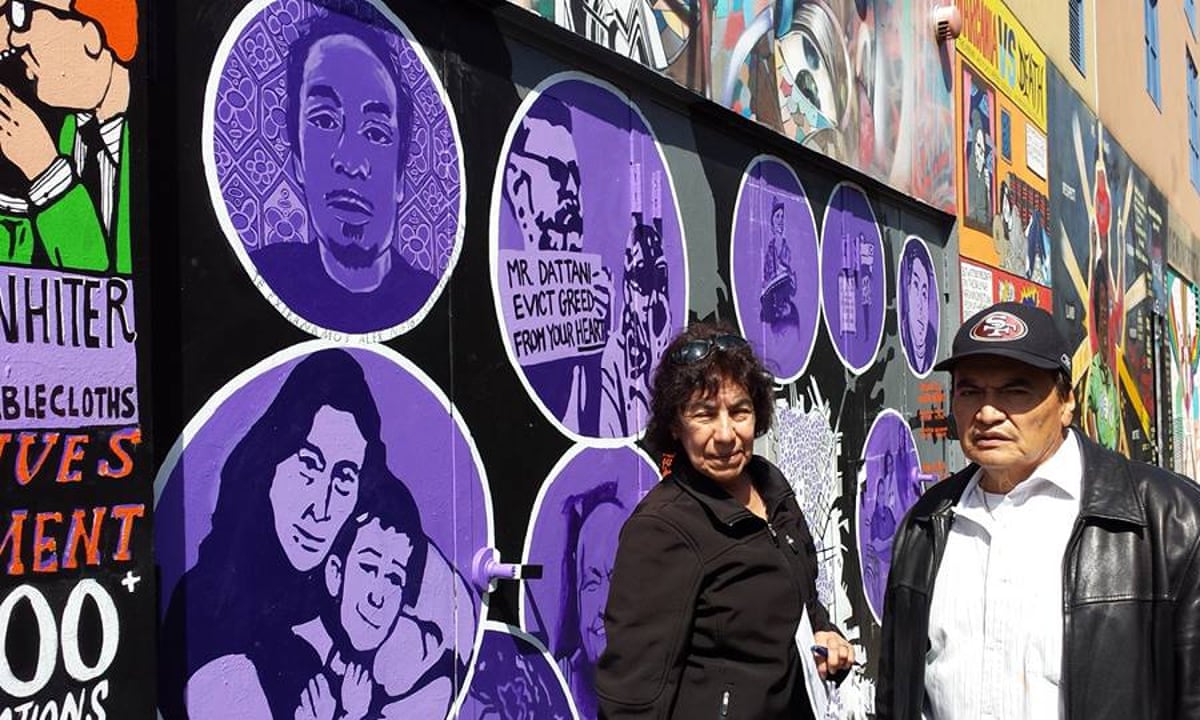 San Francisco experienced a dramatic increase in eviction rates, rental prices and outward migration following the birth of Tech Boom 2.0 back in 2011. Neighbourhoods are becoming more expensive and longtime residents are being pushed out so real estate speculators can create housing for the affluent. Established businesses are evaporating overnight, to be replaced by the newest coffee shop or tech startup.
With big tech companies paying interns six-figure salaries, and with smaller startups aspiring to be bought out by larger corporations, the Bay Area has been flooded with young wealthy technology workers. They are roughly 70% male and 60% white, and generally making enough money to afford what has become the average San Francisco rent: around $2,500 a month. Some could even afford a downpayment on a home. Soon prospective buyers and tenants were outbidding each other in cash.
The Anti-Eviction Mapping Project started in 2013 to document and study the eviction crisis. Our research found that disproportionate property price increases correlated with the placement of private tech bus stops, and the shuttle stops that companies including Google, Facebook to Apple use to transport San Francisco residents to jobs in Silicon Valley. Between 2011 and 2013, 69% of no-fault evictions occurred within four blocks of these private shuttle stops.
A study by researchers at Berkeley, across the bay from San Francisco, found that rents around the stops used by tech buses were up to 20% higher than in otherwise comparable areas. They also found that 30-40% of tech workers would in fact move closer to their jobs if the bus service did not exist.
Our data visualisation project grew to study relations between gentrification and factors such as speculation and property flipping, racial profiling and luxury development. But as we produced more and more maps, we became increasingly concerned with the dangers of reducing complex social and political worlds to simple dots on a map such data can never fully describe the personal and neighbourhood displacements through gentrification.
Our Narratives of Displacement and Resistance project is an attempt to address this. Over the last two years, we have been gathering oral histories of those impacted in different ways by Tech Boom 2.0 from those evicted by networks of shell companies, to those who have experienced increased racial profiling and those who have fought their evictions through direct action and won.
Theresa Flandrich
Theresa has been fighting an Ellis Act eviction in North Beach for years. She works at Senior and Disability Action, volunteers with neighbourhood group and is an active member of the anti-eviction movement in San Francisco.
Yasmin
Yasmin is a self-employed cook who was recently displaced to Oakland from her home in San Francisco. In this interview she reflects on the politics of moving to Oakland, which has its own gentrification crisis.
Benito Santiago
Drummer and dancer Benito was born to Filipino immigrants in San Francisco, where he grew up. In 2013 he received an Ellis Act eviction from a speculator. After a year of direct action work with various community groups including Eviction Free San Francisco, Benito won the right to remain in his home.
Neil Martinson
Neil is a DJ and a show producer who grew up in New Yorks Greenwich Village and moved to San Francisco in the early 1990s. He says the cultural quirkiness which drew him to the west coast is being threatened by the citys latest wave of newcomers and the gentrification of its neighbourhoods.
Cheryl SV
When you evict somebody, youre changing their whole lives – its not just a place where somebody goes and sleeps. Cheryl lived in her apartment in the Mission for 22 years before being evicted and moving to Oakland.
Lotta Garrity
Retired nurse Lotta received an eviction notice over a year ago from a serial evictor. She tells the story of her current eviction from Mission Dolores and recalls a previous eviction from Noe Valley 30 years ago. She says her Mission Dolores neighbourhood is changing much in the same way that Noe Valley did as it began to gentrify decades ago.
Claudia Tirado
Claudia Tirado moved to the US from Tijuana at the age of 11. She recently faced an Ellis Act eviction and is still fighting to remain in her home. Theres nothing wrong with being a janitor. Theres nothing wrong with being a teacher. Theres nothing wrong with being a bus driver. Theres nothing wrong with being a taxi driver or a maid. Whats wrong is with the lack of humanity or respect that we get.
Michael Rouppet
Michael lived in a house in the Lower Haight for 20 years before being evicted by a speculator following the death of his landlady. He spent almost a year living on the streets with his dog, and coping with homelessness and HIV simultaneously.
Lisa Gonzales
Lisa, her daughter, mother and grandmother, were threatened with eviction after a real estate speculator converted her Mission home into condos and failed to offer her a lifetime lease. Lisa fought her eviction and won, but her grandmother died during the process.
Ed Cruz
Ed and his family lived in Inner Sunset for 18 years until his landlords decided to evict.
Follow Guardian Cities on Twitter and Facebook and join the discussion
Read more: www.theguardian.com