As the Broncos and Panthers face off on the field, the titans of tech and the NFL compete to be the center of attention during biggest sports event of the year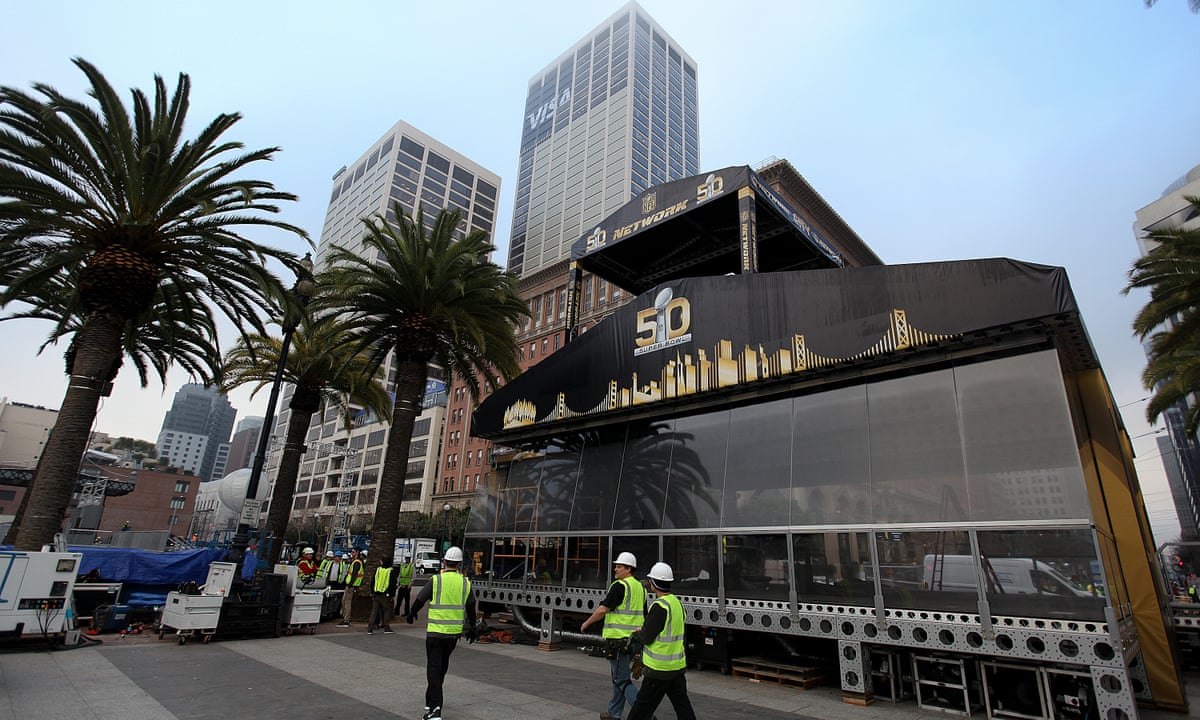 Silicon Valley technologists may not be the most athletic bunch, but they do understand eyeballs.
And the Super Bowl means a lot of them.
Having this many people with eyeballs on us a week straight of people seeing images of Silicon Valley and San Francisco it reinforces that this is a place that you want to be and where you have to be, said Daniel Lurie, an influential philanthropist who led the Super Bowl bid committee. And if you think about the Niners and who they have supporting their team, its a lot of Facebookers and Silicon Valley folk, and they understand eyeballs.
The Super Bowl is a big day in American culture, and you want to be part of it.
The Super Bowl is coming to Silicon Valley, which has experienced a burst of unprecedented wealth creation and now boasts the most technologically advanced stadium in the world. It will be huge: the National Football League is expecting north of 120 million viewers this year, and more than a million people will come through the Bay area during the nine-day festival. San Francisco, for context, has a population of just 840,000.
We feel pretty good about ourselves out here these days, said Lurie, who hopes to use the event to raise over $13m for charity, which would set a Super Bowl record. We think were the center of everything thats happening in this world, though I know folks in New York and London might disagree. Now having a game of this size and scope in this region for the first time in over 30 years, it just once again reinforces it.
The $1.3bn Levis Stadium the naming rights were bought by Luries familys business, the well-known jeans company seats 70,000 and is kitted out with tech. It has 2,400 TV monitors, 600 security cameras, 370 point-of-sale terminals, 49 miles of beer-carrying pipes, and an enormous new fiber system to give it 40 times more internet bandwidth capacity than any known US stadium.
The sponsors include a mix of the tech industrys new and historic names: Google, Seagate, Intel, Hewlett-Packard, Yahoo, Intuit and Apple (the latter being characteristically secretive about its sponsorship, of course).
Parties will also highlight the tech connection. Beyond the usual high-profile parties at ESPN, Maxim and Rolling Stone, billionaire Salesforce founder Marc Benioff has called inMetallica to play at a party the night before the game. A party at tech-focused investment bank Code Advisors, where attendees can expect to run into venture capitalists, will have John Mayer playing. And Vanity Fair, whose New Establishment conference has become an A-list tech festival, will be hosting its first-ever Super Bowl party.
The easy intermingling of NFL star power and Silicon Valley capital on the party circuit is indicative of a deeper relationship that has blossomed between the two talent pools.
When sports fans tune into the pre-game show on CBS on Super Bowl Sunday, theyll be entertained by successful tech startup investor and NFL great Tony Gonzalez, whose fitness app attracted investment from VC firms including Google Ventures and was recently acquired by Fitbit. The NFL has encouraged players to look to Silicon Valley for their second careers, and Super Bowl 50 will put no less a legend than Joe Montana on display. The Pro Football Hall of Fame quarterback who was named the most valuable player the last time the Super Bowl was played in the Bay Area is now a tech industry angel investor.
The Silicon Valley Super Bowl has come a long way since Montana was a starting quarterback. In 1985, the game was played at the then-64-year-old Stanford Stadium in Palo Alto. The NFL invested $2.3m in renovations that included the installation of a state-of-the-art telecommunications system; hand-cranked telephone systems and morse code transmitters in the press room were replaced with telephone jacks and electrical sockets for computers, according to the LA Times.
Another major innovation in 1985 was padded seat cushions. Stanford Stadium had splinter-prone hardwood seats, so a local technology company called Apple Computer Inc was persuaded to donate 86,000 cushions each emblazoned with the companys rainbow logo. It was just one year after Apple had debuted its personal computer (with a famous advertisement during the 1984 Super Bowl), and CEO Steve Jobs reportedly called the Super Bowl sponsorship the greatest coup in Apples history.
Three decades later, Levis Stadium has been wired with 400 miles of fiber optic and copper cable, and Apple has enough clout as the worlds largest corporation that it has chosen to be a silent sponsor for this years game.
It wouldnt be Silicon Valley if there werent agitation around transportation. When the NFL decided to hold the actual Super Bowl (the part when they throw the ball around) in Santa Clara and the week-long party 40 miles north in San Francisco, it mimicked the new dynamics of the Bay Area, where San Francisco has increasingly become a bedroom community (and playground) for people who commute 40 miles south again for their day jobs at major tech companies. Those commutes are made possible by the notorious Google buses (also deployed by Yahoo, Facebook and Apple), so its not surprising that the Super Bowl host committee is planning to use Google buses to ferry fans staying in San Francisco to Santa Clara for the game.
Plans to use those shuttles were almost disrupted by protesters, as the tech shuttle has for years been an irresistible target for activists hoping to make a point about the impact of the tech industry on the rest of the community. One local tech shuttle company, Bauers Intelligent Transportation, lost its contract with the host committee when the teamsters union threatened to picket and blockade bus stops.
The Super Bowl will also provide another venue for the ongoing rivalry between San Francisco-based ride-hail services Uber and Lyft. Its the first time an app-based transportation service has been allowed access to the Super Bowl, and Uber reportedly paid as much as $500,000 for exclusive rights to an official pick-up and drop-off zone at Levis Stadium.
Staying true to its image as the kinder, quirkier and poorer rival, Lyft chose to eschew the pay-to-play sponsorship route. They plan to simply drop off passengers a few blocks away from the stadium.
Even with Lyft, Uber and the shuttles, traffic is expected to be dismal in the already crowded city, whose underfunded public transit can barely handle the evening commute.
Everyones already started blaming me for traffic! Weeks ahead of the game, Im getting complaints, Lurie said, laughing. But I think what it comes down to is well have a lot of people looking at us a lot of customers, a lot of eyeballs and this is a moment to show our values.
Read more: www.theguardian.com