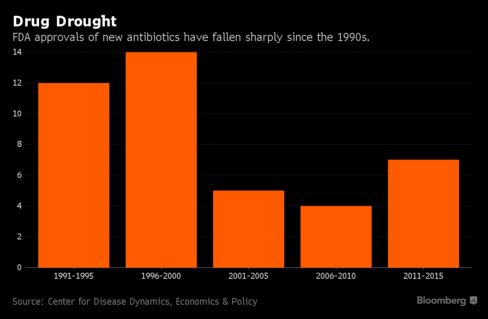 Big Pharma is creeping back into development of new antibiotics after decades of largely ignoring the business due to the scant rewards offered by such medications.
With the planet on the brink of losing its miracle cures for bacterial diseases, research incentives from governments are spurring drugmakers to renew efforts to fight antimicrobial resistance and replenish the arsenal of infection-fighting drugs. Giants such as Roche Holding AG and Merck & Co. are stepping up their efforts in the field while a host of startups seek partners to help market new products.
Some large pharmaceutical companies are re-entering the space, and new companies focused on antibacterial development are emerging as industry darlings, said Ankit Mahadevia, chief executive officer of Spero Therapeutics LLC, a biopharmaceutical company in Massachusetts thats developing novel treatments for bacterial infections.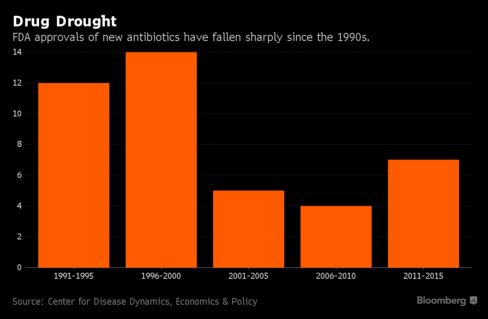 In January, more than 80 pharmaceutical, biotechnology and diagnostics companies including Roche, Pfizer Inc., Novartis AG and GlaxoSmithKline Plc pledged at the World Economic Forum to fight the threat of antimicrobial resistance.
A Bloomberg survey of 18 of those companies conducted in May and June found that they expect to boost antibiotic research spending by an average of 36 percent this year, while expanding research staff by 6.5 percent. Survey respondents had a total of five drug candidates in the initial stage of patient testing, four in mid-stage trials and nine in advanced studies.
Theres definitely more activity, said Deborah ONeil, CEO of NovaBiotics Ltd., a Scottish company developing a drug aimed at making existing antibiotics more effective by weakening bacterial defenses. Big pharmas eyes are open.
After penicillin was introduced in the 1940s, antibiotics became known as lifesaving superdrugs, able to fend off previously lethal bacterial infections. But scientists soon recognized that bacteria rapidly morph and develop resistance to the drugs. While a series of new antibacterials kept doctors ahead of the germs for many years, in recent decades bacteria have come roaring back, and today some new superbugs can evade virtually any treatment.
For a QuickTake explainer on resistance to antibiotics, click here.
The antibiotics in our arsenal are becoming increasingly less effective, said Carolyn Shore, an officer on the Pew Charitable Trusts antibiotic resistance project.
Until the past few years, big pharma companies had largely given up on new antibiotics because developing them can cost billions of dollars yet deliver little profit. Any successful formula will be prescribed sparingly to ensure bacteria dont build up resistance, and unlike cholesterol pills or diabetes treatments, which patients often take for decades, antibiotics are only prescribed until the infection clears.
Without added inducements, it just isnt profitable to search for new antibiotics, said Martin Blaser, an infectious diseases researcher who chairs a panel advising President Barack Obama on the bacterial health threat.
Bristol-Myers Squibb Co., Eli Lilly & Co. and other pharma companies have shut antibiotic research labs, trimmed budgets or left the field in the past 15 years. But thats starting to change after much cajoling from world health authorities, lawmakers and charities.
The U.S. governments Biomedical Advanced Research and Development Authority says it will invest up to $170 million to help AstraZeneca Plc move new antibiotics toward the market and has similarly supported Glaxo with as much as $200 million. Last year, Britain and China established a joint fund to finance research aimed at tackling antimicrobial resistance. And a 2012 U.S. law added five extra years of protection from low-cost copycats for certain new medications.
Simple Math
Big drugmakers are getting the message. Roche last year joined with Japanese and Canadian partners to buy rights to an experimental compound thats in early patient trials to treat severe infections. Glaxo, which has spent about $1 billion on antibiotics research over the past decade, is preparing to move a new product called gepotidacin into the most advanced phase of clinical testing, aiming to see if it can defeat multi-drug resistant E. coli, gonorrhea and be used against biothreat pathogens.
New offerings from startups also appear promising. NovaBiotics has five experimental medicines in the works, including one that may kill hard-to-treat bacteria without giving bugs a chance to develop resistance. Londons Motif Bio Plc in March launched advanced clinical tests of the experimental antibiotic iclaprim, a possible treatment for lethal strains of drug-resistant bacteria, and hired an adviser to help find partners to commercialize it outside the U.S.
And Melinta Therapeutics Inc., a closely held U.S. drug developer dedicated to antibiotics, is working on a treatment thats undergoing tests in patients with acute bacterial skin infections. The decision to invest in the project was helped by the U.S. law offering extended patent protection, said Eugene Sun, Melintas CEO.
Without some kind of support, no one — not even us — would invest in development, Sun said. You cant make your money back; its simple arithmetic.
Watch Next: The High Cost of Prescription Medicine
Read more: www.bloomberg.com