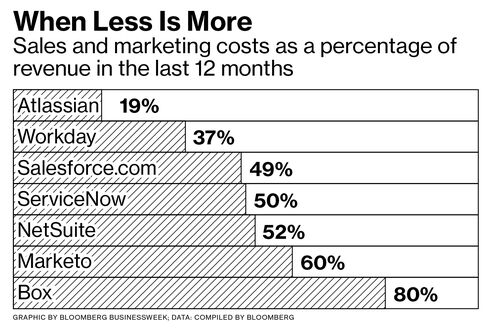 Brandon Cipes, vice president for information systems at OceanX, has spent enough time in senior IT positions to hate sales calls. Its like buying a cara process that seemingly should be so simple, but every time I have to, its like a five- to six-hour ordeal, he says. Most of our effort is trying to get the salespeople to leave us alone. Cipes didnt always feel that way, though. Back in 2013, he was used to the routine. His conversion began when he e-mailed business-software maker Atlassian, asking the company to send him a sales rep, and it said no.
Atlassian, which makes popular project-management and chat apps such as Jira and HipChat, doesnt run on sales quotas and end-of-quarter discounts. In fact, its sales team doesnt pitch products to anyone, because Atlassian doesnt have a sales team. Initially an anomaly in the world of business software, the Australian company has become a beacon for other businesses counting on word of mouth to build market share. Customers dont want to call a salesperson if they dont have to, says Scott Farquhar, Atlassians co-chief executive officer. Theyd much rather be able to find the answers on the website.
The way technology companies sell software has changed dramatically in the past decade. The availability of open source alternatives has pushed traditional brands and rising challengers to offer more free trials, free basic versions of their software with paid upgrades, and online promotions.
Incumbents such as IBM, Oracle, and Hewlett Packard Enterprise, which employ thousands of commissioned salespeople, are acquiring open source or cloud companies that sell differently, says Laurie Wurster, an analyst at researcher Gartner. Slack, Dropbox, and GitHub are among the companies trying to attract corporate clients with small-bore efforts that rely largely on good reviews. The idea is to distribute products to individuals or small groups at potential customers big and small and hope interest spreads upstairs.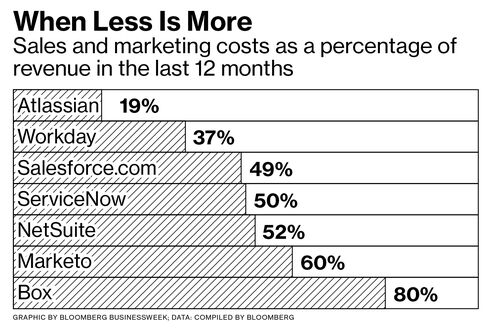 So far, though, Atlassian remains the most extreme example of this model. Its a 14-year-old company, valued at $5 billion since going public in December, without a single salesperson on the payroll. More than 80 Fortune 100 companies use Atlassians software, and venture capitalists and peers often talk about trying to follow, at least partly, its sales strategy.
Luck had a lot to do with that strategy, says Farquhar. He and co-CEO Mike Cannon-Brookes founded the company while finishing their IT degrees at the University of New South Wales, and the pair initially relied on word of mouth because they didnt know anything about selling business software.
Their first break came a few months later, in 2002, when the website let you download a free trial but wasnt yet equipped for purchases, and all their orders arrived via fax. One day the fax machine transmitted an order from American Airlines, where someone in IT had downloaded and configured the software without Atlassians help. That was a huge turning point for us, Farquhar says, adding that it gave the founders confidence they could make their business model work without a dedicated sales staff.
American paid about $800 for that first order. This year analysts forecast Atlassians revenue will top $450 million. Last year, when sales reached $320 million, the companys sales and marketing spending, mostly on ads and payments to partners, totaled one-fifth of that. By comparison, Salesforce.com spent about half its revenue on sales and marketing; at Box, which has spent big to build a sales staff in the past couple of years, the number was 80 percent.
Jay Simons, Atlassians president, says the savings on staff means lower prices and more investment in research and development to refine software, making it easier to try, understand, and purchase. Farquhar says hes resisted calls for half-measures, like hiring salespeople to manage subscriber renewals, and that hes happier with a steady, predictable growth rate. Salespeople are like your Adderall right before the exam, he says. Its that last-minute kick when youre not going to do well otherwise.
In Silicon Valley, thems still fightin words. When you add a sales organization, revenue accelerates far greater than the cost of that organization, says Peter Levine, a partner at venture firm Andreessen Horowitz. At GitHub, where Andreessen has invested, Levine lobbied heavily for the startup to recruit sales staff. Ultimately it did. (Bloomberg LP, which owns Bloomberg Businessweek, is an investor in Andreessen Horowitz.)
Atlassians roots lie in Sydneys barren tech scene. It was kept aloft early on not by venture capital, but by the founders credit cards, meaning it didnt have impatient investors to answer to. I dont think their success is replicable, says Tomasz Tunguz, a partner at Redpoint Ventures.
Startups including Dropbox and Slack are taking a hybrid approach, relying on grass-roots pitches to land initial users within a company, then setting up sales calls once those users grow to a critical mass. For me its not either-or, but how do we combine the best of both? says Kakul Srivastava, GitHubs vice president for product management. Even HP Enterprise is experimenting with online sales and try-before-you-buy. Caroline Tsay, the executive in charge of that effort, says shes hired some former Atlassian staffers.
Atlassian faces a crowded market, and its unclear whether the company will be able to keep expanding, says John DiFucci, an analyst at Jefferies. Still, Atlassians Simons says hes not worried about an end to growth without salespeople. Ive been asked that question every year for the past eight years, he says. Whatever the mythical wall is, we would have hit it by now.
The bottom line: Atlassian sold $320 million worth of business software last year without a sales staff. Everyone else in the industry noticed.
Read more: www.bloomberg.com