The move follows a damning report on workplace culture and a scandal-ridden six months that saw at least 20 staff fired over harassment and discrimination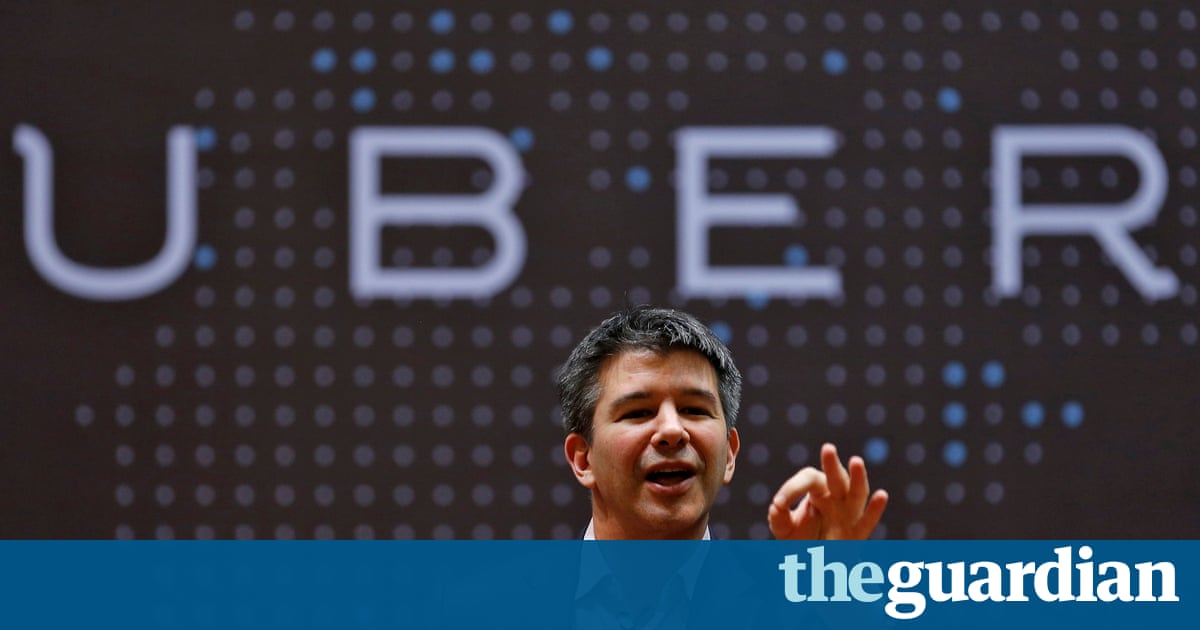 Ubers CEO, Travis Kalanick, has announced that he will take an indefinite leave of absence as the embattled company released a damning report on its workplace culture that called on the company to review and reallocate Kalanicks responsibilities.
I need to take some time off of the day-to-day to grieve my mother, whom I buried on Friday, to reflect, to work on myself, and to focus on building out a world-class leadership team, Kalanick wrote in an email to staff on Tuesday that referenced the death of his mother last month in a boating accident. If we are going to work on Uber 2.0, I also need to work on Travis 2.0 to become the leader that this company needs and that you deserve.
Kalanicks leave comes at a time of considerable turmoil for the ride-hail app. On Sunday, the board of directors voted unanimously to adopt the recommendations of a workplace review led by the law firm of the former US attorney general Eric Holder.
The reports recommendations, made public Tuesday, are notable for how rudimentary many are for such a large company with a valuation as high as $70bn. The report, for example, calls for training human resource personnel on the effective handling of complaints, training senior management and executives in leadership, and the introduction of a policy banning romantic relationships between employees and their managers.
Uber commissioned the inquiry and report following the publication of a viral blogpost by the former engineer Susan Fowler, who described her experience of sexual harassment and gender discrimination at the company. Fowler responded to the reports release on Twitter, where she reacted to a comment about its lack of an apology, saying, Ha! Yeah, theyll never apologize. Ive gotten nothing but aggressive hostility from them. Its all optics.
The report also called on Uber to significantly improve its diversity efforts, starting with elevating the head of diversity to the most senior level of the companys executive team. In addition, Uber is encouraged to establish an employee diversity advisory board, use a blind rsum review process for evaluating job applicants, and adopt a Rooney Rule requiring at least one female and one underrepresented minority candidate be identified for key positions.
The review and reallocation of Kalanicks duties was accompanied by recommendations for hiring a chief operating officer (COO) to function as a full partner with the CEO, adding more independent seats to the board of directors, and establishing an oversight committee.
The report also called on Uber to reformulate the companys notorious cultural values, eliminating those values which have been identified as redundant or as having been used to justify poor behavior, including Let Builders Build, Always Be Hustlin, Meritocracy and Toe-Stepping, and Principled Confrontation.
Implementing these recommendations will improve our culture, promote fairness and accountability, and establish processes and systems to ensure the mistakes of the past will not be repeated, said the companys human resources chief, Liane Hornsey, in a statement.
Freada Kapor Klein one of Ubers earliest investors who, with her husband, Mitch Klein, published an open letter in February criticizing the company praised the recommendations, but raised questions about whether Kalanick would return to the company.
The adoption by the board of directors of the reports recommendations are very different than the CEO saying, Sorry, Ill try to do better, she said.
Kapor Klein also said Kalanicks leave from the company enhanced Ubers ability to hire a strong COO.
Somebody needs to run a world-class business, reboot the culture and take diversity and inclusion seriously, she said. I can imagine that team with Travis coming back, and I can imagine that team without Travis.
Whether the company will be successful in implementing a culture change remains an open question. During the all-hands meeting presenting the report to Uber employees on Tuesday, the board member and venture capitalist David Bonderman interrupted his fellow board member Arianna Huffington with a sexist remark, according to an audio recording of the meeting obtained by Yahoo Finance.
After Huffington mentioned the addition of a second female board member, she said that data showed that once a company had one woman on its board, it was more likely to have a second.
Bonderman interjected: Actually, what it shows is that its much more likely to be more talking. He subsequently sent an email to the staff apologizing for his disrespectful comment.
Though its hard to think of a time when Uber wasnt facing one scandal or another, over the past six months the company has been in unprecedented turmoil.
Read more: www.theguardian.com