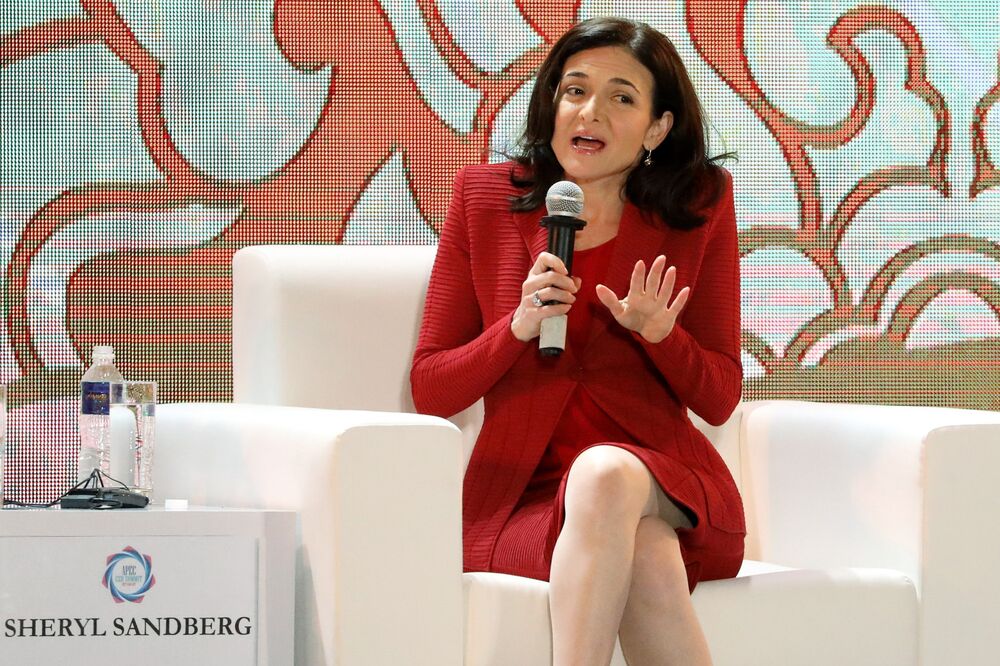 Here are the highlights from a conversation with Facebook Inc. Chief Operating Officer Sheryl Sandberg and Chief Technology Officer Michael Schroepfer.
Read the story and watch Emily Chang's interview on Bloomberg TV
On next week's congressional hearings:
Sandberg: Mark [Zuckerberg] really wants to answer all of the questions people have. We all do. So going to Congress is a big place to answer a lot of really important questions. And Mark wants to make sure people see the action we're taking. And you've seen some of it and there's a lot more to come.
Facebook's role in election-related discourse:

Sandberg: When we talk about election integrity, we're taking our part very seriously. So we looked back at 2016 and realized that we were behind. And we're making sure we learn comprehensively for the future elections. So we're focused on a lot of areas. We're very focused on foreign interference.
I think you saw Tuesday what we did, we were able to find another 270 pages and accounts from the Russian-based Internet Research Agency. That's information that has absolutely no place on Facebook, no matter what they say and it's down. We're going after fake accounts. The bad activity on our platform in the election was all from fake accounts, so if we find fake accounts and we can take them down, it makes a really big difference. One of the things people don't always realize is that a lot of this is politically motivated, but even more of it is financially motivated.
When Facebook employees speak out:
Sandberg: It's obviously disappointing when people who worked here speak out. We have an incredibly open culture internally. We share a lot with our employees. We also have a very high tolerance for free expression at the company. When people say stuff, they tend to be provocative, they say stuff that's wrong, and we have a very high tolerance for that. We think it's actually part of the things that have done very well at Facebook. You know our goal is to make sure that all of our employees feel committed and feel responsible and both former and current employees understand what we're doing and while we clearly have more work to do, to explain that, we're taking that really seriously.
On what they don't know about Cambridge Analytica:
Schroepfer: We haven't actually seen their data. We actually had started an audit a few weeks ago and then the U.K. government started an investigation on their own, which takes precedence over ours so we had to pause that. We haven't talked to anyone who is actually seeing what data they actually have. So in that context, what we did is we said, what's the most they could possibly have access to at the time? We said if at the time this app was was active, if they queried the graph at the time when there was the most number of people there, how many people could they have touched and who? And this is why it took us some time to do this data and get this right and get that 87 million out which is the max possible affected. I suspect it's actually quite less than that because that's the max possible that they could have. But until someone actually gets their hands on it then we don't know exactly what they have.
Speaking about the EU's General Data Protection Regulation:
Sandberg: We're in constant conversation with regulators all over the world, and lawmakers, and we know there are really big questions about the role tech companies play, the size and scope we have. We exist under a lot of laws. We know future laws will continue to be written and we are in active conversation with people about what those laws are. In some of them, like the ads transparency, we're not even waiting for that legislation to be passed. We don't know if it will be. We're building the tools now and we're ahead of that legislation. With the GDPR, we are applying the settings and controls for the GDPR. We're going to apply those all over the world. We're going to localize the actual flows people see by location so that they make sense for the country, so they're not going to look exactly the same as the ones in Europe, but the fundamental core principles of those settings and controls we are going to apply all over the world. Whether or not local laws are passed.
On how Facebook is analyzing all the ways its data can be used:
Schroepfer: It basically means team by team, every team. It means every single product group. The company is been tasked with kind of going through and auditing this. And I think the big change here is, not just what good does this product do, but let's sit down and think about all the possible ways in which someone could try to use this in some bad way — abuse and misuse it. Let's think about all of those cases and think about how likely they are — see if we can find any evidence they are happening, and if we're concerned about it, shut it down first and then sort of figure out how to re-enable things later.
Impact of privacy concerns on the business:
Sandberg: We've seen a few advertisers pause with us and they're asking the same questions that other people are asking because the advertisers are people and they want to make sure they can use data and use it safely. Privacy and ads are not at odds. We've always built privacy into our ad systems and you understand the way it works. We use information to show people targeted ads based on information, but we don't pass information back to advertisers that's personally identifiable and we don't sell data — period. And so I think we are able to have reassuring conversations with advertisers just as we are with people.
On election integrity, political advertising and responsibility:
Sandberg: We take full responsibility for everything on our platform and we know we all need to work together. So we are partnering deeply with election commissions, with election boards in different countries. If we can share information or they can share information that makes them safer and us safer, that's good. So everyone has their piece, but everyone has to work together.
On our platform, we're taking much more proactive action against foreign interference, against hate. We are going to be much more transparent. For the U.S. midterm election, we will have up live in the United States — it's already up in Canada — the transparency tool that would be passed if the legislation passes, but we're not waiting for that legislation. You'll be able to go to any page and you'll be able to see any ad they're running. We're also creating an archive of political ads so that you can go see who paid, how much they spent and the demographics.
We're changing the lines we draw with the content itself. We're still a neutral platform in that we don't root for one person over another — that wouldn't be appropriate in any way. But some of the content people were doing — so if you were using hate-based language in ads for elections, we're drawing those lines much tighter and applying them uniformly across, and those are things we won't allow.
On why Facebook even does campaign advertising:

Sandberg: Because of free expression. Because it's really important that people can get their messages out.
Read more: www.bloomberg.com