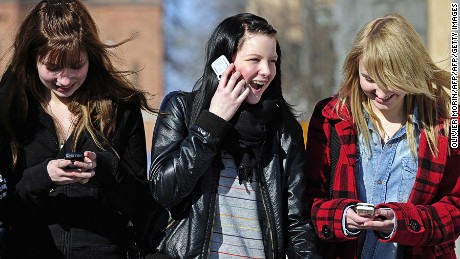 (CNN)Whether you're on Facebook, Instagram, Snapchat, What's App or Twitter, the way you communicate with friends today is changing.
Keeping in touch is no longer about face to face, but instead screen to screen, highlighted by the fact that more than
1 billion people
are using Facebook every day.
Social media has become second nature — but what impact is this having on our brain?
Reward circuitry
In a recent study, researchers at the
UCLA brain mapping center
used an fMRI scanner to image the brains of 32 teenagers as they used a bespoke social media app resembling Instagram. By watching the activity inside different regions of the brain as the teens used the app, the team found certain regions became
activated by "likes
", with the brain's reward center becoming especially active.
However, the study may not be applicable to everyone, according to Dr. Iroise Dumontheil,at
Birkbeck University
.
"[The study] only has adolescents and so they can't really claim anything specific about whether it's adolescents who react to this differently compared to adults."
Changing the brain
Dumontheil does, however, concur that social media is affecting our brain, particularly its plasticity, which is the way the brain grows and changes after experiencing different things.
"Whenever you learn something new or you experience something, it's encoded in your brain, and it's encoded by subtle changes in the strength of connections between neurons," says Dumontheil.
For example,
one study
showed that the white matter in an adults' brains changed as they learned how to juggle over a period of several months. "They found that if you scan [the brains of] adults before they learn how to juggle, and then three months later, you can see changes in the brain structure," says Dumontheil.
Time spent on social media could, therefore, also cause the brain to change and grow.
"We might be a bit less good at reading subtle expressions on faces that are moving, but we might be much quicker at monitoring what's going on in a whole group of our friends," says Dumontheil.
So are these new skills a good or a bad thing? Neither, she says. "It's just a way we have of adapting to our environment."
Read more: www.cnn.com