As robots slash the time it takes to complete an order at companies like Amazon and Ocado, what does that mean for their human colleagues?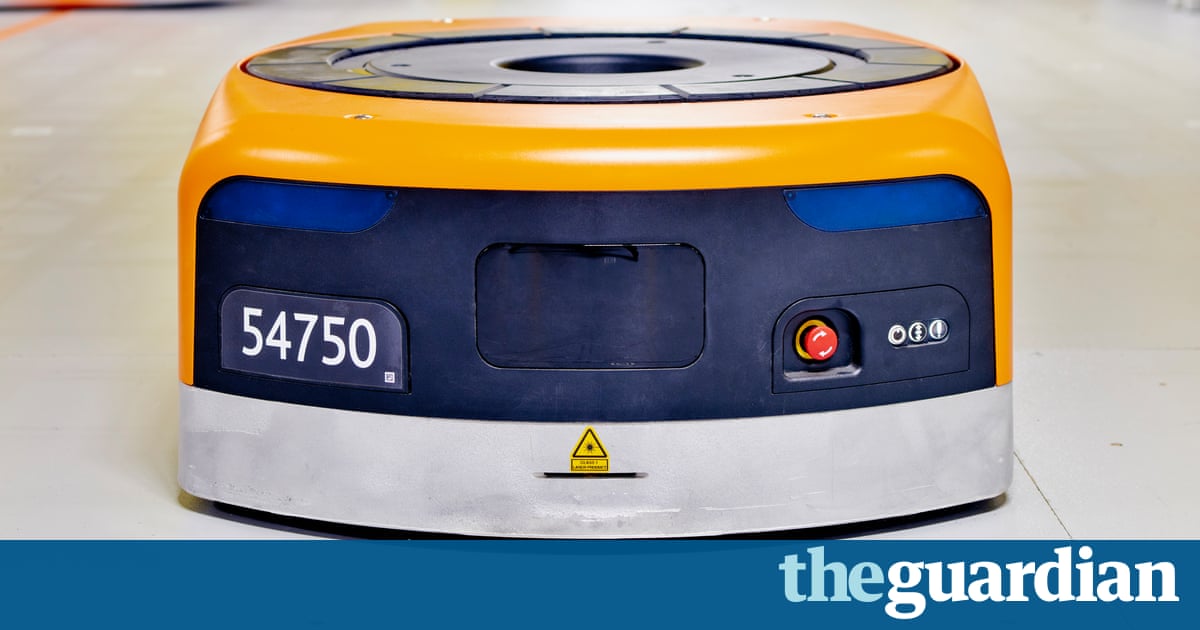 Next to the M56, on the outskirts of Manchester, the future has landed. A cluster of huge distribution centres sits at the heart of Airport City, a new development part-funded by the Beijing Construction Engineering Group (two years ago, it was visited by president Xi Jinping of China). Among the biggest buildings is one of Amazon's self-styled "fulfilment centres". Known within the company as MAN1, it opened in September last year, but everything inside, from the chairs to the wall-mounted screens, looks as if it has just come out of a box. Deeper within the centre, beyond the reception area and meeting rooms, there is something else just as new: a great expanse of space behind a metal cage, where dozens of robots, finished in Amazon orange and each emblazoned with its own number, glide across the floor, gracefully avoiding collisions and sprinting to their next task.
Amazon employees call them "drives", but to all intents and purposes these are droids, summoned from the dreams of science fiction and put to work. In some Amazon warehouses, workers – or, in the company's parlance, "associates" – still pace up and down huge aisles, picking out goods and preparing them for shipment; these shifts are said sometimes to involve hikes of 11 miles. But here everything moves much more quickly. The humans in charge of the process known as "picking" now remain in closed workstations, built around a screen that tells them what they need to get next, while the robots bring the shelves – reinvented as four-sided fabric towers, full of pouches that contain everything from DVDs to dolls – to them.
The robots lift the towers using their most obvious feature: a big black cylinder that can withstand a serious amount of weight and which locks on to the shelves using a corkscrew action. They navigate by following barcodes stuck to the warehouse floor, and have a front-mounted camera that ensures they don't collide with each other. They will pause for five minutes of recharging every hour, and get their instructions from software that runs on a cloud server.
Today, these robots are under the command of Sean McFadzean, a 26-year-old with a background in electrical engineering. He has worked here for a year: his corner of the building is effectively a robot garage, replete with a mixture of screens and tools. "The whole thing has just gripped me," he says. "It's fascinating."
Does he have a favourite robot? "I actually do. 64117. There's a kind of leaderboard system that tracks each drive unit, and I follow them all. 64117 has travelled only 164 metres the whole time it's been here. It's the laziest drive we've got. It's got the work/life balance worked out."
The introduction of robots to Amazon warehouses in the US and Europe has released huge amounts of space once taken up by the storage facilities built around people; it is also said to have cut the time it takes to complete an order from more than an hour to 15 minutes. It has been estimated that when Amazon customers now receive a package from a centre such as this, its preparation will have involved no more than a minute of human work. A great deal of Amazon's nitty-gritty operations are increasingly done by software and machines – and the company is by no means alone.
In his bestselling book Homo Deus, the Israeli historian Yuval Noah Harari makes a simple point about why the future of work may differ drastically from its past. Since the Industrial Revolution, he writes, "As old professions became obsolete, new professions evolved, and there was always something humans could do better than machines." People in developed countries went from "fields and flocks" to industrial jobs, and then into service industries. "Yet this is not a law of nature," he points out, "and nothing guarantees it will continue to be like that in the future." With many jobs in service industries on the verge of being automated away, what new work will there be for the millions of people who currently do them?
Read more: www.theguardian.com