Post Malones Rockstar, the No 1 song in the US and UK this week, is a tale of drugs and loveless sex and joins similarly empty-sounding hits from 21 Savage, Future, Lil Uzi Vert and more. Why has mainstream rap become so bleak?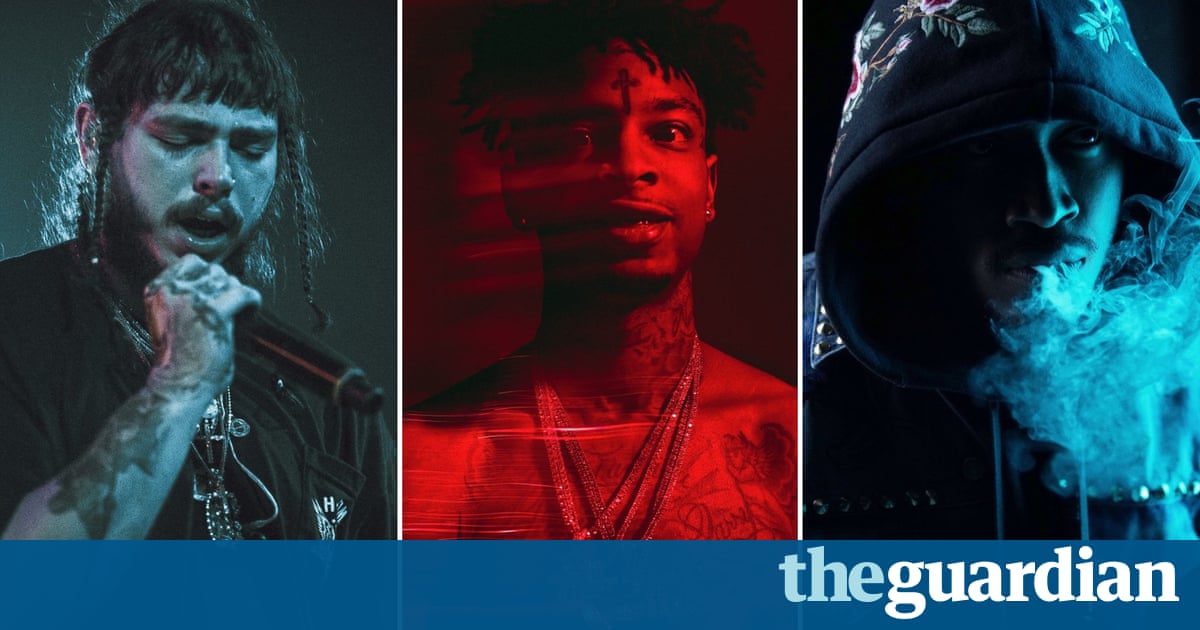 After releasing his single rockstar in mid-September, the US rapper Post Malone, accompanied by fellow MC 21 Savage, broke Apple Music's streaming record with 25m plays in a single week. Since then, the pair have reached No 1 in the US charts, and now the UK charts, too, interrupting the month-long reign of Sam Smith's ballad Too Good at Goodbyes and a year dominated by shiny, relatively toothless pop. With its dreary, droning loops, and dark lyrics about drugs and women, Rockstar is part of a menacing, nihilistic sound that is taking over the top 40.
A burgeoning generation of rappers are spitting bleak, hedonistic rhymes about prescription pills, loveless sex and premature death – and their presence on the charts swells week after week. Lil Uzi Vert's XO Tour Llif3 spent 28 weeks on the Hot 100 charts with a catchy wail about a couple's suicidal thoughts; Future extols an unnerving concoction of ecstasy and prescription drugs on Mask Off's softly rapped chorus, "Percocet / Molly, Percocet", creating one of the biggest rap hits of the year in the process; and 21 Savage reached No 2 in the US with his LP Issa Album, with tracks that advise "numb the pain with the money", retelling Savage's rise from an impoverished Atlanta childhood that saw him start carrying a gun at 14.
Other stylistically similar MCs, such as Kodak Black and XXXtentacion, create ostentatiously amoral rap that is matched by their own real-world criminality. Kodak Black was recently charged with first-degree sexual assault; XXXtentacion, already on probation for armed robbery, is accused of battering and strangling his pregnant girlfriend. Yet, after the revelation of gruesome details of these accusations, both artists reached No 2 in the US album chart in September, opening up questions about the ethics of enjoying music that revels in violent sex and amorality – especially when its creators have been accused of being sexually violent and amoral.
Comparing these MCs with other rap chart-toppers such as Chance the Rapper and Kendrick Lamar is, on the face of it, reminiscent of the 1990s distinction between the "conscious", socially aware rap of KRS-One and Public Enemy – and its "gangsta" half-brotha, characterised by acts such as Ice T, 2Pac and NWA, with their grim yet vivid narratives of gunplay and crime. At the time, academics and outsiders often suggested that gangsta rap – with its misogynistic, homophobic overtures, portraits of dilapidated black 'hoods and tone of hopelessness – was not just inherently harmful but also encouraged more criminal acts in black and poor communities. In the decades since, many have come to grips with the idea that rappers can walk and chew gum simultaneously; that is, artists (including Lamar, Common and J Cole) can speak to the realities of an impoverished black existence while encouraging the street corners to critique the western world's obsession with black crime.
So why are MCs such as Post Malone and 21 Savage diving back into a hopeless funk? Nihilism suggests that one finds pleasure, resistance and art meaningless, so as not to grow attached to the trappings of an illusory world. Take Vince Staples, who one writer called a "happy nihilist", and who wittily addresses this emptiness. Yeah Right, from his 2017 album Big Fish Theory, finds the Long Beach rapper sardonically ticking off images of what other rappers might call the good life – "Is ya house big? Is your car nice? / Is your girl fine?" – before singer Kucka declares: "You pretend to get a better idea about the lifestyle you're chasin' / Keep pretendin', make it real until every cell replaced, erased."
Critiques like this are typical of black art, which is often defined by despairing and cathartic gasps into an anti-black ether. In this context, even the pursuit of wealth can become loaded with meaning. Jay-Z and Kanye West's Niggas in Paris, with its gloss and gravitas, is about revelling in success in spite of anti-blackness: "If you escape what I escaped, you'd be in Paris getting fucked up too!" Nihilism and negativity show up in celebratory and critical black art – think Jean-Michel Basquiat, Toni Morrison and Ralph Ellison – so to immediately dismiss aloof, degenerate and, yes, gangstafied rap music as merely nihilist isn't a deep enough reading.
Whether it's the blues musicians of the past responding to the broken promises of America's post-emancipation period; the bitter questioning of Marvin Gaye and Syl Johnson; the flipping off of the LAPD by Ice Cube; or Queen Latifah attempting to quell tensions bred over years of misogyny from men in the industry, black music is an endless loop of observing, feeling and talking back. In the 90s, various factors – the increased access to images of police brutality, a crack epidemic in black neighbourhoods and a growing wealth gap – infuriated some to the point of militancy. But alongside those protests were "gangsta" artists including Bone Thugs-n-Harmony and Nate Dogg who, with their portraits of black people just getting by, wailed just as wearily as their more abrasive counterparts, and rooted themselves just as staunchly in rebellion.
Today is no different. Beside political discussion from artists such as Lamar, Run the Jewels and Jay-Z – on everything from economics in black communities to the white supremacist in the Oval Office – there are young, disenchanted rappers reflecting, however indirectly, the emotional toll of these fights, and the ennui of newfound wealth. They have built on the musical aesthetics of Bone Thugs and Nate Dogg to create an introspective and downright tortured pining, somewhere between a rap and a melody.
Read more: www.theguardian.com