Marginalized groups that championed legalization struggle to compete with corporate refugees jumping on the bandwagon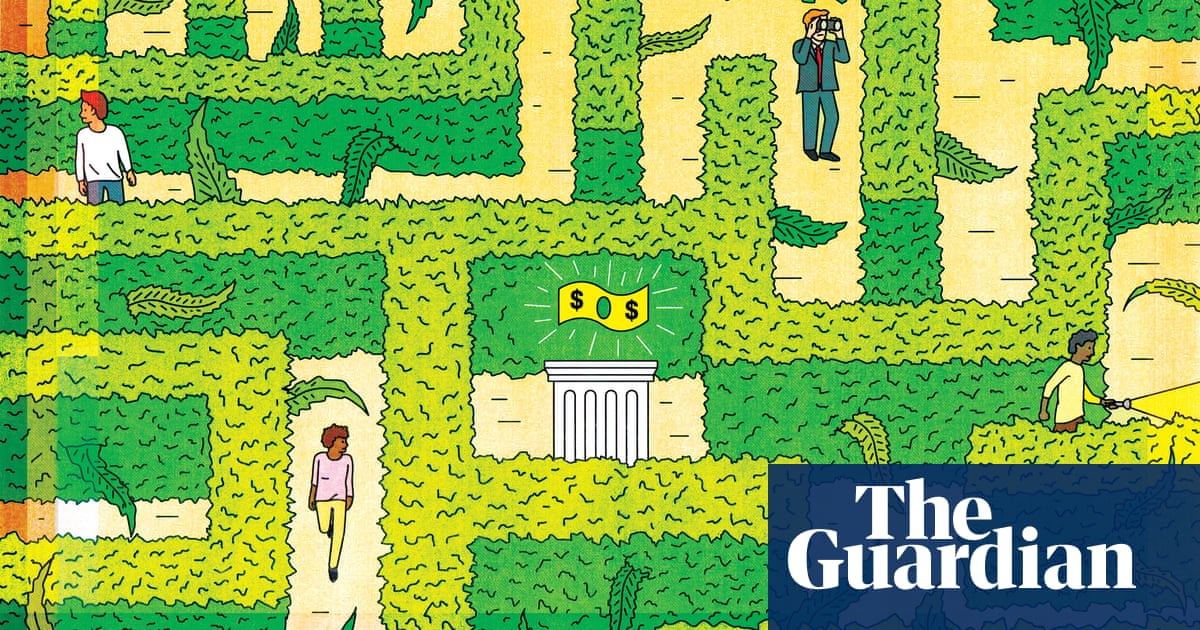 Two hours north of San Francisco, in Mendocino county, orderly roadside vineyards give way to the rugged forests and misty coast of the Emerald Triangle, America's most celebrated marijuana growing region. In June, more than 300 cannabis industry insiders gathered there for a weekend of bonfires, starlit hikes and river swims.
It was a lovely setting to discuss why none of them seemed to be making money.
Americans spend roughly $40bn annually on legal and illegal marijuana. Their appetite is almost certain to increase as it becomes easier to legally access the drug and the industry continues to promote pot as compatible with a healthy adult life.
In California alone, tens of thousands of farms grow the plant, which is increasingly processed into gorgeously packaged vape pens and edibles marketed to customers outside the core stoner demographic of young men. Today, seniors are the fastest-growing group of marijuana users in the US.
The future looks very green indeed. But since New Year's Day 2014, when Colorado opened the world's first regulated recreational marijuana market, the business climate for weed companies has proven immensely difficult for a range of reasons, including high taxes, rapidly changing regulations and a still robust illicit market.
Besides the business challenges, America's legal marijuana industry also has to reckon with an unavoidable moral dimension. The US has been engaged in a "war on drugs" since Richard Nixon declared it in 1971. While white Americans use marijuana and other drugs at roughly equal rates to African Americans and Latinos, in virtually every respect, racial minorities have been disproportionately incarcerated and otherwise punished for involvement with drugs, including selling marijuana.
In addition, marginalized groups – Aids patients, disabled people, veterans – who championed legalization when it was far riskier to do so now find themselves ill-equipped to compete against well-capitalized corporate refugees looking to jump on the bandwagon.
One company, Acreage Holdings, which closed on $119m in investment capital this summer, has enlisted the former Republican speaker of the House John Boehner to help it navigate the market. Boehner has never smoked pot – "he hasn't felt the need or inclination", according to a spokesperson – and he declared himself "unalterably opposed" to legalization when he was in office.
With legal marijuana now one of the country's fastest-growing industries, who profits is as much of a civil rights question as who gets punished.
The industry's moral challenge is to ensure the groups who have suffered the most under the drug war can participate in the green rush and enjoy the spoils of legalization.
'A classic story of gentrification'
The story of Amber Senter, a businesswoman and activist who attended the weekend campout, dubbed Meadow Lands, goes some way to explain why racial equity will be as difficult to achieve in cannabis as it is in the rest of American life.
Senter moved to Oakland, California, in 2014. A coast guard veteran with a background in corporate marketing and graphic design, she worked as an executive at Magnolia, a dispensary, and became a prominent advocate for women of color like herself in the industry.
Read more: www.theguardian.com