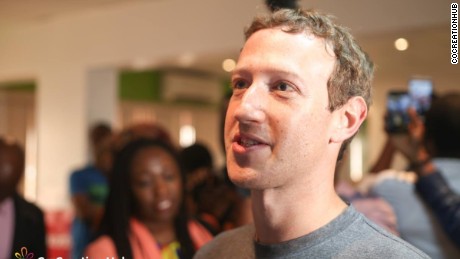 Lagos, Nigeria (CNN)Facebook founder Mark Zuckerberg's visit to Nigeria, his first to sub-Saharan Africa, has put the country's tech businesses firmly in the world's spotlight.
Zuckerberg staged a surprise visit to the country's economic capital Lagos on Tuesday and his first stop was a local innovation center and tech hub in Yaba, an area on the mainland of Lagos known as Nigeria's Silicon Valley.
There was no fanfare amid tight security and some of those working at the Co-Creation Hub, called CcHUB, didn't even know Zuckberg was coming.
He appeared nervous, a little startled even, as he launched into an impromptu speech about why he was there.
He said: "This is my first trip to sub-Saharan Africa. I'll be meeting with developers and entrepreneurs, and learning about the startup ecosystem in Nigeria. The energy here is amazing and I'm excited to learn as much as I can."
At the CcHUB, he talked to children at a summer coding camp and entrepreneurs who visit the center to build and launch their apps.
Zuckerberg thrilled Nigerians by walking around the streets of Lagos without any signs of armed guards or heavy security. He was also spotted jogging on the Lekki Bridge Wednesday morning.
Figures released Wednesday show Nigeria has officially dipped into recession as its second quarter GDP fell by more than 2% compared to last year.
However, running a business in the country has always been tough for young entrepreneurs such as Bosun Tijani and Femi Longe, who co-founded the hub Zuckerberg visited in 2011.
Successful startups in Nigeria thrive against the odds of weak infrastructure, anemic power supply and general lack of funding and investment.
Tijani told CNN that Zuckerberg's visit would give Nigeria's fledgling startup scene the shot in the arm it desperately needs.
"By coming here first, he's given a lot of hope to young people here," Tijani said.
He added that entrepreneurs like Zuckerberg were inspiring because his approach to Facebook has never been about making a lot of money.
"It's been about creating something that's going to change the world and obviously if you do that, you are bound to reap the benefit," Tijani said.
Idris Ayodeji Bello,
an 'afropreneur' and angel investor from Nigeria, said, "Mark's visit was a much needed external validation of the sweat and immense efforts, mostly unsung, of the young Nigerians who have kept at it. And it was heartwarming to see all the attention his visit got, even from some young people who are rarely excited by much beyond music and entertainment."
Read more: www.cnn.com