Whet the appetite with stilton hush puppies, anchovy crostinis and a pre-dessert of chocolate salami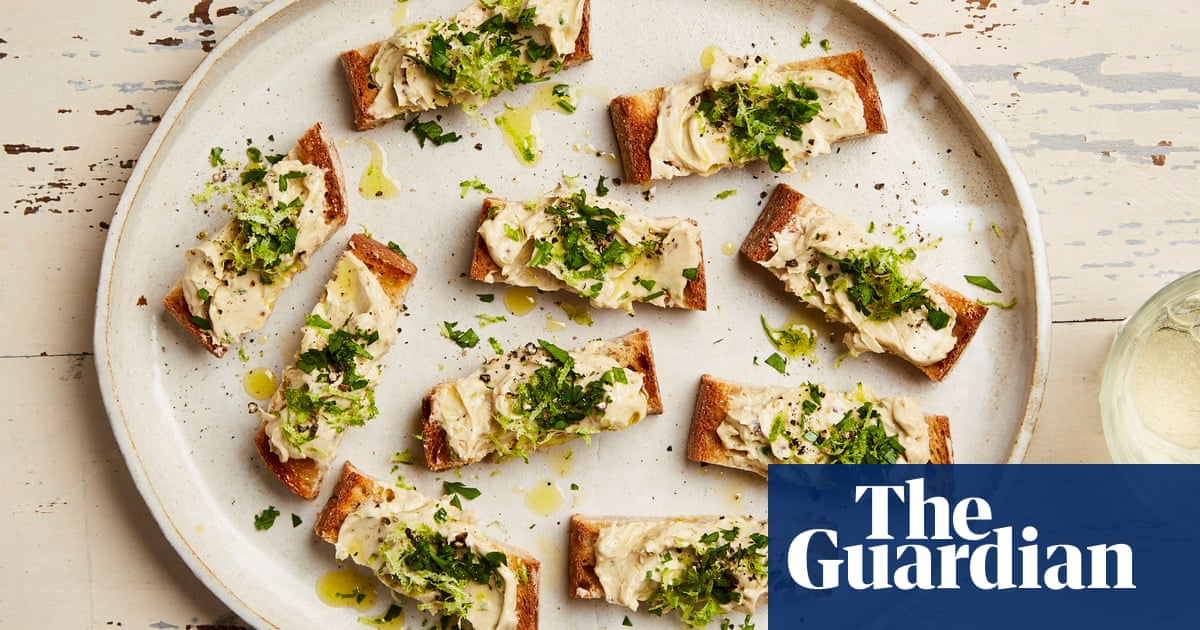 You'll probably have worked out that the grand feast is essentially a theatrical build-up.Festive drinks are followed by little teasers, a few bites to whet the appetite, but not too much: you need to leave room for the main act. Cheeseboards are, for me, a thing of the past, if only for the fact that I can't help but go back for more, so now I replace the cheese with just a few rich snacks (you'll note butter features everywhere this week) to kick-start the party with just the right degree of plenty. This year, I'm making salty anchovy crostinis and the most indulgent hush puppies, and later, because even dessert needs a pre-dessert, a chocolate salami for the final, dramatic close.
Anchovy, lime and chilli butter crostini (pictured above)
This is a great little festive snack to hand around at a party, together with your favourite sparkling wine. The butter is quite rich, so two soldiers per person are more than enough.
Prep 15 min
Cook 10 min
Makes 12, to serve 6
7 anchovy fillets, drained and roughly chopped
1 small garlic clove, peeled and roughly chopped
½ green chilli, seeds and pith removed, finely chopped
75g unsalted butter, well-softened to room temperature
1 lime – zest finely grated, to get 1½ tsp, and juiced, to get 1 tsp
3 slices sourdough bread, well toasted or grilled
Olive oil, for drizzling
½ tbsp parsley leaves, finely chopped, to serve
Black pepper
Put the first four ingredients into the small bowl of a food processor with the lime juice and a teaspoon of the zest. Blitz until smooth, scraping down the sides of the bowl a few times as you go. Refrigerate if not using straight away; you'll need to bring it back up to room temperature when using.
Cut the toast into 12 6cm-long x 2cm-wide soldiers. Spread each soldier with about 10g of the butter mix, drizzle with a little oil and finish with the parsley, the remaining lime zest and some freshly ground black pepper.
Stilton hush puppies with maple butter
Read more: www.theguardian.com