The World Cup used to make its own stars but could now do with an outstanding, trophy-winning individual performance by someone such as Lionel Messi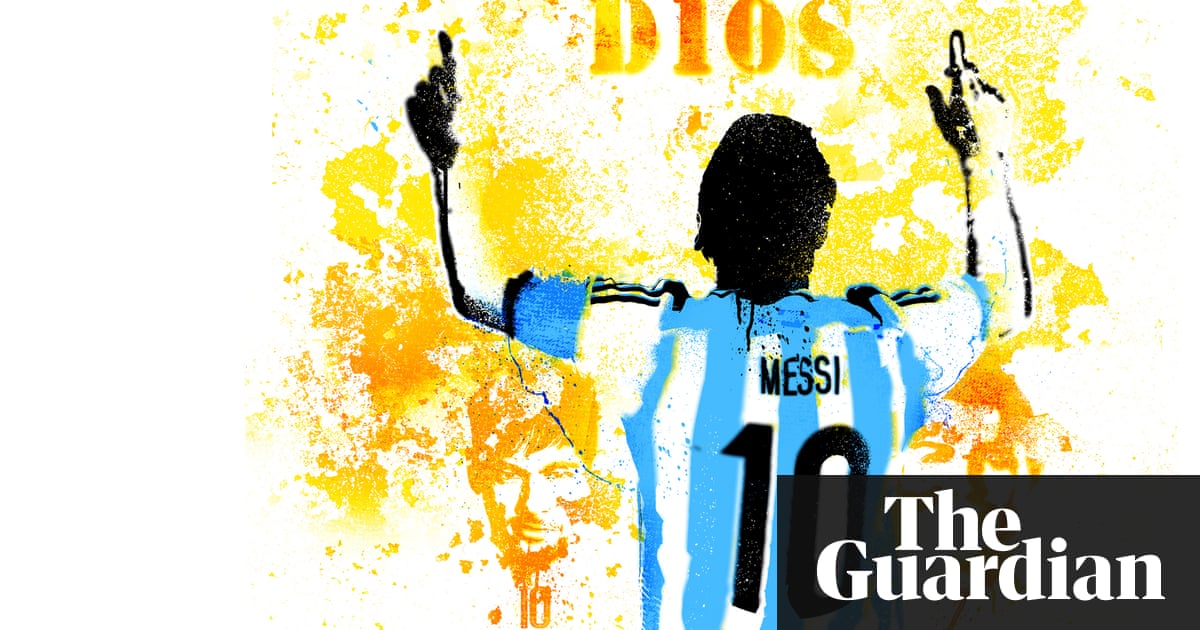 Moscow is a fascinating place to enter for the first time, its fringes marked by an endless scroll of huge stickle-brick buildings and gaudy roadside shopping complexes. Heading in from this angle, before the austere majesty of the city centre, it seems the chief beneficiary of Russia's great opening out was that well-known US imperialist Colonel Sanders, who can be seen grinning down like Lenin's crispy-fried southern gentleman cousin from his endless lighted placards, impassive, stoical and oddly comforting.
But then, like many other nations, Russia does love an icon. Look around the early days of this World Cup and certain faces just keep looming up in wide-screen scale. Statues of the actual, non-chicken Lenin can be found at 82 Moscow locations, including the Luzhniki Stadium, where the Father of the Revolution towers above stalls for Qatar Air and Chinese yoghurt, eyes turned towards the skyline with a look of fearless destiny, mixed with a little mild exasperation.
To the north of the city the entrance to the Spartak Stadium is guarded by a 25-metre effigy of Spartacus himself, sword drawn in defence of the pitch where Lionel Messi and Argentina will play Iceland on Saturday afternoon. Meanwhile, turn on your TV to catch the previews and the chances are the visage of that other great anti-hero José Mourinho will come leaping out of the screen in his role as pundit for Russia Today.
Mourinho was a star of the opening‑day coverage, windswept on a balcony above Red Square, bathed in wondrous evening sunlight, looking like the man who sold the world. At one point there was an embarrassment of televisual riches as we cut from José straight to Mark Bosnich, dressed in an open collar shirt with hair swept back, resembling a glamorous society helicopter‑salesman who lost it all in a ponzi scheme and is now living in a Reno motel.
Mourinho is billed as a "co-host" on RT. He will not like that. And to be fair it is hard to think of anyone less suited to a career as a TV presenter. But Mourinho's lip-curling manner, his refusal to be impressed by anything at all, is quite refreshing, as is his total conviction that, whatever else might be going on, the real story here is called José Mourinho and is sneering pityingly at Peter Schmeichel on a Moscow rooftop.
Except, of course, it is not. Messi may be about to turn 31, with 124 caps on the clock, but he remains the most significant presence at this World Cup, albeit not without a little nuance. At the pre-match press conference in Moscow there was the usual hushed tribute of his all-time qualities but there is something a bit different about Leo in Moscow.
Travel to any football event over the last decade and Messi comes at you from every angle, decorating the street stalls, the hoardings and TV stings. So far in Russia the greatest player of the modern age has been present in dilute form. In part this is perhaps commercial. Messi sells his image to Pepsi and Mastercard. The World Cup is all Visa and Coke. Plus he is more or less unavailable these days, safe within his own sealed space, a star beyond the everyday.
There is something more, though, something to do with stars and Messi's own unspooling into the legacy years. The old talk about how he needs to win a World Cup to complete the game will be trotted out again. But this is one cliche that could do with a refit. In fact the opposite is true. It is instead the World Cup that needs Messi these days.
It is tempting to rail against the lure of celebrity, to yearn for new faces and underdog triumphs. In its great years the World Cup simply made its own stars. But it has not had an outstanding trophy-winning individual performance for some time. The last obvious poster boy was Ronaldo in 2002. Zinedine Zidane was brilliant for periods in 2006. Germany were an advert for a way of playing, an industrial-scale production project. But what about the madness, the iconography, that old, insatiable Maradona-scale will to power?
This is how things are now. Club football is more than ever driven by a personality cult, captivated by the preening, oddly sensual obsession with star players. Even the angles and lines of the TV coverage promote this feeling of opposed personalities, the fast‑cut to some beaming, yowling star, HD-captured, wondrously groomed, decked in flattering muscle‑tight nylon.
The Messi-Ronaldo industrial complex has fed on this, has thrown every unit of its brilliance into driving European club football on to its current state of supremacy. It has been thrilling to watch. But the World Cup needs a taste now, needs to align itself with those currents of power, a tournament that craves the defining image of Argentina's No10 – or indeed Cristiano Ronaldo or Neymar – lifting the trophy.
The question remains: has it missed the boat? Ronaldo is 33 now and Portugal are not Real Madrid. Neymar could yet apply the full range of his princely powers and use this tournament as a springboard for his own succession plans. But Messi would be the real catch.
This grandfatherly old juggernaut would be defibrillated at a stroke by a touch of his genius, would feed off that image, Leo with the great, golden Blatter-head cradled aloft. Odd as it might sound, the question is whether he really needs it in return – or at least how much and how desperately.
Read more: www.theguardian.com